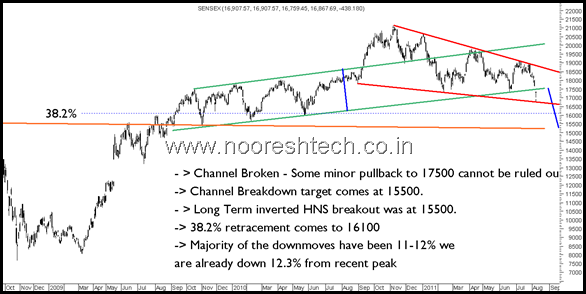 To be candid my view was 5100-5200 and 17000-17300 would hold up which has not been the case.
Luckily last time around when we bought at 17300 we got some really good moves in many stocks. Also we had a view before of keeping high cash ever since 19900/19000 levels broke and over the last few months we have preferred to buy at 17500 or lower. But stock selection is the key.
Right now the channel is broken and i would prefer to wait for a week as there is capitulation signs before we take a conclusion on the index. As i see the broader market has still not broken February lows – ( Will put up a detailed analysis on other indices tonight ). I would wait for a convincing breakdown on the broader indices like bse 500 , bse midcap , bse smallcap before taking a major conclusion on the index view. There is a lot of divergence with Index and Broader Markets.
Now some more observations
- > The channel which was in place for the last 12-18 months has been broken. Indicators are heavily oversold so a short term pullback to 17300-17500 or 5200 Nifty cannot be ruled out.
- > The channel size is roughly 2000 points and breakdown point is at 17500 which becomes a pivot for current market. Breakdown targets are placed at 15500. ( we wait for confirmation after retest of 17500 if it falls would confirm )
- > The long term inverted head and shoulders breakout was at 15500.
- > 38.2% retracement of the upmove from 8047 to 21108 comes to 16100.
- > One of the major analysis has been market has generally fallen 11-12% in every down wave over the last 2 years. ( have posted this analysis before ) Right now we are down 12% from 19100 as per todays low.
RSI and various indicators are extremely oversold and any further fall would make it very close to 2008 panic oversold levels. So in the short term we can see some pullback to 5200 and 17300 where we can look to review.
For us we are very stock specific and that will be the key in coming months. We have just initiated the view to buy 50% with total cash available as well as fresh buying in our list of favorite defensive stocks. The rest we may add if we see further falls in our selected stocks or some other opportunity with index falls.
To get more details about the portfolio – mail to analyseindia@analyseindia.com
Happy Investing,
Nooresh