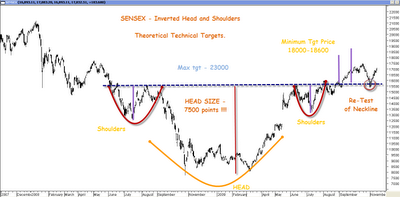 SENSEX INVERTED HEAD AND SHOULDERS PATTERN :
The chart is explanatory enough.
Although until now not giving importance to the pattern has given good results as the other observations gave exact direction.
Theoretical Observations and Inferences :
1) Shoulder size is roughly 2.5k-3k points. This gives a minimum target price of 18k-18.6k which is most probably achievable over the next 4-8 weeks. ( I am betting on this 😛 )
2) Head size is very huge at 7.5k odd which gives a target of 23k. This is possible over the next 6-9 months or a little more. ( Wishful Thinkin 😛 )
3) The Pattern gets negated if the index closes below 15k levels for more than 8-10 sessions.
4) Volume Analysis still doesnot point heavily towards strength in the pattern. So a confirmation on volumes needs to be seen over the next 1-2 months to increase the probability of highest target.
5) Crossing over 17500 with volumes or a sustained closing above 18900 would be confirmatory signals for 23k target.
Above are technical observations. But we always go with the trend and also look into many factors and confirmatory signals alongwith practical market analysis to take a final call. For now the trend remains bullish and a move to 18-18.6k over the next 4-8 weeks remains open till it doesnt close below 15500.
Best Regards,
Nooresh
09819225396