In all my posts for the last couple of weeks have been consistently mentioning about Godrej Inds being a favorite for short term as well as long term.
Alongwith it a disclosure the stock has been strongly recommended to our clients at 195-197 and 202-204 with a target price of 220 in short term and much more in the long run.
Please check the link below where have mentioned about the stock-
https://nooreshtech.co.in/2011/06/strong-technical-picks-colgate-vst-inds-pidilite-inds-godrej-inds.html
The stock gave enough opportunities to accumulate in the range of 205. With the current close of 222.5 with large volumes the stock may continue to inch higher.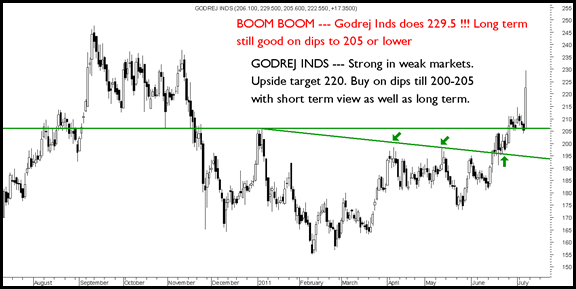 Disclosure: Have recommended traders to book at 220 and investors to book partially at current levels. The long term positive view maintained and may re-enter sold quantity if dips to 210 –200 levels.
Hope readers cashed in on the opportunity.
Also maintain my bullish stance on other stocks like Pidilite , Smartlink ,Gillette , Cadilla Health which are marginally up from recommended levels but are a safe bet on sharp declines and defensive stocks.
FOR more about our advisory services check www.analyseindia.com or call Kazim 09821237002 or Asif 09833666151
TECHNICAL ANALYSIS TRAINING SESSIONS SCHEDULE
July 9-10 Delhi
July 16-17 Pune
July 23-24 Bangalore
July 30-31 Mumbai.
Regards,
Nooresh