The three strong picks which could get interesting and are clear defensives in the current market and placed well for a breakout are Colgate , VST Inds, Pidilite Inds
Disclosure: All the three stocks have been recommended to our clients with short term as well as long term view at slightly lower levels or current levels.
COLGATE -
The only FMCG and MNC stock which has not performed and could be in limelight. Stoploss of 880 is a small risk for a good upside of 1000+. Accumulate on dips.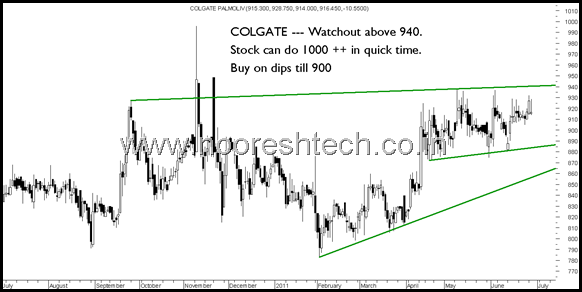 VST Inds -
A good dividend yield of 4.75% consistent earnings , cash on books. Fundamental in place as well as technically is all set for a sharp move in the short term.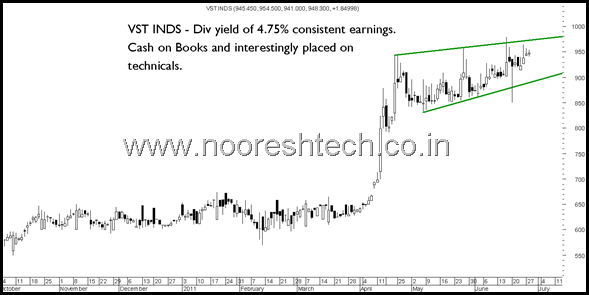 PIDILITE INDS -
Another stock which has been consistently facing resistance at 165-169. Volumes have been encouraging. Earlier we saw a false start to 174 levels.Buy on dips to 160 with a target price of 175 and stoploss of 155.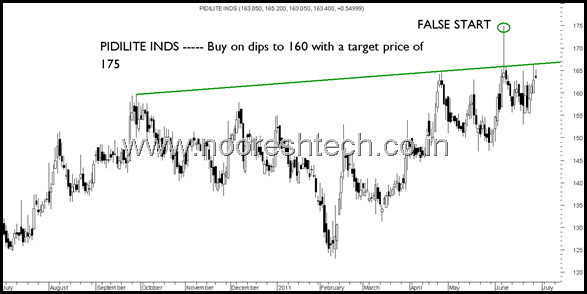 GODREJ INDS --- Remains a short term as well as long term favorite recommended at 195-197 and 202-204
The stock has made a strong breakout at 195 levels. Fundamentally its a diversified play of FMCG,Real Estate, Chemicals, Agro and so on with a clean management which is now open to investors and conducted an analyst meet. Check out the investor presentation – CLICK HERE
Apart from a short term view and target of 220. Investors with a 1-5 years view can look to continously SIP into the stock and expect good consistent returns as the company is the real value unlocking would take place over the next couple of years.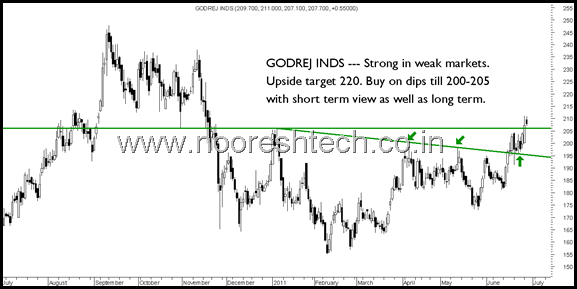 Happy Investing,
Nooresh