The postings would be on a stop in the end of the week mostly as have an important family function 🙂 but finally after quite some time Sensex if dips more around 17300-17100 would be an excellent investment zone. Atlhough short term support at 17800.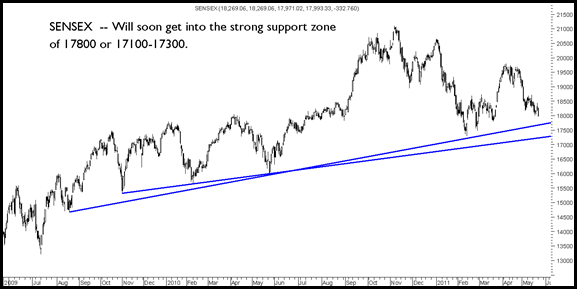 Sensex Technical View :
- > The long term channel comes around 17100-17300 and 17800 zone. We may watch for turnaround signals closer to that area.
- > In the short term last bottom around 17792 and a channel line at 17800 should provide strong support.
- > In the fall RSI has been showing positive divergences so it does not suggest strong bear momentum and pullbacks would be quick and shortlived till we dont see follow up buying.
Randomn Thoughts :
This is just my personal view 🙂
-> Base Metals, Crude and many other raw material commodities have gone into a short to medium term downtrend and may keep drifting lower or sideways which will be a big positive for many companies as the margins will improve. Technically had mentioned about Crude – ( Crude setting up for a crack - ) and an end to bull market of Copper at 450 Mcx levels right now at 400. Similarly other metals like Aluminium,Zinc, Nickel have been correcting and may head lower. The only commodity i remain bullish on is Gold at 1450-1470 dollars. Silver had taken a bullish stance at 20 $ and 31k Mcx    
- https://nooreshtech.co.in/2010/09/silver-on-verge-of-a-major-breakout.html 
- > In the short term the next quarter may see inventory losses but the change in net operating margins may offset it by some margins and will depend on different companies.
- > The RBI hikes are denting the cash flows of many companies with higher debts and will remain a problem for next two quarters. Expectation is Hike may stop after 2 quarters and RBI may start cutting rates next year. But overall the majority of the hikes are being factored in. Short Term Impact is negative but in the long run such a control is better 🙂
- > As per my statistical look into Inflation the base effect will start creeping in after June-July as well as the effect of RBI hikes will be seen. We may have seen the peak of inflation and post July the base effect will temper down inflation and if monsoons end up well it could be a double effect and i dont expect any further petrol rate hikes maybe 2 rs on diesel.
All in all as i have been maintaining the view since quite some time Post June could be better times for the market. Technically also a similar implication :). After taking the call to go on High cash at 19900/19000 break have started now advising clients to start buying as well as deploy fresh money.
Stocks to Watchout for :
SMARTLINK NETWORK SYSTEMS -
The company declared a special dividend of 30 rs and a regular dividend of 2 rs which clearly shows the intent of the management as majority of the companies with such business sellout have not rewarded shareholders and are quoting at 40-50% discount to cash on books.
With the above action of the management the faith increases although in the short term the stock can again go higher to 100 + levels but with a cash per share of almost 150 it would be an interesting long term buy if drops sharply in the future.
Disclosure : Stock was recommended at 68-73 levels to clients and booked out majorly at 90 levels ( being cautious )
On the same lines of cash on books would be looking at Piramal Healthcare at 300-350 and Riddhi Siddhi Gluco at 300-270 which give a good margin of safety in comparison to possible rewards.
Happy Investing ,
Nooresh