Well just a few weeks back when we were at 18k the market consensus and majority of the analysts were gung ho about markets and prospects of the Indian economy and Global liquidity.
Suddenly markets cracked 10% and at 16k the market consensus became too gloomy and talking about cockroaches to shocks in the global economy with PIIGS and Europe etc.
Now we are back at 17k where would the tilt of sentiments be? Well i expect them to start getting a little bit bullish and boasting the strength of Indian economy.
The only thing which hits me is whether Sensex effects the strength of Indian economy or is it that the consensus starts thinking and justifying according to the Sensex moves:)
For me its the charts which give me a clean and clear picture:)
I would urge readers to read the important posts mentioned below to get an idea of how technicals can create a clear picture and aid us in maximizing profits with precise timing. if you like the stuff pass it to ur friends:)
DOW JONES at 11200 and Crude at 87 were shown to be topping out - Dow high 11258 !! Check the   chart
Stop Leveraged trading and be safe mentioned at 18k !! – Sensex topped out at 18k itself.
Sensex to bottom out in May end around 4830-4860– Possibility discussed by Ankit -
Sensex at 16k – Time to be Optimistic not Scared – Bold call to buy Index at 4800-4850 Nifty explained with detailed technical reasons.
Sensex Technical View:
In the short term expect Sensex to face resistance at 17250 which is the 61/8% retracement levels. Index traders who have bought at lower levels should keep booking profits or trailing stoploss to conserve gains.
Detailed technical view after the end of this week as promised that we would review in 2nd week of June !
Stocks to watchout for :Few quick charts
TATA STEEL : Just an example of positive divergence for the RSI lovers 🙂
Disclosure : Recommended to clients at 458-460 day before. Looking for a target of 485 +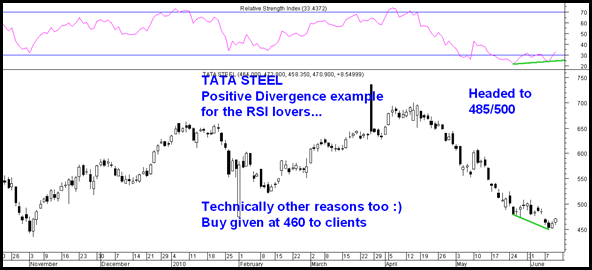 Bharat Forge : Trying to breakout. Wait for volume support. Stoploss 267 tgt 290.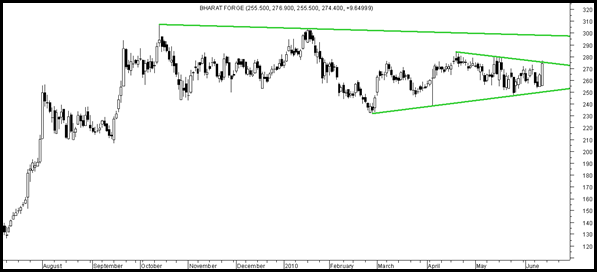 RELIANCE CAPITAL : Trading bet for short term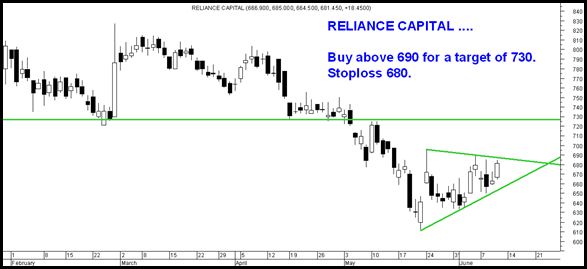 REFRESHER SESSION FOR ALL OUR EX-PARTICIPANTS – Mumbai June 12.
This is a Free refresher session in technical analysis for all the participants who have been through our training sessions in the last 5 years.
Timings would be roughly 3-4 hours around 10am to 2 pm. If there are more participants we would have another in the evening or on Sunday.
So revert back at the earliest to analyseindia@gmail.com or Kazim 09821237002
TECHNICAL ANALYSIS TRAINING SESSION – DELHI – JUNE 26-27
We have been getting a lot of inquiries from Delhi for conducting a training session so we would like to be there again.
Tentatively the schedule is June 26-27.
To register/confirm or know more get in touch with Kazim 09821237002 or mail toanalyseindia@gmail.com
We also plan to have more sessions in August for other cities as well as seminars. People interested to organize the same in their city can get in touch with us.
Dont miss the opportunity to learn and invest in a short course. This is one investment which is a sure Multi-Multibagger

Cheers,
Nooresh