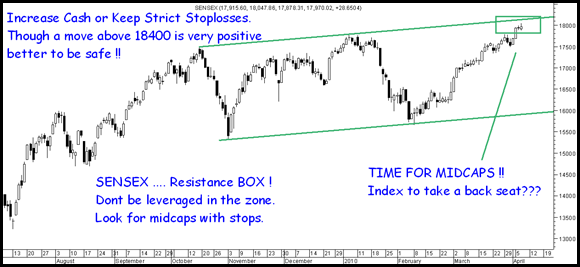 SENSEX TECHNICAL VIEW :
Points to Note :
- > Sensex is now at the upper end of the parallel Channel. The range of this upper end is roughly 18000-18400. This channel identification only helped us being bullish at 15500-16000.
- > Sensex has moved almost non stop from the lows of 15600 to current levels which is a steep rise. Lot many indicators are overbought and showing negative divergences.But overbought conditions can remain for long time
- > Higher Top Higher Bottom continues which gives no signal of a turnaround as yet but one needs to safeguard the portfolio as the risk-reward for fresh buying is no more that interesting.
- > Generally it is seen Midcaps/Small caps do perform in this zone. So traders can continue on midcaps with strict stoplosses and no leverage.
- > Optimistic Scenario – Sensex breaks out above 18400 and rallies to 18900-19500. Though i would not like to bet on this but a discipline of trailing stoplosses and increasing cash still keeps us in the system. 
- > 17470/17700 are two levels which could be stop loss for short term traders. Trail on to the current rise and we would look into a higher stop if we touch 18400.
Bottomline :
Fresh allocations should be avoided at current levels unless it is with a longer term perspective. Booking partial profits and increasing cash should be the way to go for Investors. Traders can keep a trailing stoploss and continue to go with the flow in smallcaps.
BSE SMALL CAP INDEX
Ever since last week of March have been maintaining the stance of Smallcaps/Midcaps to zoom in month of April with fresh allocations.
Bang on Small caps have rocked in the 1st week !!
3 days back had posted the chart on breakout in Small cap Index ---- CLICK HERE TO GO TO THE POST
Check the chart as of now below
.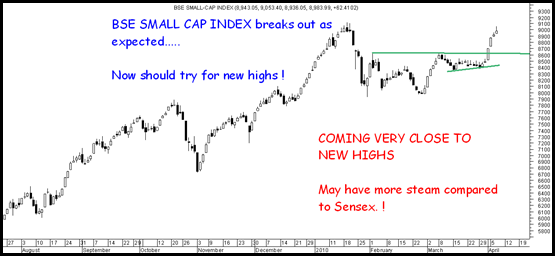 The next schedule for Technical Analysis Training Session is on April 10-11 in Mumbai.
For more details call Kazim 09821237002  or mail to analyseindia@gmail.com
Regards,
Nooresh