The presentation can be downloaded from the links below or go through the entire post.
Sensex at 16.6k Time to be optimistic – - Powerpoint Show
Sensex at 16k-16.6k , Time to be Optimistic not Scared.- PDF format
The presentation in a post for people who dont like to download 🙂
Sensex Falls – 12% roughly

15900 is almost 12% from the top of 18k which should be the worst case scenario.
Sensex absolute price wise – 2k points

15900 is almost 2k points from the top which should be the worst case scenario.
Timewise concerns on the pattern.

As per time analysis we can give a leeway of next 3 sessions for a strong bottom to be formed in 15.9k-16.4k zone.
Sensex downward channel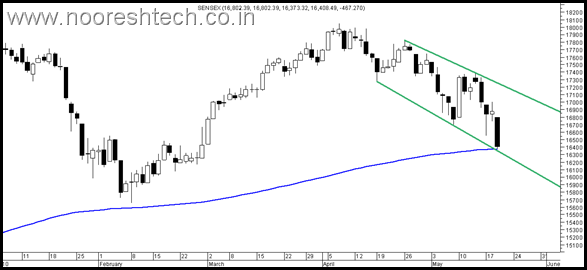 Downward channel suggests a bounce in next couple of days from 16200-16400 ideally. But we need to cross 16900 to give a turnaround signal.
200 dema/ Trendlines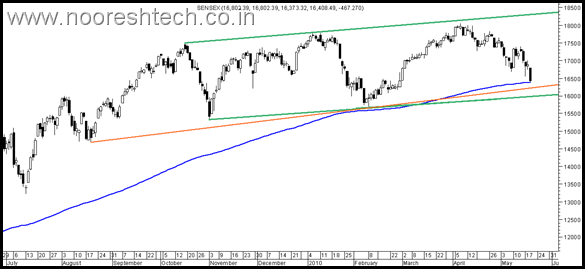 200 dema has been touched today. Downward trendlines give
Supports at 16250/16000 roughly. So a strong bounce can be expected from these lows. Break below 15900 really changes the chart formation to weak one.
Parallel Channels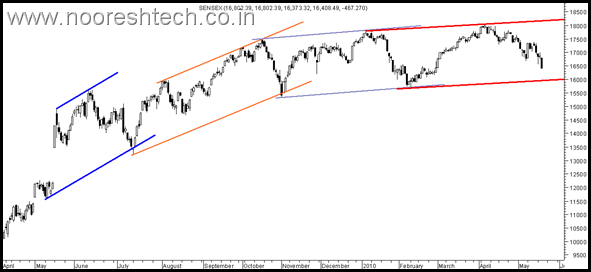 Have been able to exactly spot the last 3 bottom turnarounds using parallel channels. So again the bet lies on 16k holding up which is the channel support. ( seen in red and previous ones in other colors)
Global Indices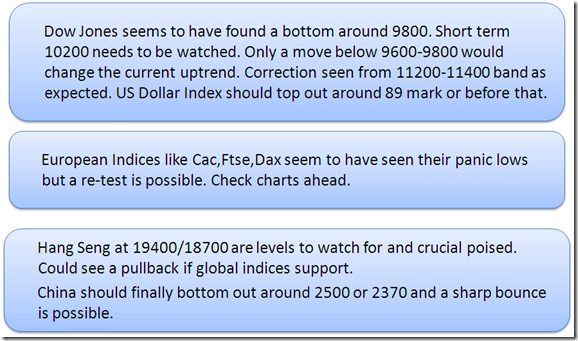 Global Indices – FTSE Update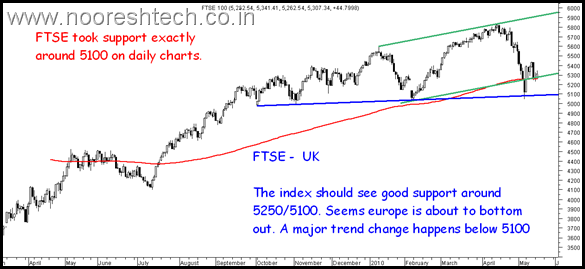 Global Indices- Dax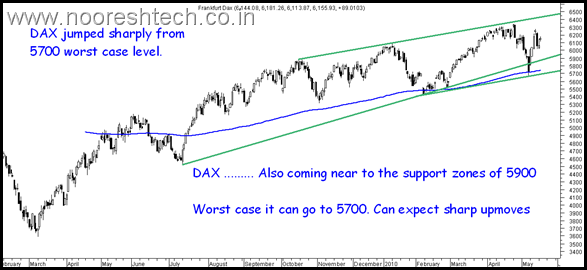 Dow Jones – 9800/10200 important supports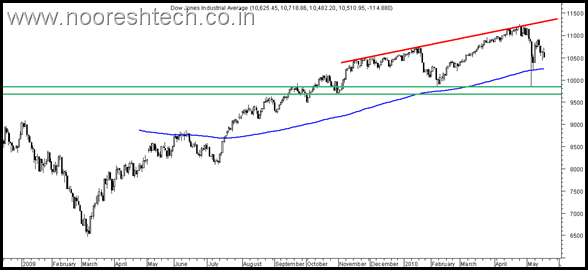 As had mentioned earlier Dow would take a pause from 11200-11400 but the correction was faster to 9800. Till it doesnot break 9800 the medium term remains positive. 10200 a level to watch for short term.
Asian Indices- Hang Seng ( weekly chart)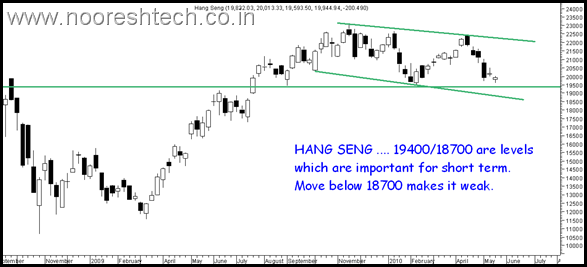 Asian Indices – China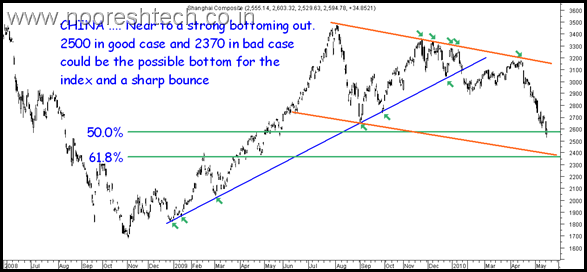 Crude- Bottom out around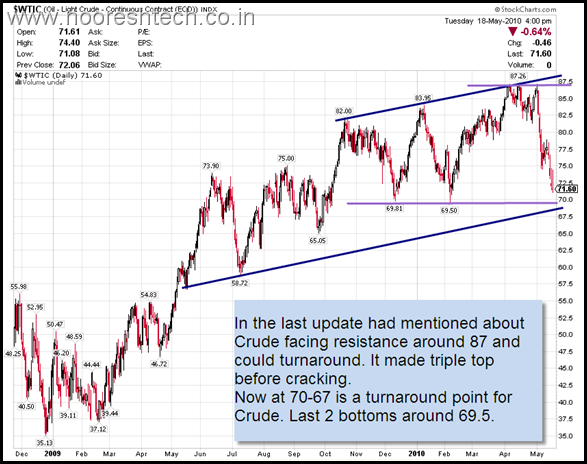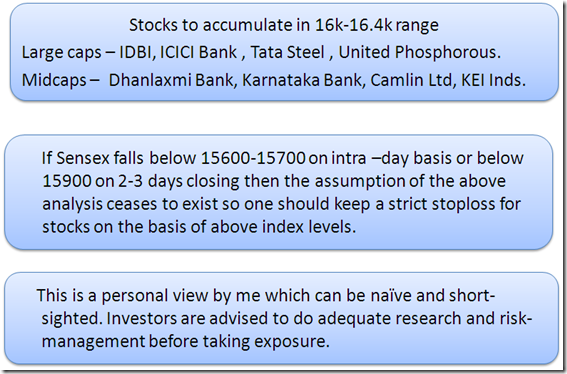 Although technically a prefer to catch momentum or turnarounds after confirmatory moves then to try predict precise moves of the market. But an attempt can be made to graphically show it to make it simpler.
The following chart is just an attempt to graphically pull up the probable scenarios for the next 1-3 months.
Even if one is bearish I would expect a bounce back to first set in from 16k levels. And if one is bullish then before going to 18500 it has to first touch 17k in between. So a bounce back trade is definitely low risk high returns
Sensex probable moves –: Bullish – Green , Bearish – Red , Low risk trade – Orange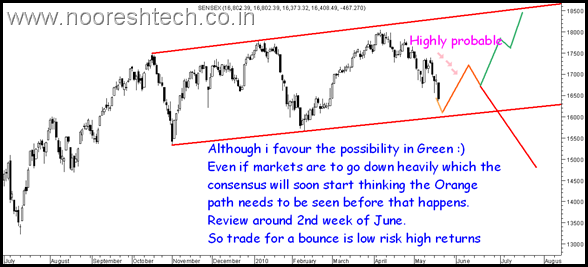 Please pass it to others so we can get more comments on the above view.
Analyse India
Website : www.analyseindia.com
Daily Blog: nooreshtech.co.in
Mail : analyseindia@gmail.com
Call: Advisory – 0983366151
Training – 09821237002
Nooresh – 09819225396