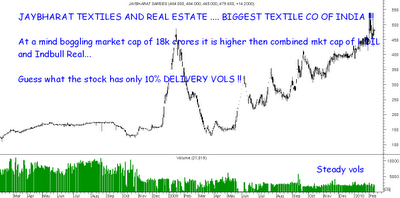 I think i have discussed on this co before but with boring market conditions i ended up doing a bit more research
Jaybharat Textiles and Real Estate !! --- Have u heard the name before --- Obviously not ....
Then you wont be knowing that
1) At 18372 crores market cap the enterprise value of this company is more then combined market cap of HDIL and Indiabulls Real Estate.
2) The stock was less then Re 1 in 2003-2004. The stock has appreciated 400-500 times !!!. Has given huge bonuses !!
3) The daily delivery volumes are only 10% !! ... So there are too many traders who keep punting intra-day in this stock. Even on a 1 hour 30 min session the delivery volumes the delivery vols were less then 1 % 🙂
4) With a promoter holding of 67 % the Tayal family should be worth 10k crores !!!
Well there is still more to be discovered in this company it seems ............... I would simply suggest that the stock above would explain the terms mentioned in the
POST BELOW
Best Regards,
Nooresh