Click to enlarge the chart so can read the target levels easily.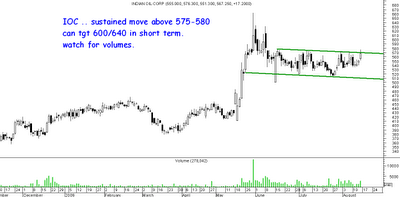 IOC :
Sustained move above 575-580 can give a good short term trade.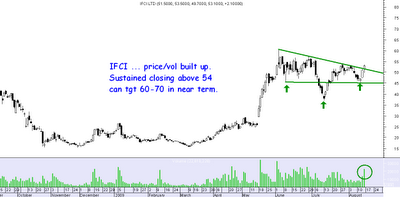 IFCI :
Momentum traders favorite stock. Sustained move above 54 may lead to a quick move to 60 + in short term. May take a small dip before the sharp move starts.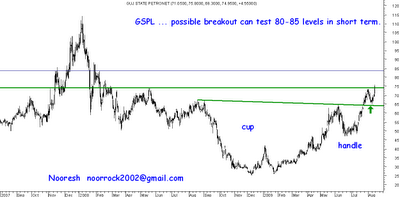 GSPL :
A strong breakout is possible in the medium term. For the short term the stock can test 80-85 levels.
Disclosure : Already recommended to clients at 70.5 yesterday.
Some other stocks :
ION exchange
the stock was discussed earlier also as a good funda pick seems now the stock may see smart volumes come in. Close above 115 for 2 sessions may lead to a move beyond 130 in short term.
KLG systels has given a small breakout and can slowly move higher but 5% circuit limit 🙁
Guj Flouro and Hikal limited look interesting but not heavily traded stocks.Investors can have a look.
RUMOURs and Badhi Baatein ! TAKE UR OWN CALL ... NEW SECTION ( do ur research or speculate with the risk involved) ... Just some market buzz. No onus on me if things dont go as rumours say.
NDTV stake sale to happen at 220 + .. Something cooking in here.
BPCL , HPCL may run before Oil India IPO.
Spicejet,Jetairways and Deccan can see renewed buying interest in next few weeks.
FMCG premium given to many stocks and super moves. Will pharma stocks see similar re-rating in months to come.
Small private banks like to move up on being possible takeover targets or catch up with large moves by the big ones.
TECHNICAL ANALYSIS SESSION MUMBAI
AUGUST 29-30
Call 09819225396 Nooresh to confirm your seat/queries / details.
Nooresh 09819225396 ( after market hours )