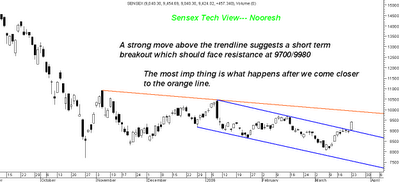 -  The level of 9300 is crossed in the near term with a good strong candle which clearly opens up the next target to ideally be the upper resistance line which is very crucial trend decider. The move might be a surprise but we have been waiting for clarity for last couple of sessions and this move shud lead to 9700 at least.
- The upper trendline comes roughly around 9950-10000 zone but the previous top around 9725 is an intermediate resistance which can be crossed. 
- The most important thing to watch here is how we react from the orange line zone which is around 10k. 
- On the time analysis front we have almost completed 48-50 sessions now and we did see a bottom around 8047 but it was not lower then the previous ones so we may have come out of the big drop pattern for now which was 10-12 weeks frop and then pull up. 
- In the last 5 months the market has had a range of 10900-7700 on a broader and in technical ones a sideways triangle pattern which actually breaksout above 10k levels. But the markets have  almost moved 1400 points already so difficult to expect a move beyond 10k.
- So trade on positive side till one reached 9700-9980 zones and then look for a turnaround or further formations to decide the next move. 
-- If we see the above chart the RSI indicator plotted has given a sharp reversal points ever since January. Although as an indicator RSI can continue to remain overbought/oversold for longer periods.
-- Last week when i posted the RSI chart we remained cautious which is a neutral approach and watch how it moves around 9100-9250. The current move is strong and has crossed 9250-9300 easily and may now next stall at 9700-10000. 
--- In such a case RSI may come to a level very close to that of January top so one should be very cautious around 9700-10000 zone and risky traders can even look to short. 
-- Ideally markets do react from such overbought zones but even if Sensex has to give a very sharp breakout beyond 10k it would be very difficult to do so without reacting from the zone mentioned. 
Cairn , HDFC , Ongc , Gmr infra of the discussed stocks moved sharply. GNFC , Tvs motors sluggish. The speculative FNO bets also gave a 15% pop. On pyramiding 2 stocks discussed were Axis Bank and LnT are still on hold.  We would soon look into small and midcaps for investments. 
Speculative moves now possible in Bombay Dyeing, Adlabs and Century Textiles in next 4-6 sessions if it has to. 
Possible small trades if available to breakout with a strict stop of 3% tgt 7-10 % . 
IDBI above 47 for tgt of 51 -52 
IOB above 46 for a tgt of 50 
RNRL if crosses and stays above 46 can tgt 50/54 quickly 
Market Observations and Thoughts :
The move today has surprised lot of the traders in the market as many are stuck on the short side and have been relentless in adding the positions. The current move has been fuelled in by the aggressive shorters who are running for cover. So one has to rememeber with short term trading its always more about money management ( low leverage ) and stoplosses discipline then about timing it right. Markets are bound to surprise !!! either u be ready for it or u may end up getting a shocker.
The current move did surprise me and after a busy weekend ( no blog update as personal work) it became difficult to digest such a quick move but could not capitalize with a couple of longs only  and an advise to hold small qty of 2600 put which is 25 to zero. Bear rallies can be deceptive and quick you catch some u lose some. 
There is one good quote which may be applicable some months down the line and not now !!! .
" Every Bull market starts with a bear rally 🙂 "
Best Regards,
Nooresh 
noorrock2002@gmail.com