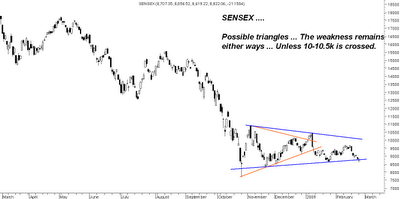 Sensex Technical View :
In the last week had discussed that Sensex immediate levels in short term are 8630-8750 to watch and would decide the next move. We saw fridays low around 8750 and today arnd 8620 close to the band. 
Some things to note in last few sessions:
--> A fall of 1000 points or around 10% in last 7 sessions.
--> Gaps around 9213-9279 and 8944-8978 left in the last 2 weeks. 3rd gap down got filled today itself. 
-->8630 is the January month low. 
The above observations point to an oversold state ( indicator followers can check hourly charts , i prefer to keep it simpler and understandable) . 
A possibility is we see a bounce back in the next 2-4 sessions which may look to touch 8970-9270 zone which is gap filling and resistances. 
Although the trend remains down and could see more selling pressure below 8500. So a risky play would be to go for a pullback with a stop of 8500. 
TRIANGLE PATTERN IN SENSEX :
In my last video had shown the impact of triangle formation on Sensex . Some weeks back we had discussed about the same when Sensex broke 9500 after Satyam fiasco. Sensex has not been able to get back into that trendline and currently the chart as seen yesterday another important support comes around the 8500-8700 band roughly on closing charts.
Sustained closing below 8500 would again confirm the breakdown from triangle ( taking 2nd line joining 8500, 8316 , 8631 ) and lead to a tgts of 7700 and lower also.
So continue to watch 8500 level till March end ( time series calculation ) to get the next direction for the market. 
The stock has had lows around 990-1000 in the last few months. So can expect a bounce back from this zone. Buy around 1010-1020 stop of 990 tgt 1045-1070 in short term. 
Supports placed around 350 and 310 can be bought on dips with the stop and can give a bounce of 5-10%. 
The above two stock seem positive in the near term. Bajaj above 505 and Maruti above 645 could give a good bounce of 20 bucks. 
Small PSU and private banks look a low risk investment bet in long term. Of late we have been seeing a good amount of selling pressure in OBC , PNB , Central , IOB , BOI etc. With high dividend yield and good price to book the sector looks interesting on further dips below october lows could give a safety net of capital preservation. Seems good to me but am not good at fundamentals so expect readers to contribute on stock picking in the sector. 
PEOPLE INTERESTED IN JOINING THE TECHNICAL ANALYSIS SESSIONS can mail to noorrock2002@gmail.com or call 09819225396. For subscription to advisory services check nooreshtech.co.in 
Best Regards,
Nooresh 
09819225396
noorrock2002@gmail.com  , meraninooresh@yahoo.com