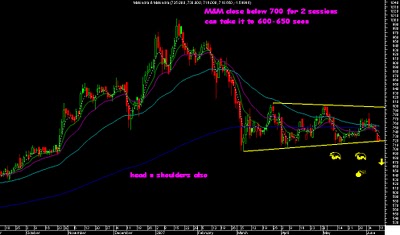 mahindra & mahindra looks all set for a big decline in coming days ...Once starts trading below 700 expect a good 5-15% fall.......................Have been continously saying exit from the auto stocks ..... I dont think people took it that wisely by saying we are long term investors etc etc ............Investors should be alert towards macro changes also ...
Regular readers can mail us their Contact Details like Name , City , Occupation and Phone no to our mailing address noorrock2002@gmail.com .If we have some free investment ideas and calls which we would share very rarely may come to you through a sms from Analyse India 🙂
TA course schedule
Mumbai June 16-17 ....
Limited seats
Bangalore June 23-24 ....

FOr our SMS service + newsletter + yahoo messenger check https://analyseindia.blogspot.com for details and mail to noorrock2002@gmail.com for payment details....

Regards,
Nooresh
09819225396
meraninooresh@yahoo.com
noorrock2002@gmail.com