Kotak Mahindra Bank & Other Banks
#BankNifty 44k
Flashback to this report 10 months back. Check Report in June 22
Quick Update
Next trend would be decided by #HDFCBank ( 25-28% Weight ) - 1750 a major resistance.
#KotakBank - ( 10 % weight ) - 2000 resistance.
#ICICIBank strength continues.
 #SBI crossing 600 confirmation of strength.
#AxisBank & #IndusindBank ( 1250 resistance ) can be new leaders. Similar Outperformance would be tough. Be selective.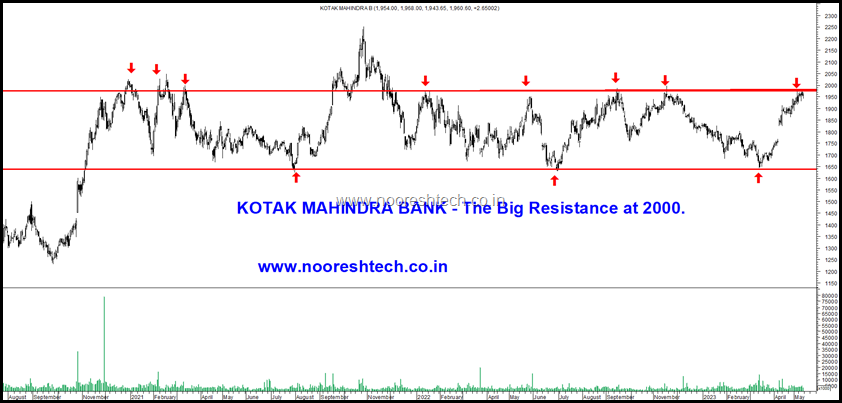 #NBFCs, Small Finance Banks, Small Banks
There is an old thumb rule as to how NBFCs, Smaller Banks can outperform when Rate Cycle has peaked or the rally starts with Big Banks to Small Banks and then Nbfcs.
A lot of charts trying to make 2-3 year breakouts in this space.
A couple of examples. Earlier we
Ujjivan Finance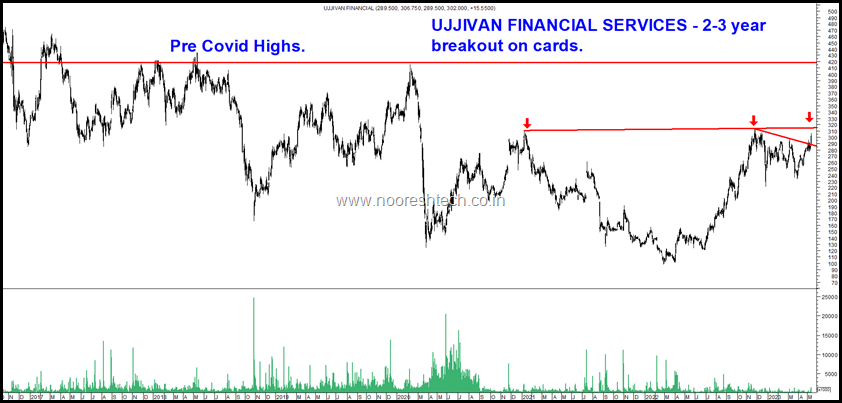 L&T Finance Holdings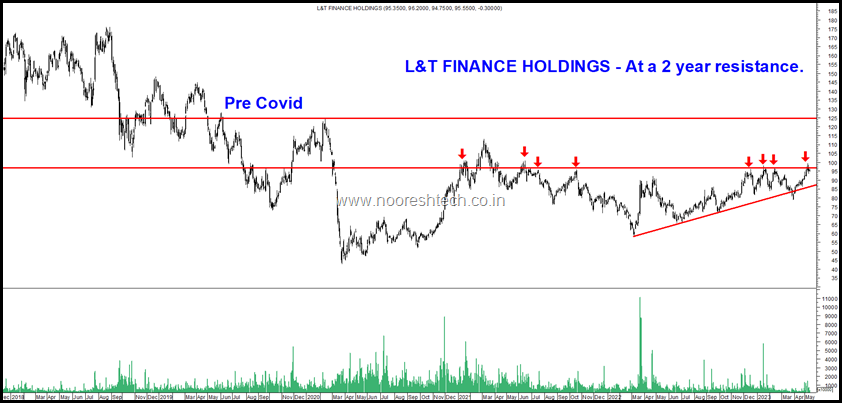 Many interesting charts here – M&M Finance, IDFC twins, Equitas, Chola, Federal , Muthoot Cap, etc
The PSE Outperformance to Continue
Been vocal about my positive stance on PSE for last 1 year or more.
The outperformance continues and can keep doing so.
Nifty PSE – Breakout done.
Also if you consider dividends a lot of them like Powergrid, NTPC, Coal India etc are at all time highs for quite some time and making new too.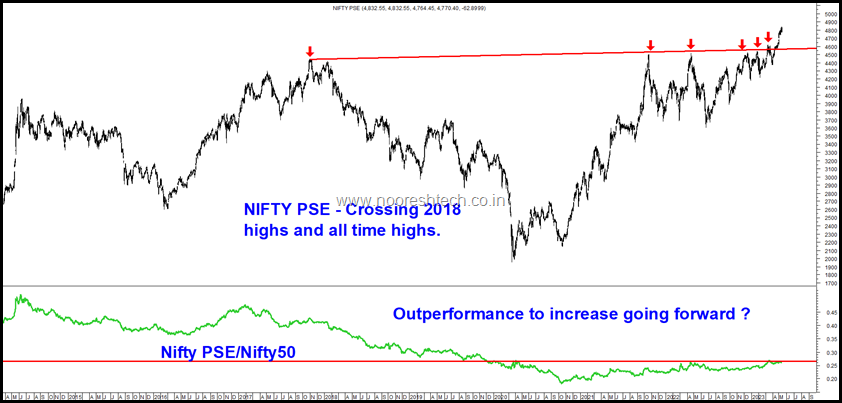 Look at an older index which also considers PSU Banks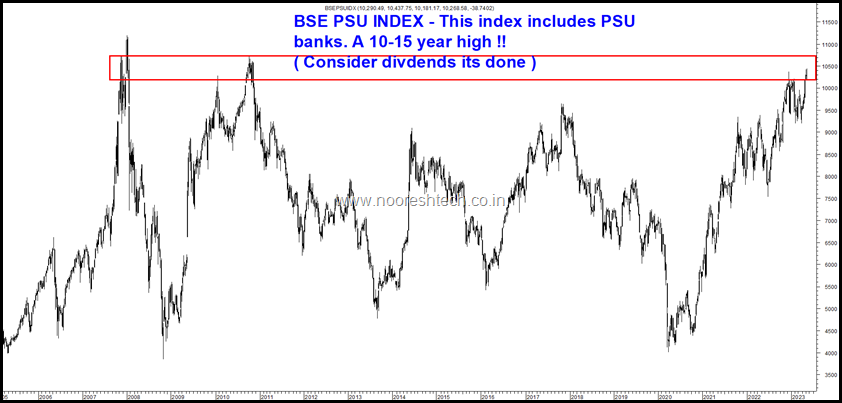 There could be a lot of FOMO in the sector as it continues to be under-owned.
Did you know FIIs own 32.3% of Powergrid. This used to be 25 % in June 2020.
FIIS own 15.61% of NTPC. Used to be 11.4% in June 2020.
The public holding in both the cos is sub 3-4% of Equity
Disclosure – Author is biased due to exposure in PSEs.
New AGE Cos bottoming out !
After being extremely negative on the whole segment for last 1-2 years. Remember this tweet
A good statement from a friend - "Old guys don't understand tech, but Young guys don't understand Risk"
From celebrating Scale and Losses we are now talking about all negatives in New Age Cos. The sentiment has turned sour but prices have flattened out.
Also now being listed the liberal ESOPs should stop ( shareholder approval tough now) ,  suddenly the numbers will look optically better.
The view would change 15% crack or break below last 3 months low. So a risk-reward bet.
Have taken the step to actually added one of the new age cos in our Smallcases and Technical Traders Club
Some of the examples of bottoming out in New Age Cos.
PB Fintech
1 year of consolidation and a short term breakout done.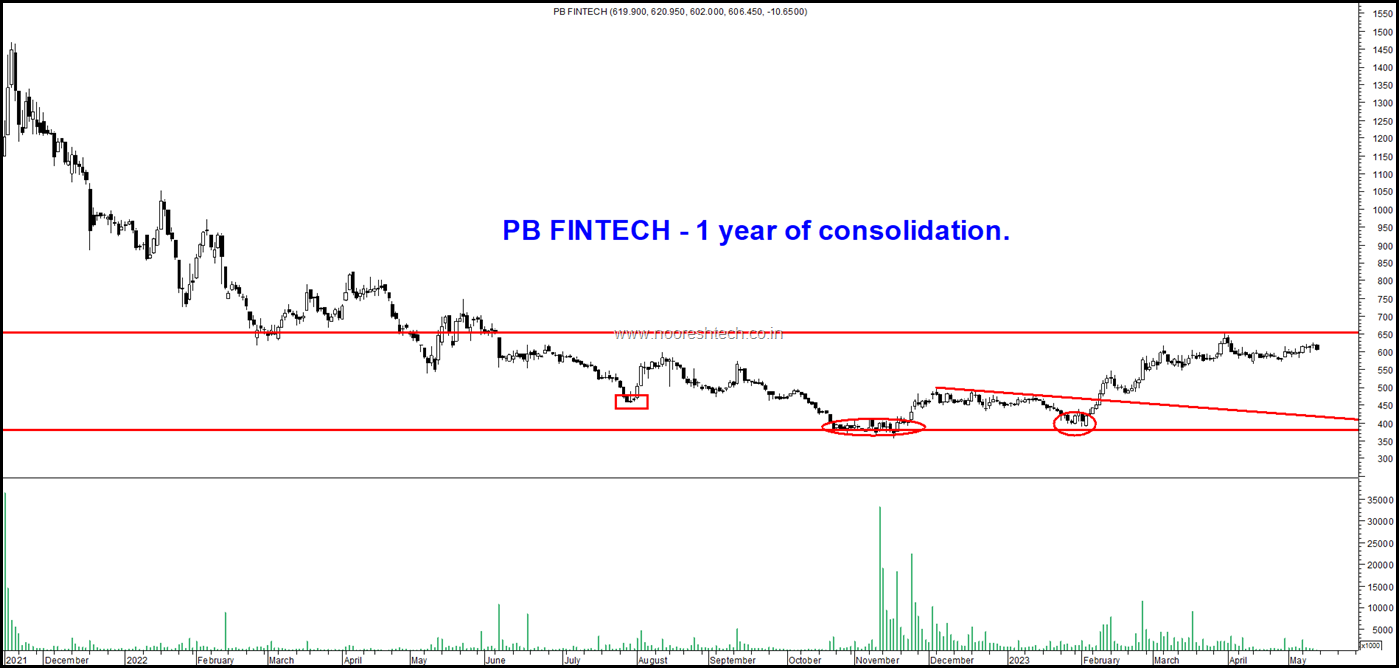 Paytm – 1 year of consolidation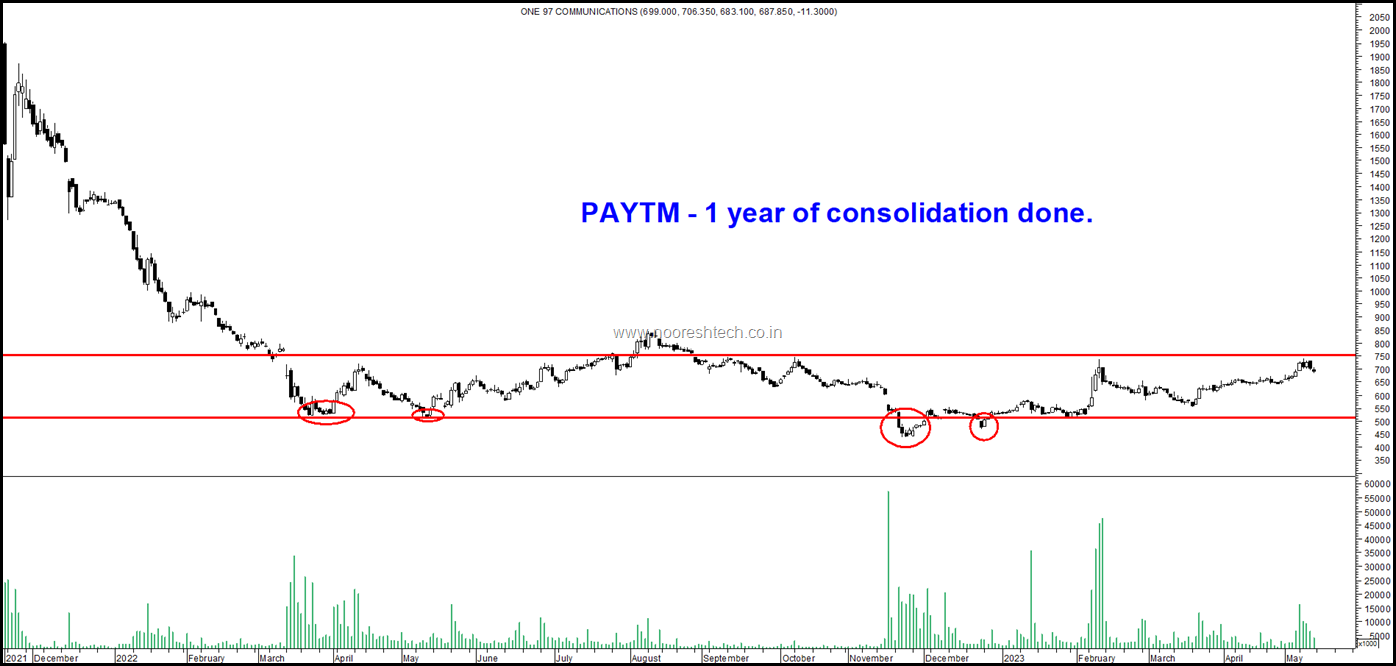 Zomato – Base made. Short term breakout done.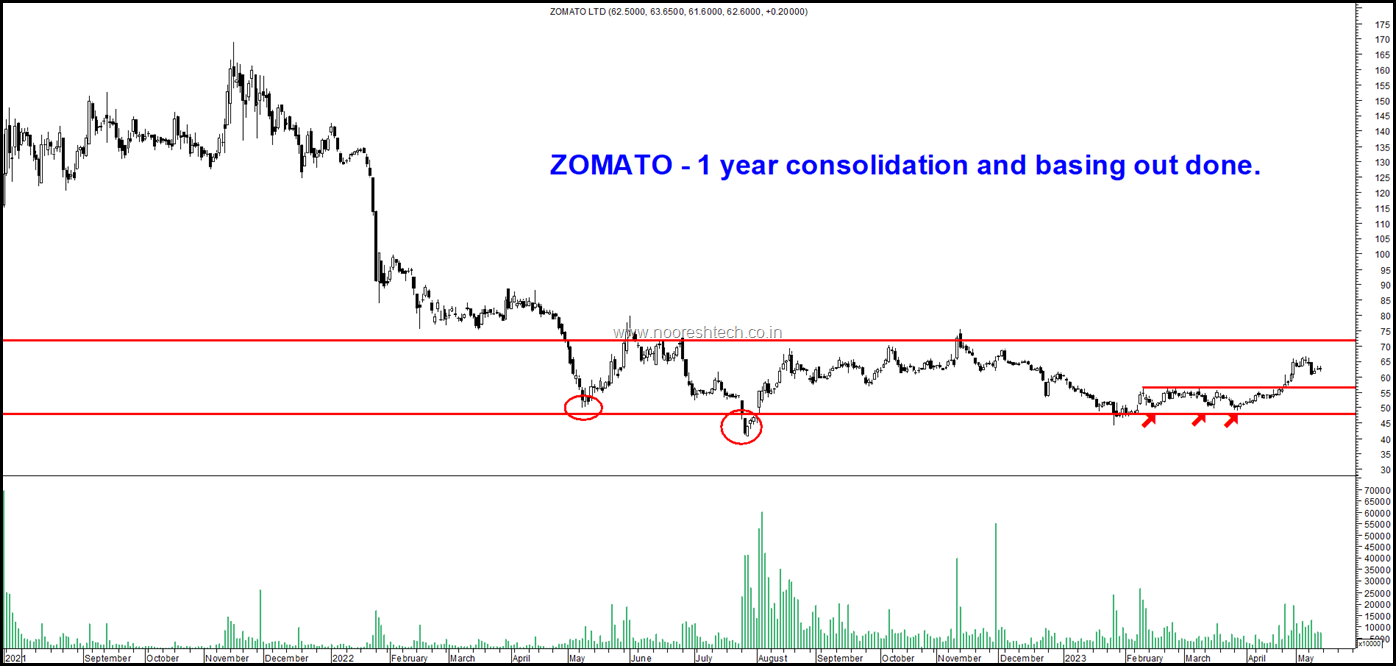 The Smallcap Index Shakeout
March end correction and the false breakdown was a good Shakeout which is generally the case before the big outperformance of Midcaps/Smallcaps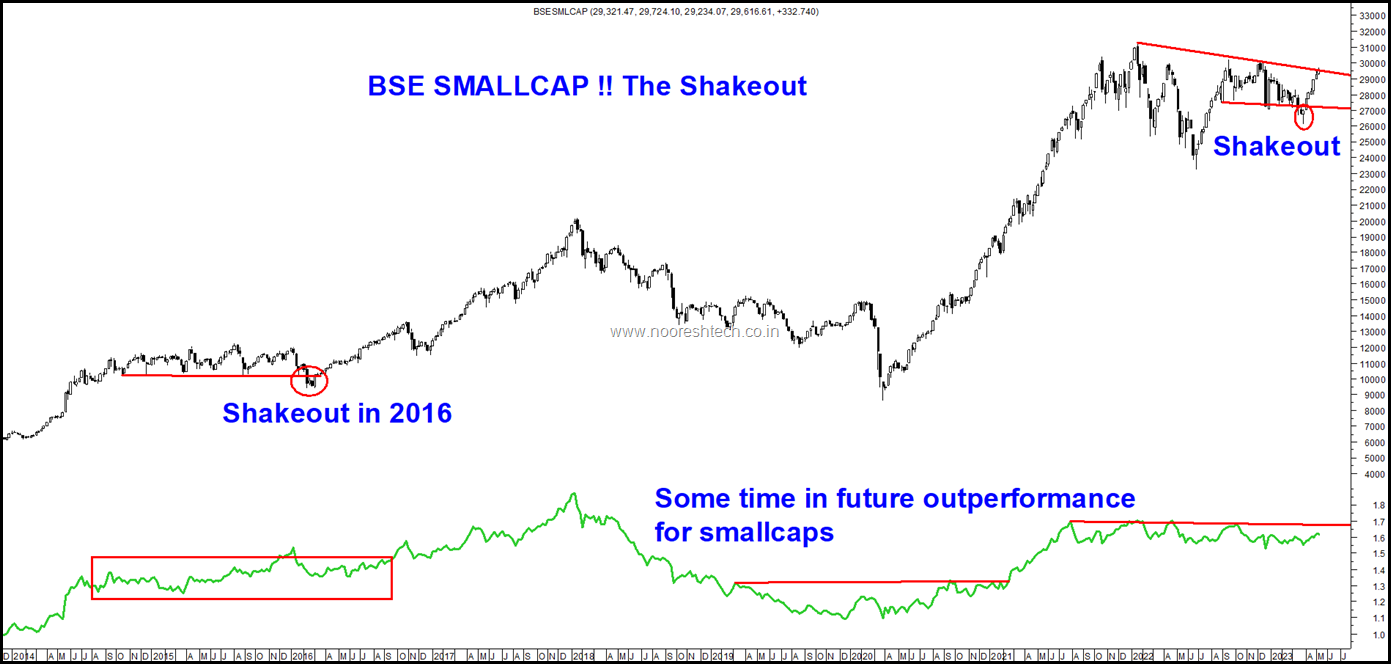 Subscribers of Technical Traders Club could capitalize on the opportunity and not get shaken out.
Message of 27th March
Read More on TTC:  https://nooreshtech.co.in/quickgains-premium/technical-traders-club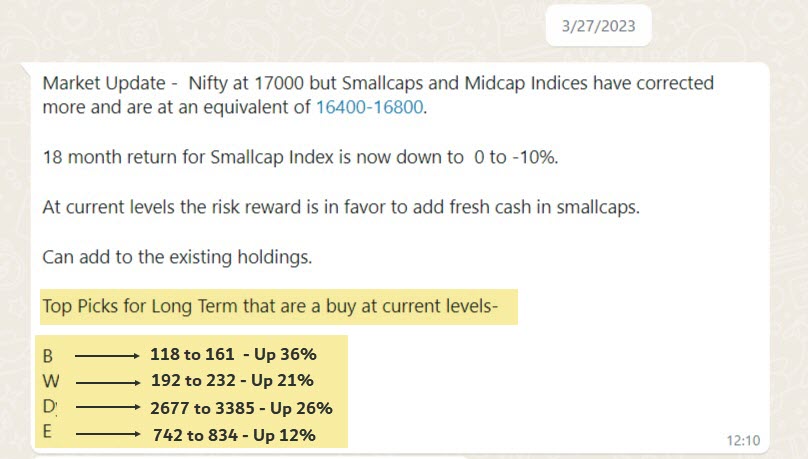 To get regular updates of the Blog Posts join our Whatsapp Group or Telegram
Whatsapp Group 2 - https://chat.whatsapp.com/DRi9UfTeATyGOId54PebUi (Do not join if you are already part of Group 1)
Telegram Group - https://t.me/nooreshtech
To get Short Term Breakout Charts and Insights on Stocks – Check our Traders Room Offering
Read more : https://nooreshtech.co.in/2022/07/technical-traders-room-a-broadcast-for-traders.html
For our Smallcase
Subscribe: nooreshtech.smallcase.com