2017 has been one amazing year with the Nifty not even dropping 5% on a closing basis and absolutely no scare all through the year. One of the smoothest ride.
The Smallcap Indices have gone through the roof with BSE Smallcap Index up almost 55-60% this year.
A good post in these times to read again - Doubled your Money in Last 3 Years ? Skill or Luck ? ( The heading would now change to Tripled your Money )
We should thank the markets to being so kind to us.
Wish you a Happy and Healthy New Year.
Think 2018 will not be as smooth as 2017 but who knows could be much better or crazier.
My personal view is one needs to be more cautious on Smallcaps/Microcaps given the Momentum Divergence ( Thats my view but my positioning because of a technical bias is to keep riding but ready to jump out anytime)
For now the kind of momentum in smallcaps is like a problem of plenty for a momentum trader in smallcaps. Even while making money you are envious on the ones which you missed. Greed and Envy at its peak and this is when one can make stupid mistakes.
Do read the previous post - BSE Smallcap Index and Nifty/Sensex–Momentum Divergence–How long can it continue ?
After such divergences in Smallcaps to Largecaps and after a rally we generally see a lot of sectoral and stock leadership changing.
Just focusing on the Top 100 stocks and looking at long term charts the following come up on radar for possible big changes.
Have not given a view but would like to receive views on the questions in the possible scenarios for following charts.
Bajaj FInance – Time for Underperformance ?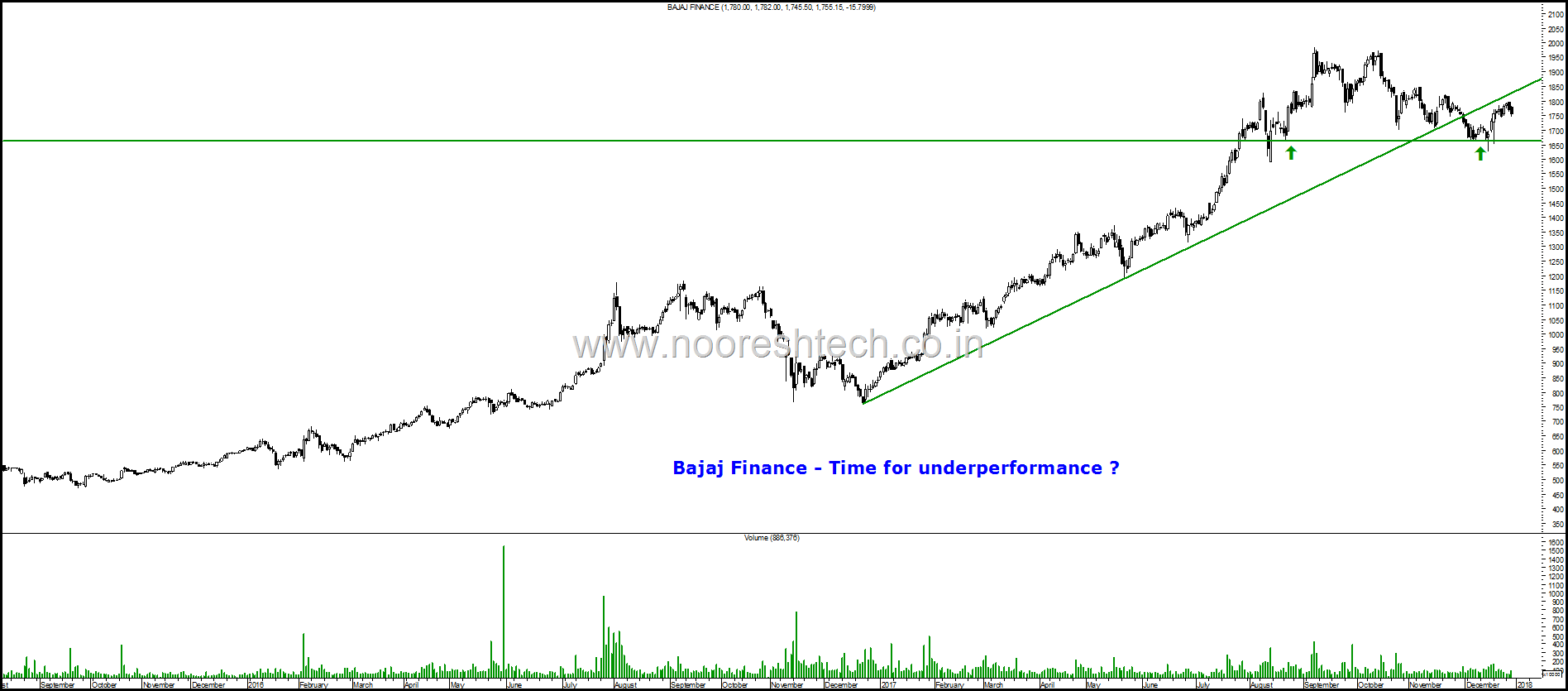 Bajaj Finserve – Time for Underperformance.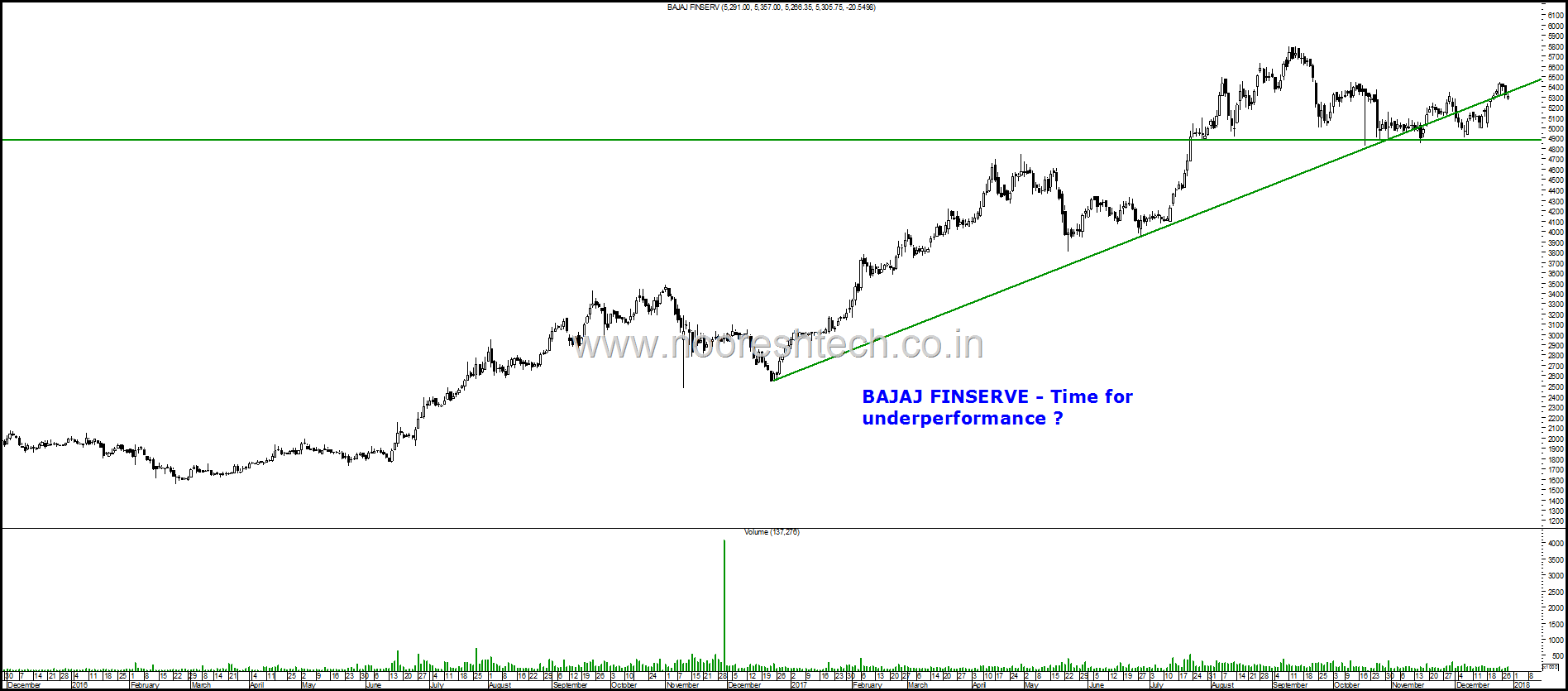 Bharti Airtel – Will it cross ATHs ?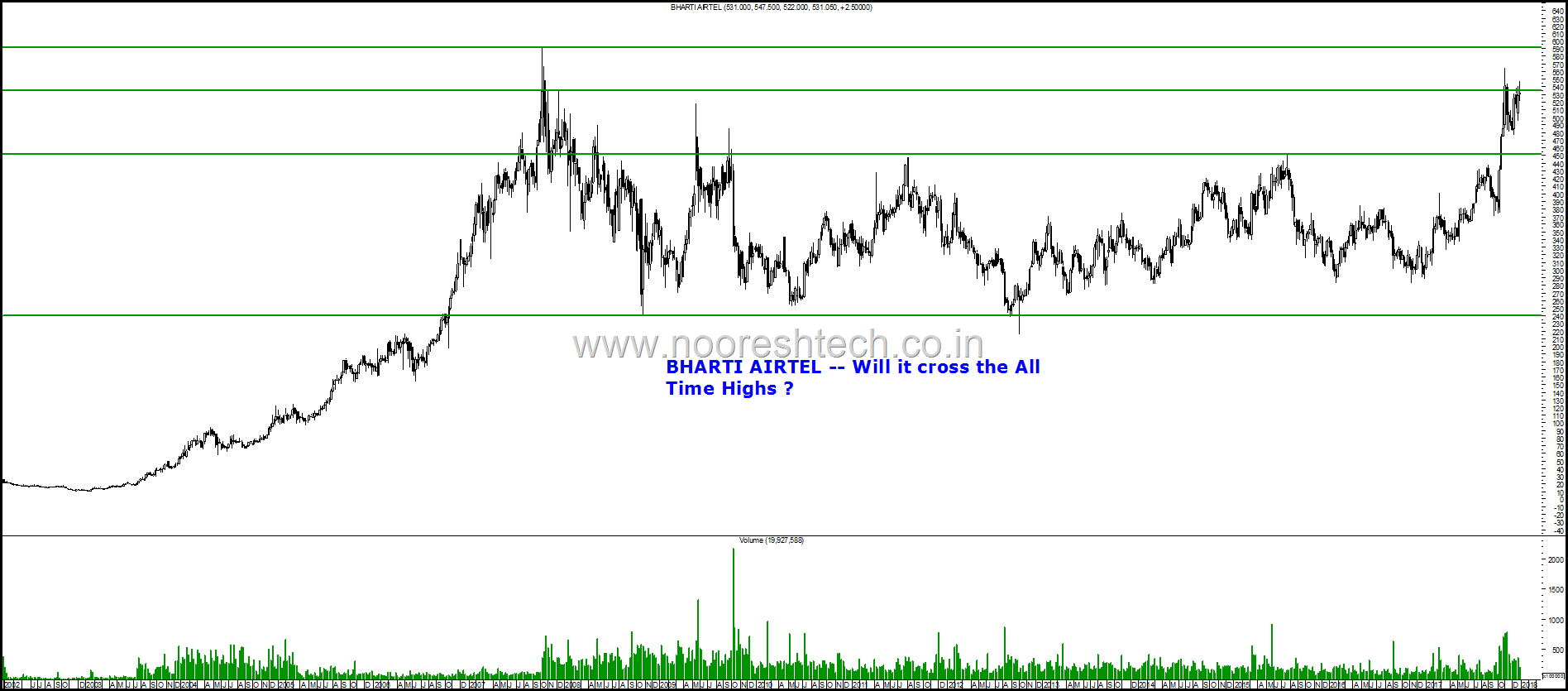 BHEL – Will it rise from the ashes ?
DLF – Finally Fortunes Turning for the stock as well as Sector going into a big turn. Also an observation a Bull Market sector generally revives after 8-10 years. ( Cements 1992 and rallied in 2003-2007, IT did better from 2010). Also the newer names do better.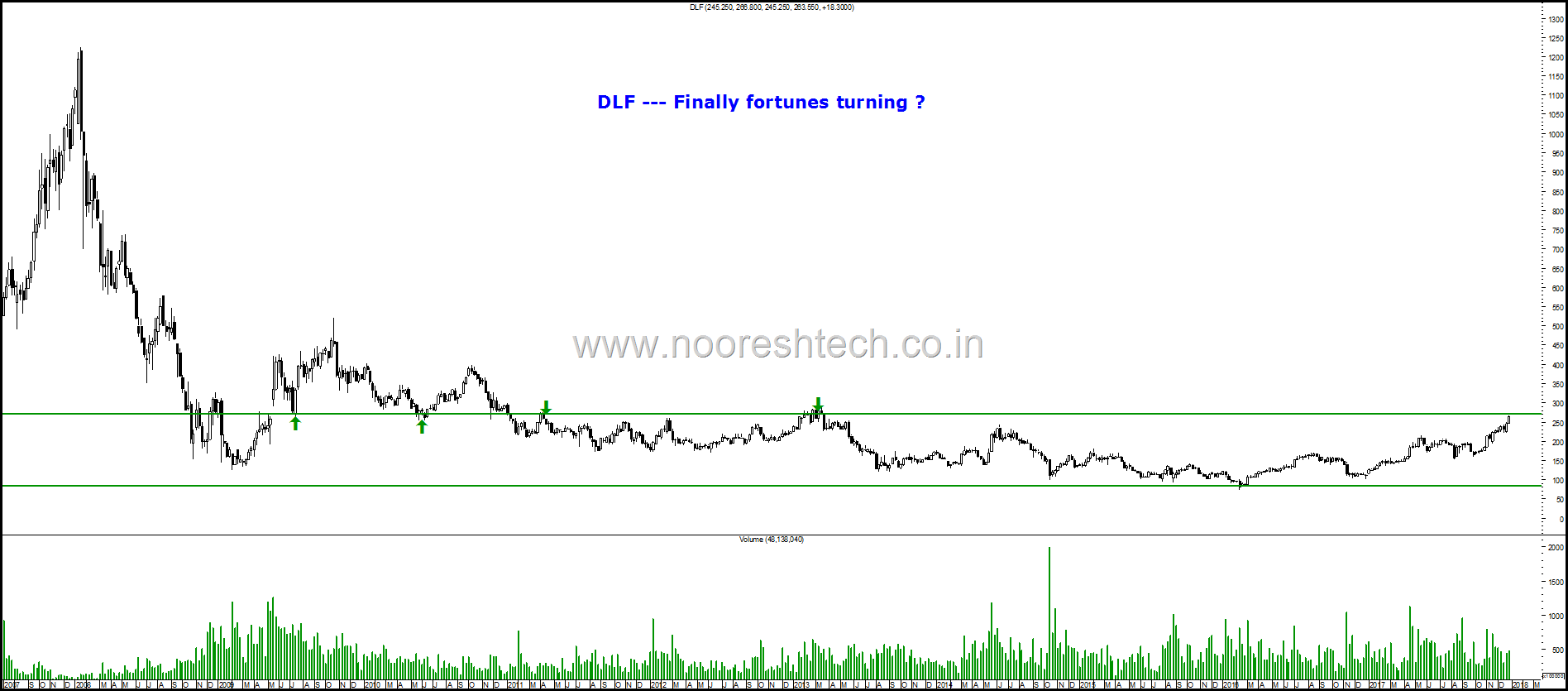 HDFC BANK – Super Outperformance this year. Time for some Time correction and Underperformance ? Also it has become the largest weight in the Nifty now.
Hindalco – After a crazy rally is this a Top or Start of a Bigger Momentum Cycle ?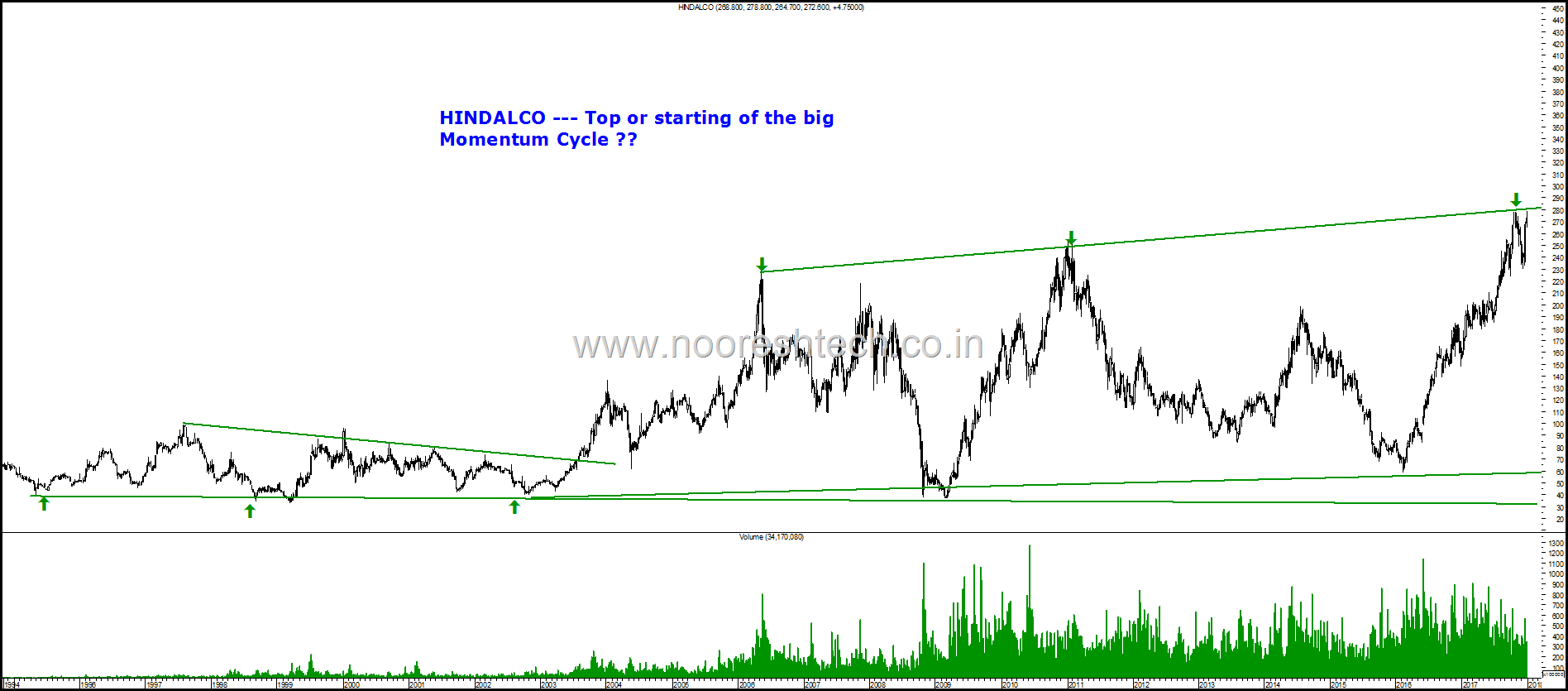 IDEA – Will it turnaround ?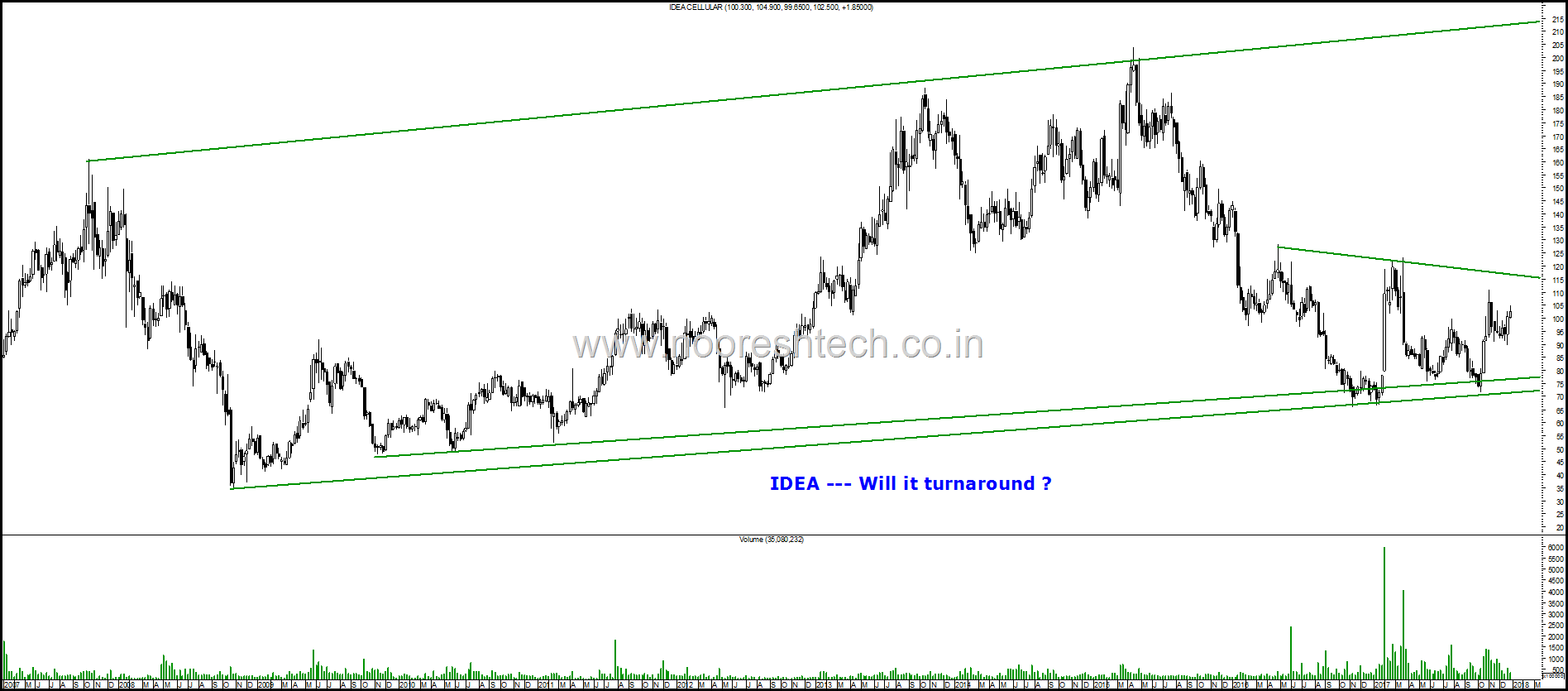 Indusind Bank – Underperformance and Time Correction ?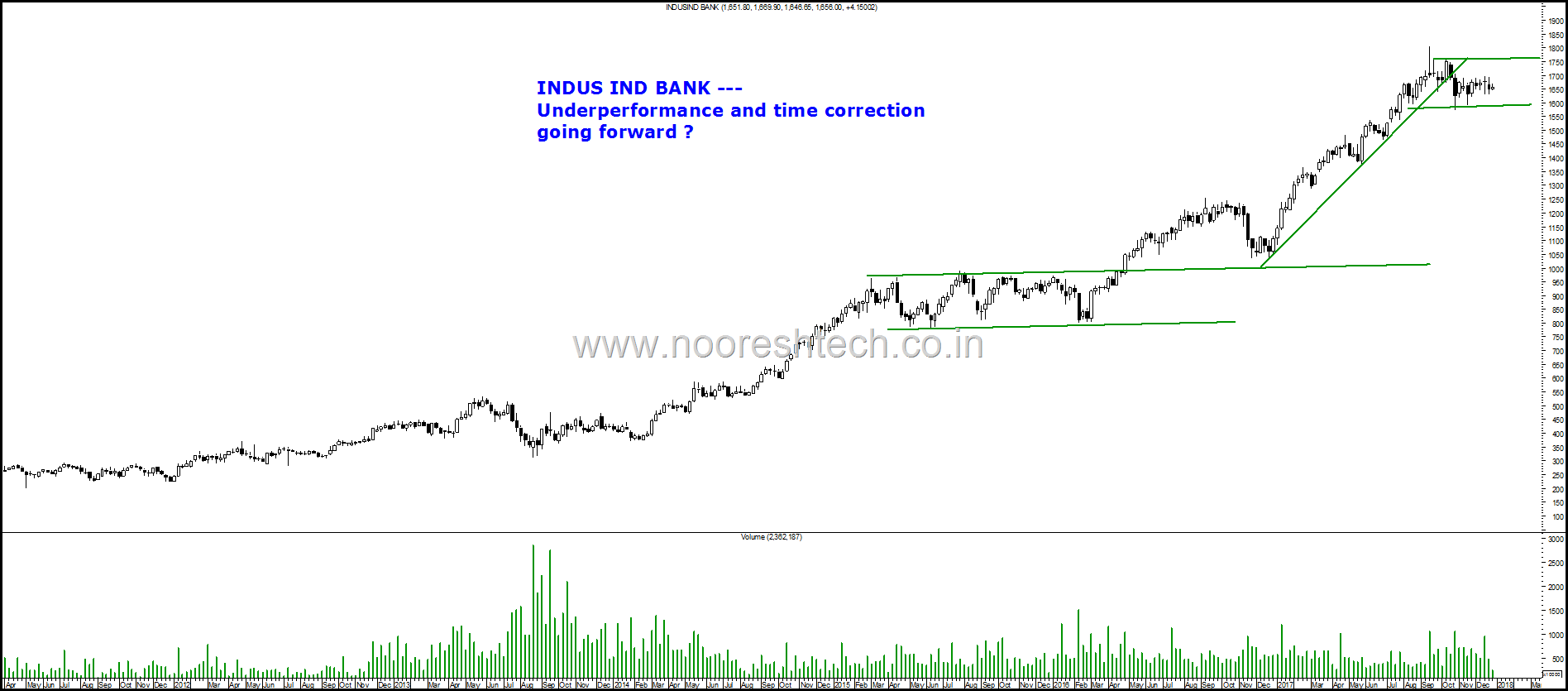 Infosys – Back to a Slow Upswing or will it break the lows of 2017 ?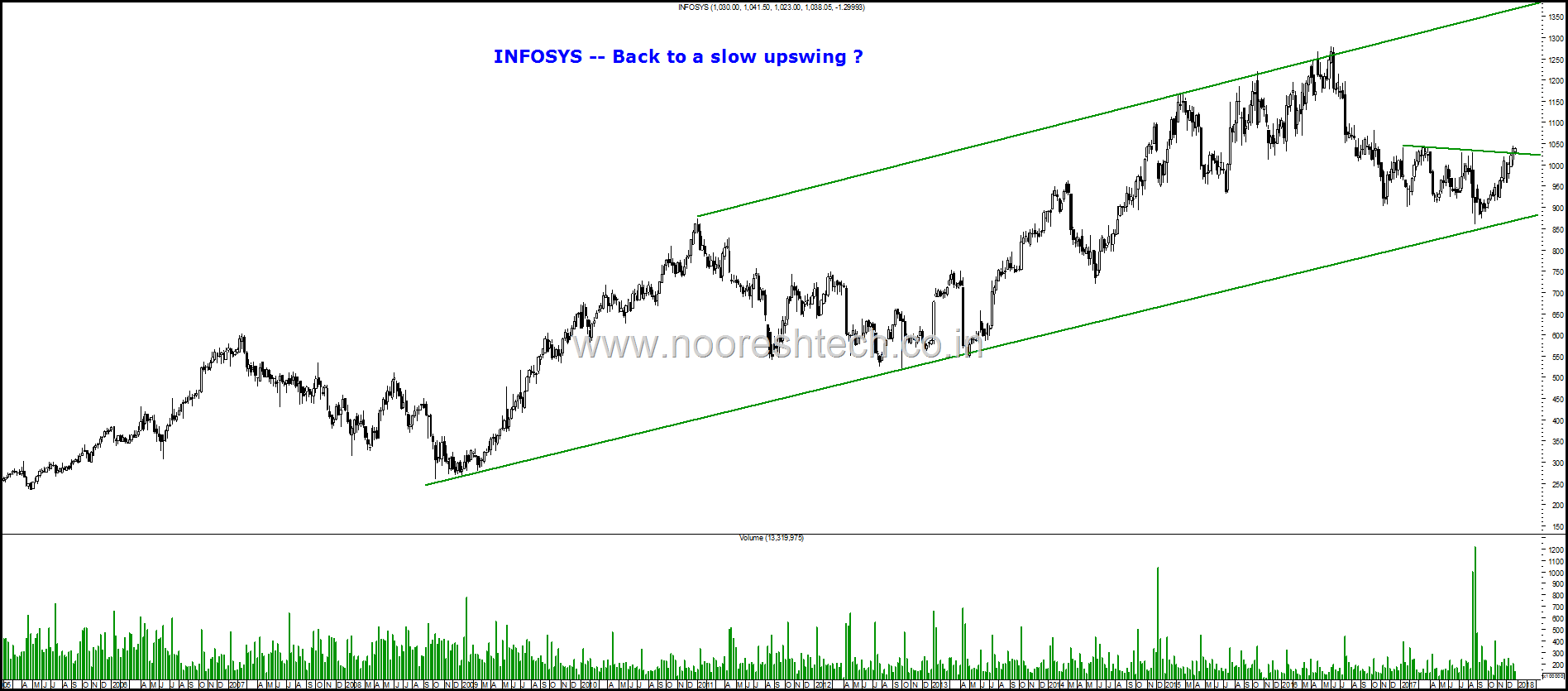 Kotak Mahindra Bank – Time Correction or Breakdown and correction ?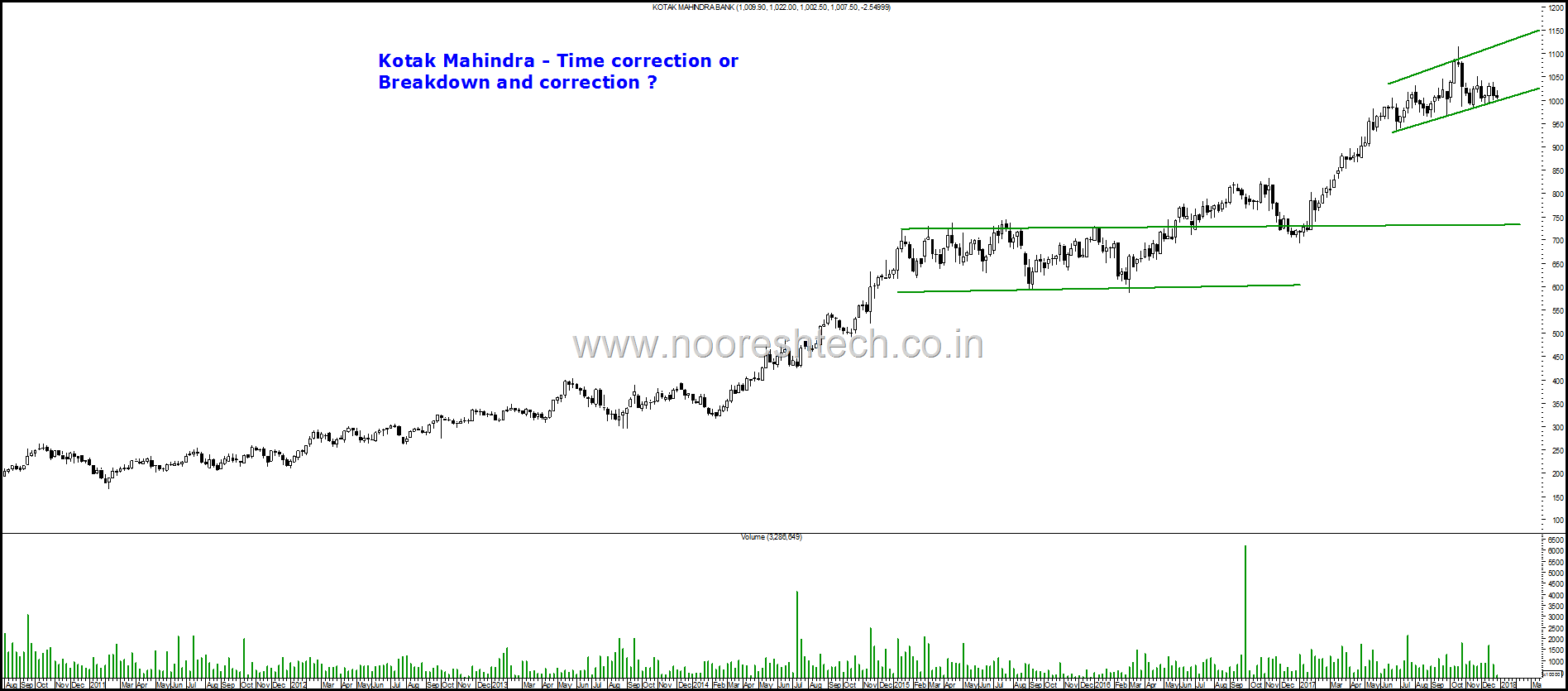 Larsen & Toubro – Is the leadership going to be passed back ?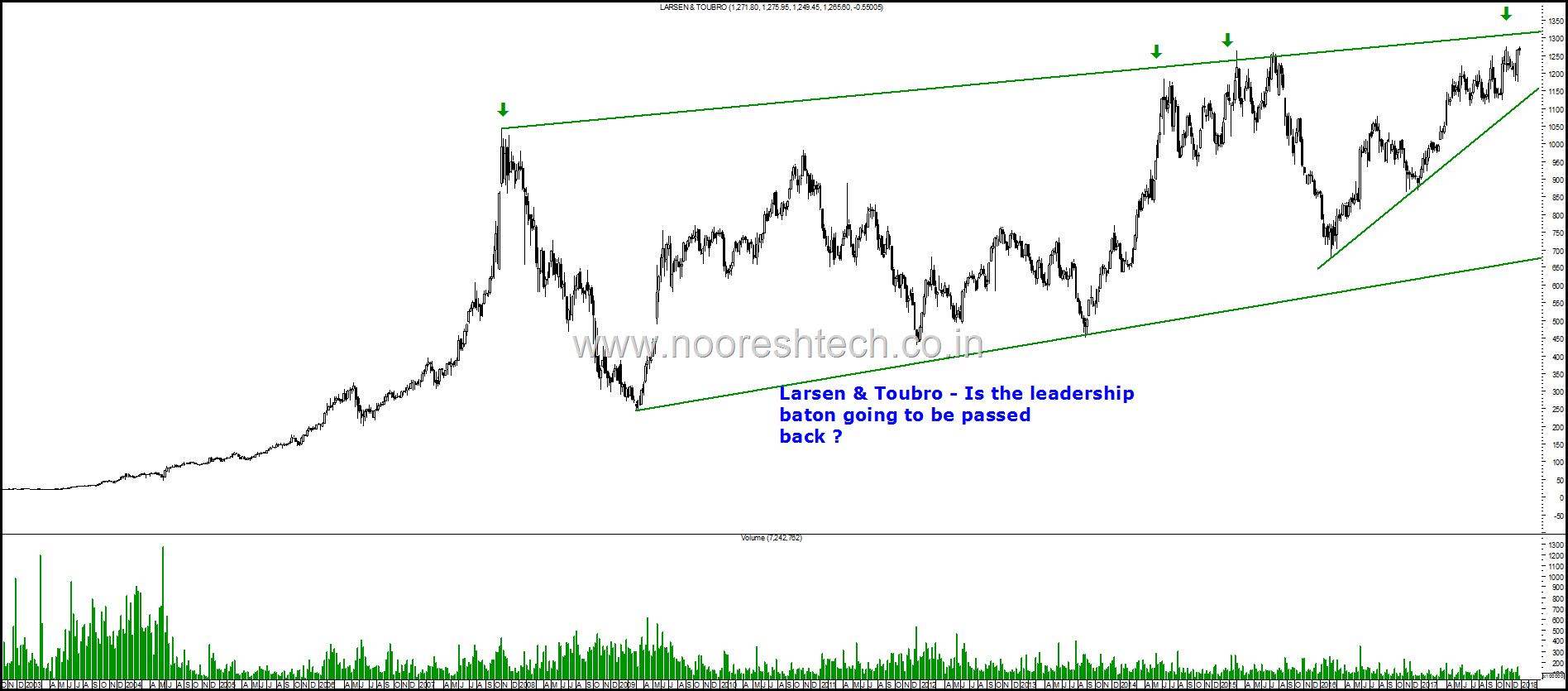 Mahindra & Mahindra – Will it be a quick sprint or Marathon when it breaks out ?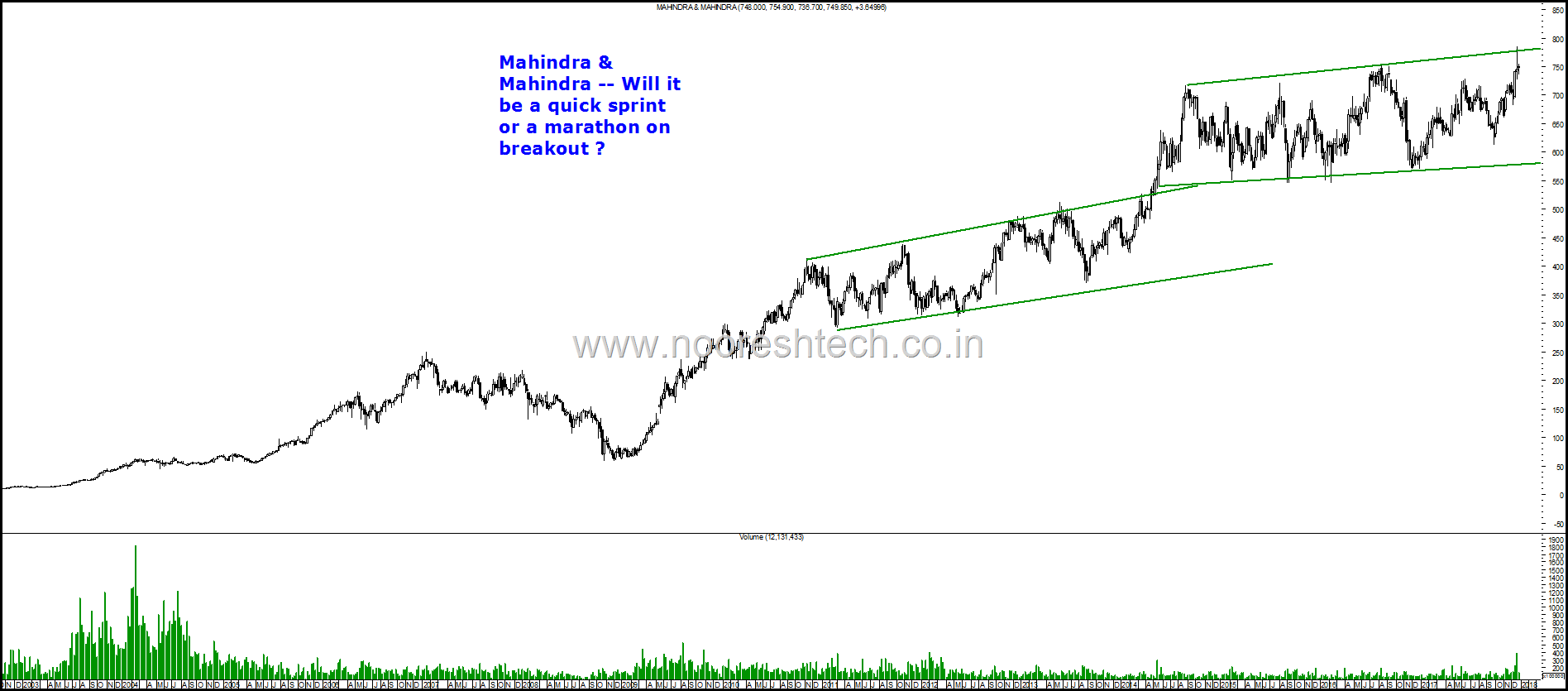 NMDC – A long term turnaround ?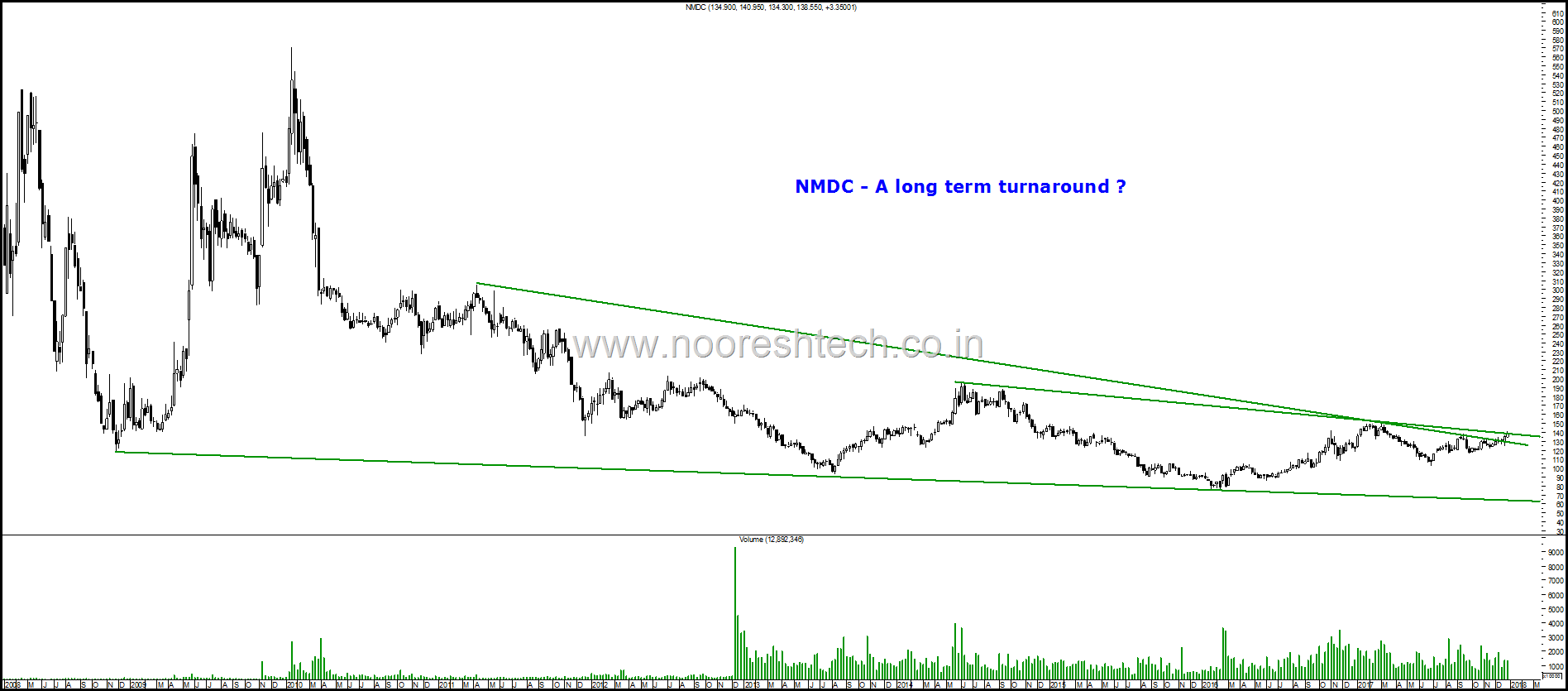 Reliance Inds – Broke out in 2017. No reasons for a stop as of now.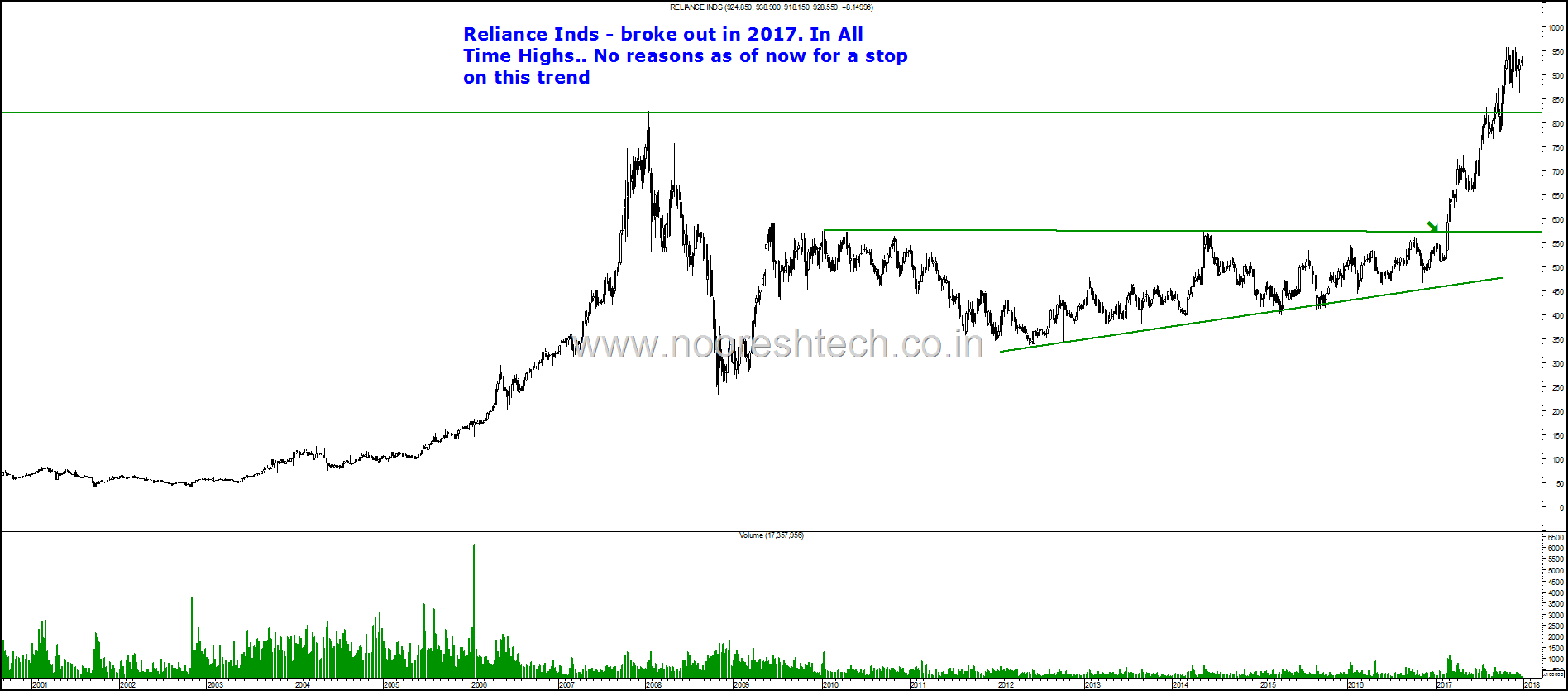 SBI –Time to regain some old Glory by crossing ATHs ?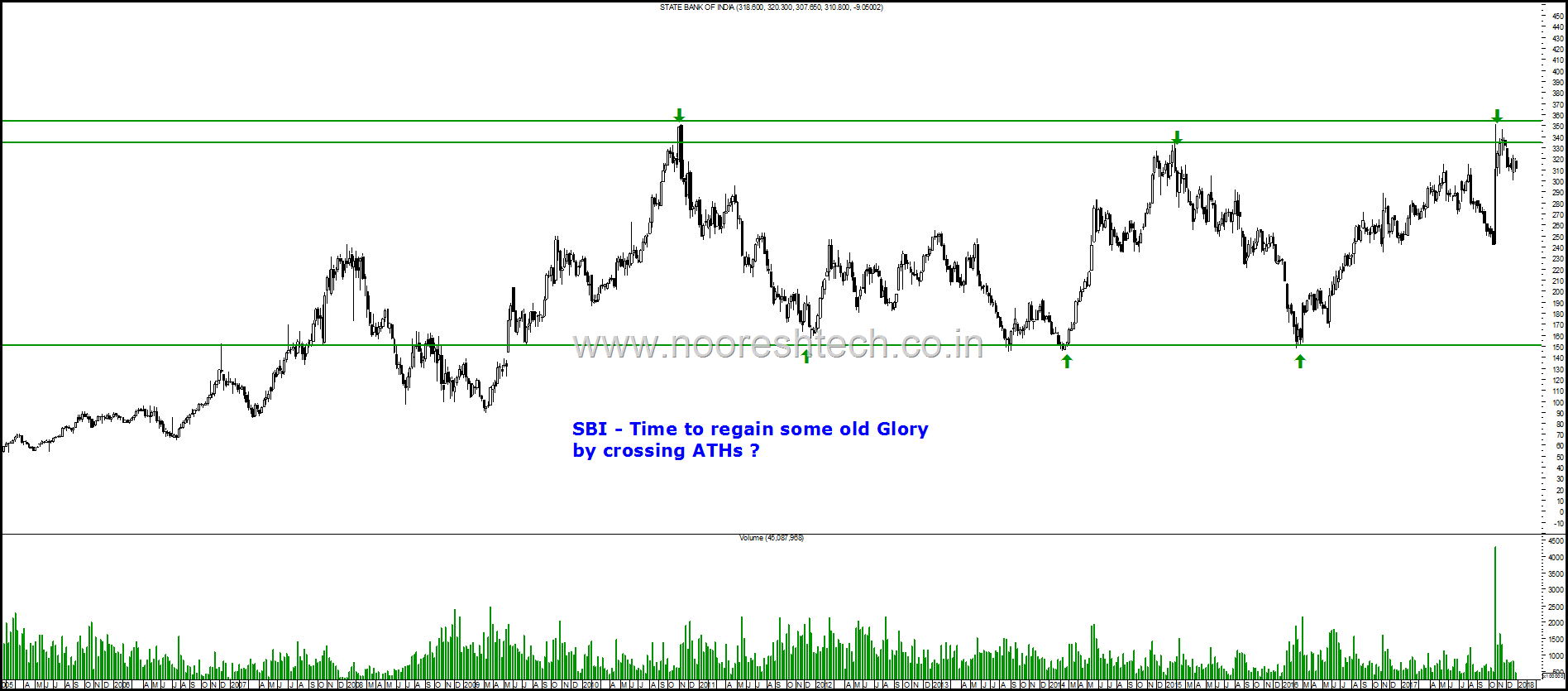 Tata Motors – The Big Contra bet of 2018 ?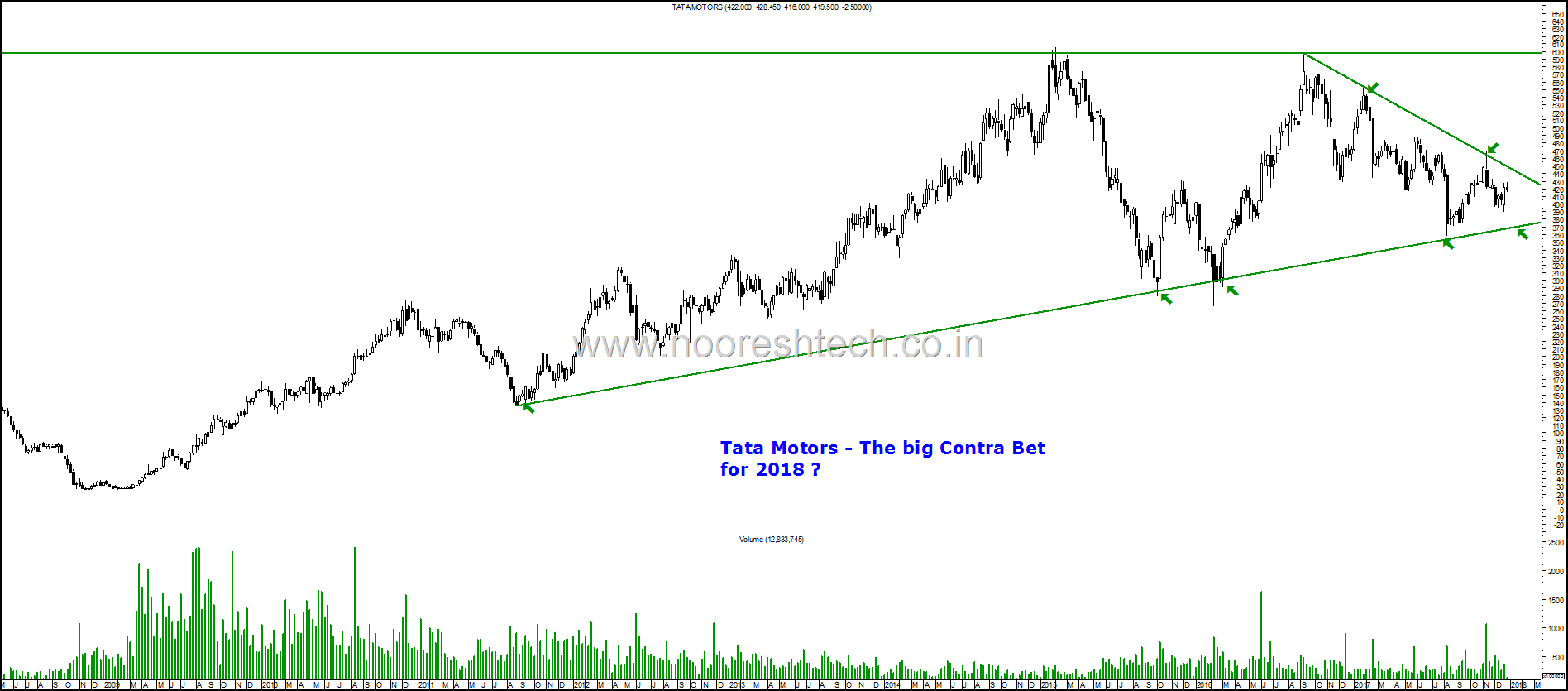 TCS – Perception Negative but Price Neutral. So what gives in ?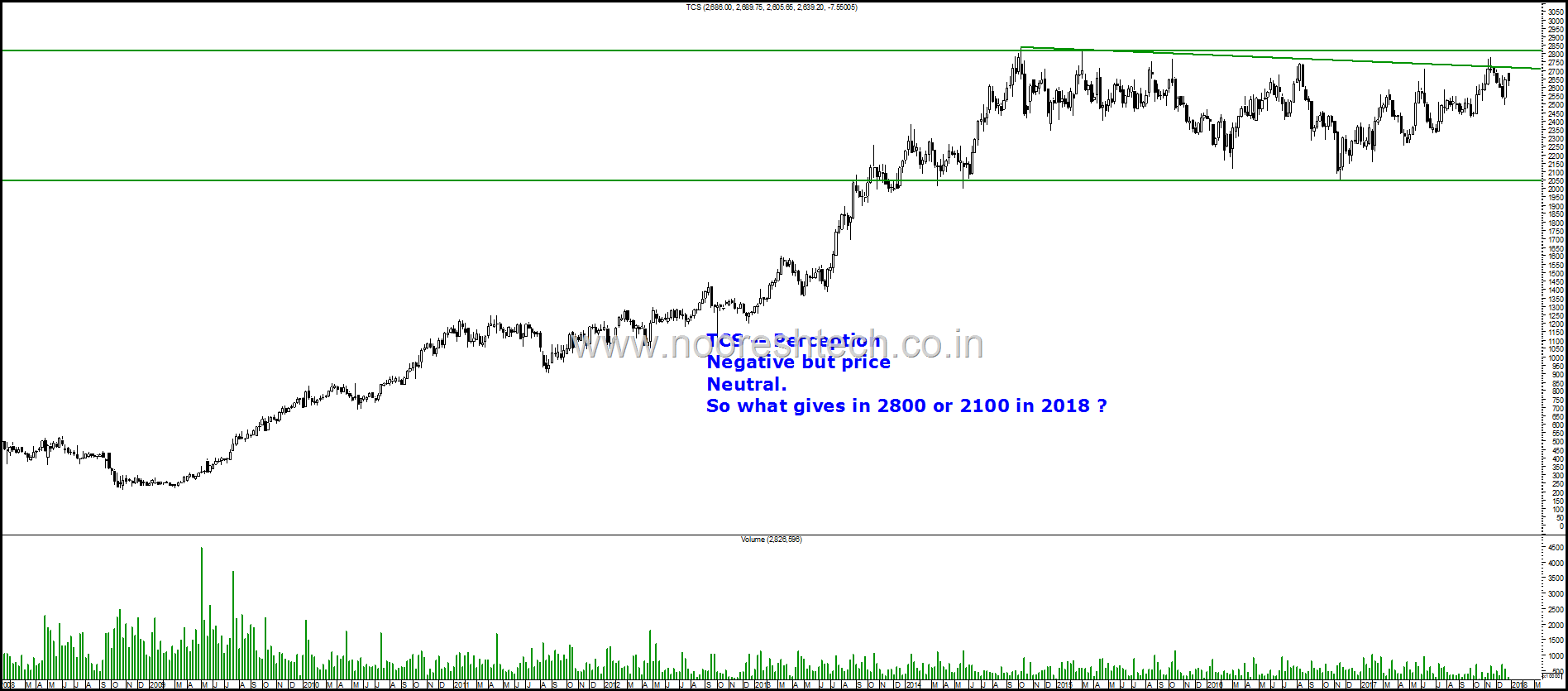 YES BANK – Will it again survive the scare – Yes or No ?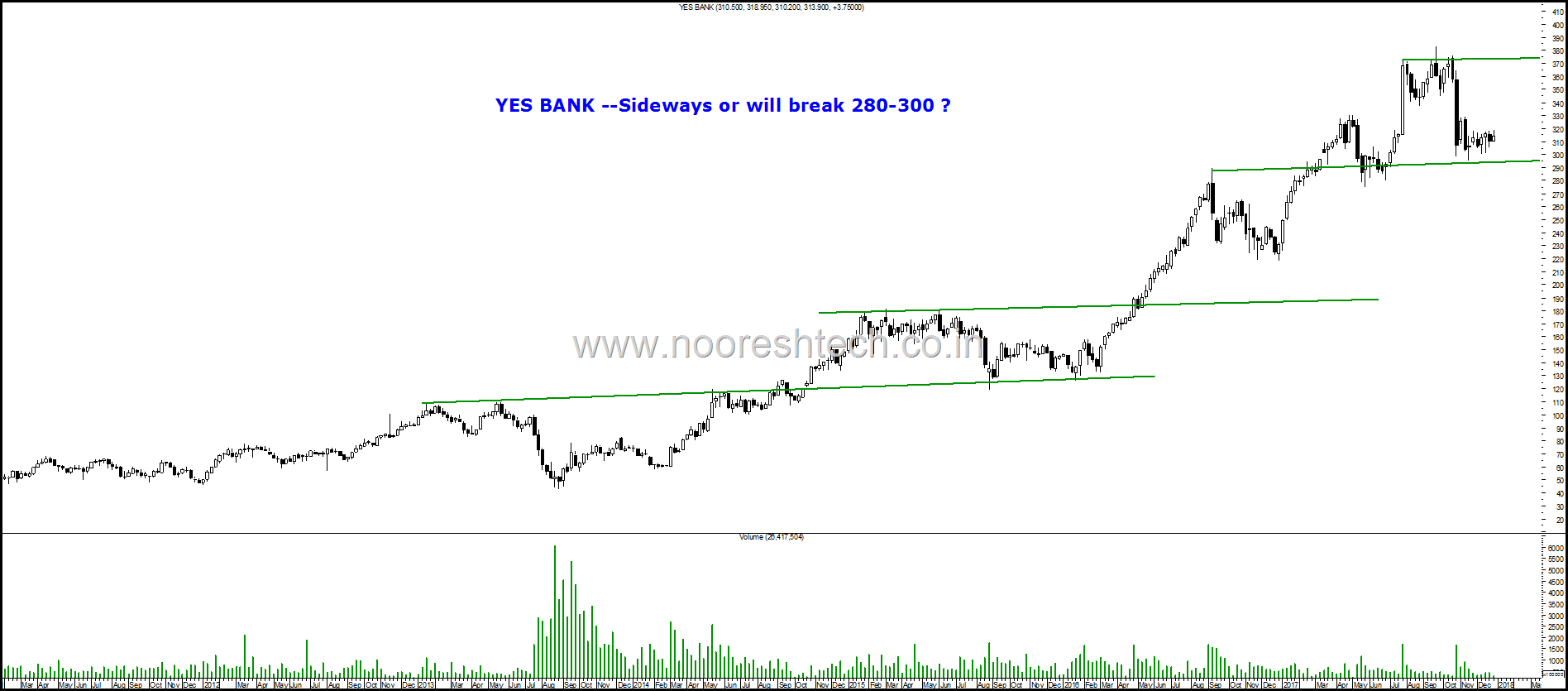 Zee Ent – Up above the 2000 high. Can it lead or stay sideways.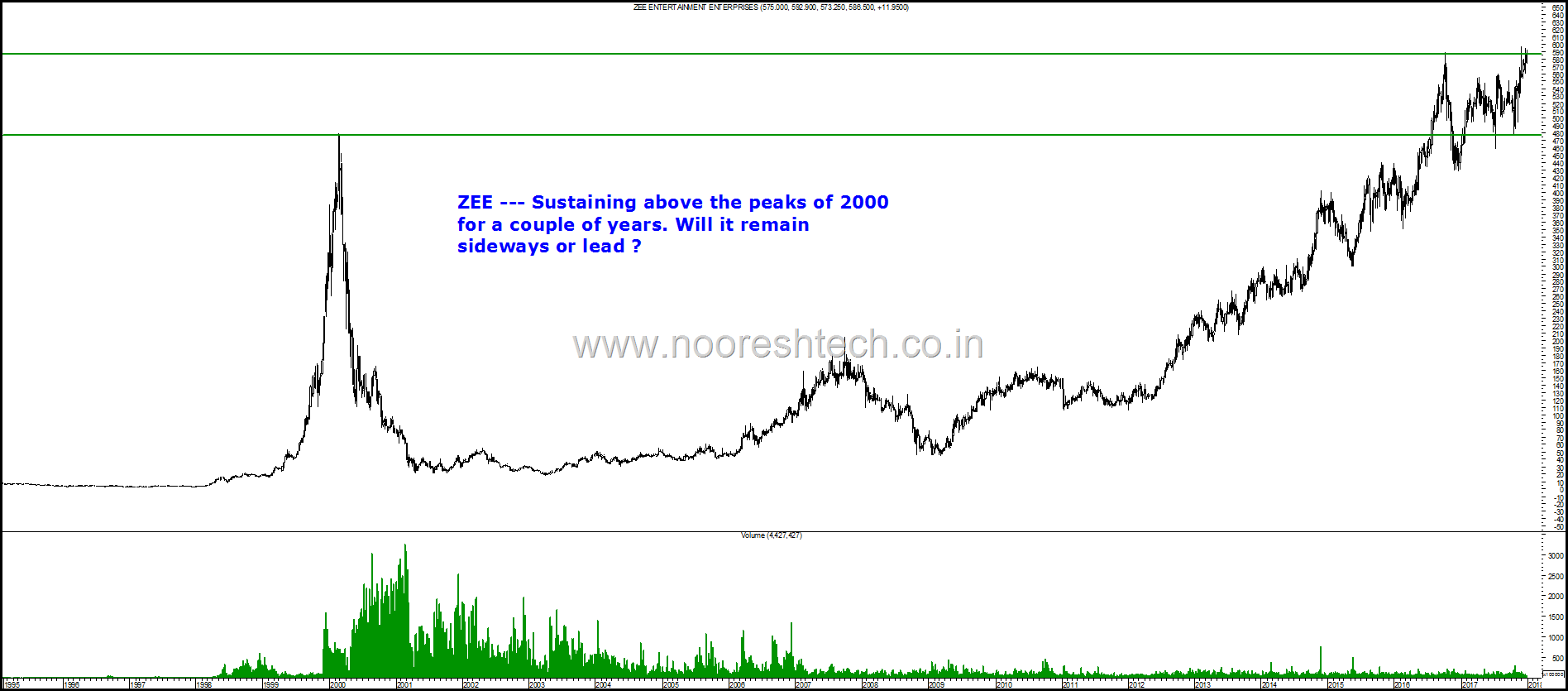 Conclusion – Some interesting trends could shape up over the next 1 year. If you get a few of these right it could be a good year for you even if the Benchmark is not a smooth ride.
My personal view is the Pvt Banking and NBFC outperformance could change and leadership could shift ( Do your own research). Watching out for stocks like Tata Motors, SBI , Larsen and Toubro, M&M , Bharti for leadership. After long time would have to focus a bit more on largecaps. Would love comments !!
Technical Analysis Training Mumbai
Date:
6th and 7th January 2017
Timings:
9 am to 6 pm
Venue :
Hotel Karl Residency
36, Lallubhai Park Road
Andheri (W), Mumbai, 400058
Maharashtra – (India)
Fees
Rs 16520 ( 14000 + 9% CGST and 9% SGST ) ( No Discounts )
Registration and Payment Link
https://www.instamojo.com/analyseindia/technical-analysis-training-mumbai-6th-and-7/
DISCLOSURE Nooresh Merani
Securities covered above: All mentioned in the above post
SEBI Registration disclosure - Investment Adviser
Financial Interest:
Nooresh Merani and his family/associates/ analysts would not have exposure in the securities mentioned in the above report/article.
Nooresh Merani and his family/associates/ analysts do not have any financial interest/beneficial ownership of more than 1% in the company covered by Analyst.
Nooresh Merani and his family/associates/ analysts have not received any compensation from the company/third party covered in the above report/article ever.
Nooresh Merani and his family/associates/ analysts has not served as an officer, director or employee of company covered in the report/article and has not been engaged in market-making activity of the company covered in the report/article.
The views expressed are based solely on information available publicly and believed to be true. Investors are advised to independently evaluate the market conditions/risks involved before making any investment decision
Also read the detailed disclaimer - https://nooreshtech.co.in/disclaimer