For the past few months i have been looking out for a bottoming out in PSU Banks as well as recommended the same. The technicals are very convincing but the relative choices of buying an all time high to a reversal is not that tough to make. Sticking to all time highs has given more peaceful returns.
But technically apart from making double bottoms or falling wedge reversals the current uptick has come with decent volumes in a lot of large PSU Banks. A good base has been built. So finally there is a structure where your stoplosses and entry points are defined.
Lets look at the PSU Bank Index first.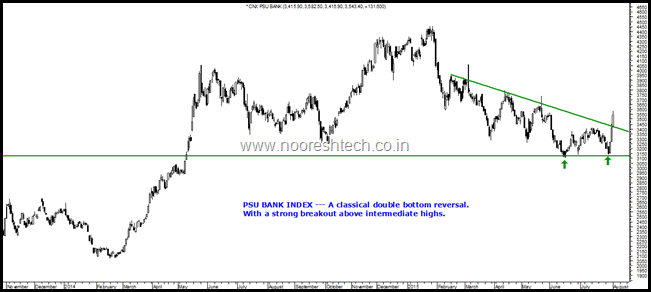 CNX PSU BANK INDEX TECHNICAL VIEW
Classical Double Bottom.
Strong Reversal above intermediate highs.
Faster retracement signalling a trend change.
BANK OF BARODA TECHNICAL VIEW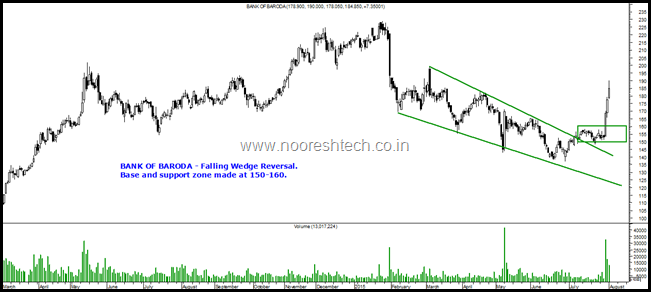 This has been the favorite in the segment given a classical falling wedge on lwo volumes.
Good sideways consolidation around 150-155 before the last 3 days of uptick.
Double/Triple bottoms at 138-142.
A good base made at 150-160.
STATE BANK OF INDIA TECHNICAL VIEW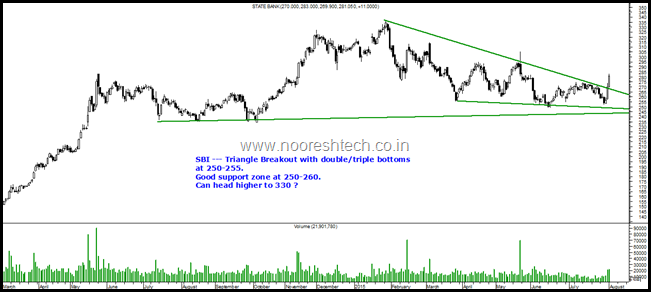 The best chart on a trend basis as it did not break the last 1 year lows at 230-250 zone.
Double/Triple Bottoms at 250-260.
Can head higher to 330 and more.
Base at 250-260.
UNION BANK OF INDIA TECHNICAL VIEW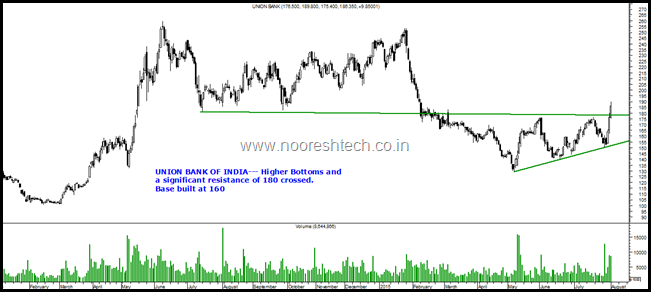 Higher bottoms made in last 3-4 months
Major resistance zone of 180 crossed with volumes.
Base built at 160.
CANARA BANK TECHNICAL VIEW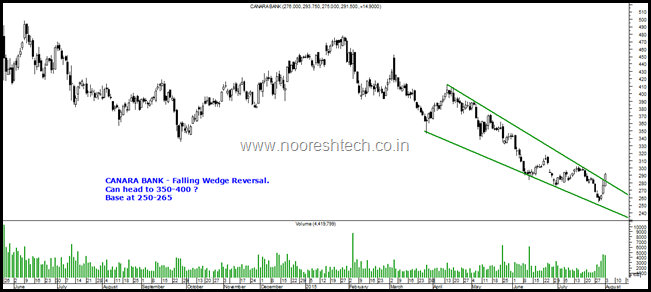 Classical Falling Wedge Reversal with strong volumes uptick.
Base built at 250-265.
Although the trend is still down but can head to 400 or higher in medium term.
Strategy
The strategy should be to buy in parts with 30% at current levels and next 2 parts in dips of 5-10% from here or closer to base support zone.
If you are already holding then can look to add on dips closer to breakout / base support zone.
If there are better trending charts then you can give the sector a smaller allocation and not shift quickly.
Technical Analysis Training Session – Delhi – August 22-2rd 2015
Last 3-4 seats left.
Course Details
Important Features
-> Less of Theory more of practical analysis with lot of examples.
-> Modes of Communication – English/Hindi
-> Learn how to use Meta Stock.
-> 1 Refresher Session any time in 6 months.
-> Small Batch Size of 8-15 participants.
-> Addition to google/whatsapp group of ex participants to continue the interactions and learnings.
The Topics to be covered given on this link or below in the post
Venue
MANTRA AMALTAS
23, Friends Colony (W) ,New Delhi – 110065.India
Date
August 22 and 23rd – 2015 – Saturday and Sunday
Timings
09.30 a.m – 6 p.m
Trainer
Nooresh Merani
Fees
Rs 16000 ( All inclusive )
PAYMENT LINK ——- https://www.instamojo.com/noooreshtech/technical-analysis-training-delhi-august-22--8900d/
For part payment and confirmation/rest at venue - https://www.instamojo.com/@noooreshtech
P.S - The #android app - "NooreshTech" is Live Now.
( IOS app for Apple users is under development and should come up soon)
Do download the App. Would appreciate your Reviews on Play Store.
https://play.google.com/store/apps/details?id=com.nooreshtech.blog&hl=en
Nooresh Merani
Securities covered above:: SBI , Bank of Baroda, Canara Bank, Union Bank of India
SEBI Registration disclosure – Investment Adviser
Financial Interest:
Nooresh Merani and his family/associates/ analysts do not have exposure in the securities mentioned in the above report/article.
Nooresh Merani and his family/associates/ analysts do not have any financial interest/beneficial ownership of more than 1% in the company covered by Analyst.
Nooresh Merani and his family/associates/ analysts have not received any compensation from the company/third party covered in the above report/article ever.
Nooresh Merani and his family/associates/ analysts has not served as an officer, director or employee of company covered in the report/article and has not been engaged in market-making activity of the company covered in the report/article.
The views expressed are based solely on information available publicly and believed to be true. Investors are advised to independently evaluate the market conditions/risks involved before making any investment decision
Also read the detailed disclaimer – https://nooreshtech.co.in/disclaimer