We had also covered about Vix hitting 40 levels in US in 2011 and many articles back then. One of the detailed articles - https://nooreshtech.co.in/2011/10/fear-hit-a-10-year-high-around-the-world.html
We are back to 10 year high on Fear.
Nifty Volatility Index - IndiaVix View

-> At the onset such drops to panic lows do not coming with a warning. Also thats the reason why VIX flies off to panic levels.
-> IndiaVIX is now at 28-30 levels as well as with a near term expiry it did not spike as much like the CBOE Vix.
-> The last few times it has moved to 30 + levels without any announcement risks ( budget / elections ) is when it has created a major bottom for long term.
-> In the chart below we have highlighted the Vix and Nifty bottoms.
Only in case of 2011 did we see a little longer bottom out lasting 3-4 months and in rest a quick turnaround.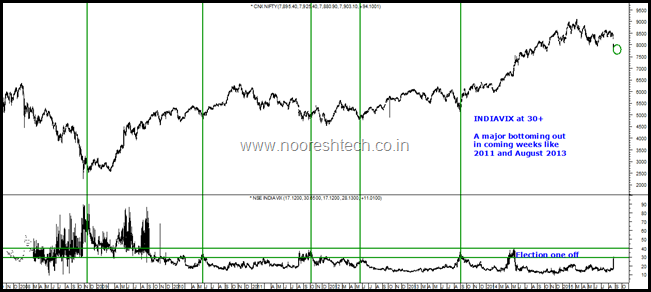 CBOE Vix and Dow Jones
-> CBOE Vix hit a high of 50-55 yesterday which was only done in 2008.
-> Similar drop to 40-45 Vix happened only in 2011 which led to a worldwide bottoming out across various indices.
-> We are back to same zones and the bottoming out could be instantly or max 1-3 months.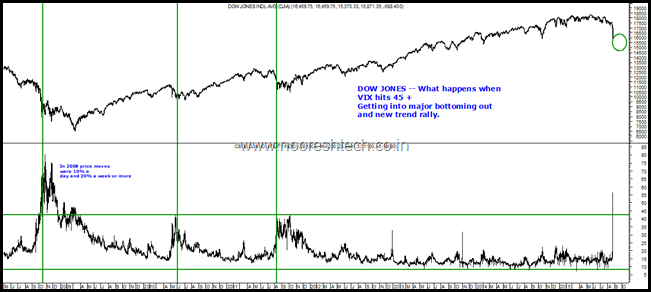 Conclusion

Such drops to panic lows do not come with a warning but bottom out with a Bold and Simple Signal.
The bottoming out could be pretty instant in few days like 2013 and 2008 and in between times.The last time in 2011 we saw it last for 3-4 months but it started a world wide rally.
View is to buy at current levels and on Nifty 7700-8000 is a good zone with an outside chance to test 7540 high of Election day ( Will not keep this in consideration. Could have happened today.)
In our next detailed note will cover all previous such bottoming out cases in details on Nifty.
If you are invested just stick on and get all the fresh cash allocations to equity.
If you are on cash it would have hurt for some time with stocks going crazy in last 3-4 months. Your investment would also be down. So it would only be a psychological help to be on cash but if it does not get deployed at right times the cycle will continue.