In our recent Technical Trades March report for Technical Traders Club had covered Ambika Cotton as a breakout trade.
This is how the chart was placed.
One can clearly see a sideways consolidation or can call it a triangle/cup and handle and so on. Volumes were increasing showing accumulation by smart hands with a little price move.
Post the breakout this is how the stock looks after a 30-50% jump.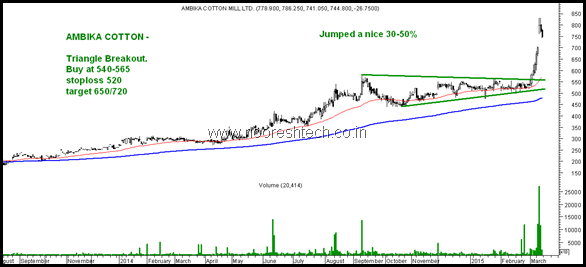 Technically one could see accumulation and trade setup but definitely not expect a jump of 30-50% so soon but that is the good part of trading on low risk high reward technical breakout setups. Sometimes it could take a few months as expected on initiation of trade and sometimes you get lucky with a quick jump.
There was a little bias of liking textile stock as i have been bullish on Vardhman Textiles and KPR Mills on a bit of fundamental and technical reasoning.
This is the post on KPR Mills which has moved nicely from 280-330 to 500-550. Both the stocks are part of Big Value 2.0 portfolio from 420-450 and 275-290.
One of the reason for Ambika Cotton Mills moving up can be this block deal.
ValueQuest India Moat Fund which is managed by Sanjay Bakshi – a veteran value investor bought around 40000 shares of Ambika Cotton Mills at Rs. 699 each, laying out an investment of Rs. 2.79 crore.
P.S – Do note i have vested interests in all the stocks i mention and my views can be biased. Do your own research and risk management . Read the disclaimer and disclosure.
We are conducting an interesting two day workshop in Bangalore at the end of this month. Do attend to learn more about the way to invest.
Do book your seat at the earliest  –
DISCLOSURE
•Nooresh Merani
•Securities covered above: Ambika Cotton, Vardhman Textiles, KPR Mills
•SEBI Registration disclosure – Registration for RIA under Process
•Financial Interest:
•Nooresh Merani and his family/associates/ analysts do have exposure in the securities mentioned in the above report/article.
•Nooresh Merani and his family/associates/ analysts do not have any financial interest/beneficial ownership of more than 1% in the company covered by Analyst.
•Nooresh Merani and his family/associates/ analysts have not received any compensation from the company/third party covered in the above report/article ever.
•Nooresh Merani and his family/associates/ analysts has not served as an officer, director or employee of company covered in the report/article and has not been engaged in market-making activity of the company covered in the report/article.
•The views expressed are based solely on information available publicly and believed to be true, assessed on Technical Analysis and view of the Author . Investors are advised to independently evaluate the market conditions/risks involved before making any investment decision
•Also read the detailed disclaimer – https://nooreshtech.co.in/disclaimer