One of the classical trading patterns is to look for multiple tops and a breakout with volumes.
In this post we take a couple of examples and possible breakouts.
This is the chart which was sent to Technical Traders Club subscribers around 2.30 pm on November 7th. With a view of short term. 
Zicom Electronic Systems  - Triangle breakout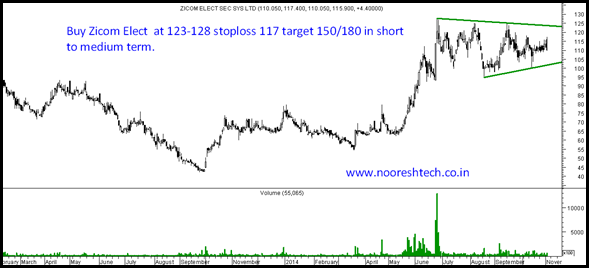 The stock had just crossed the resistance of 125 with strong volumes.
The chart after todays closing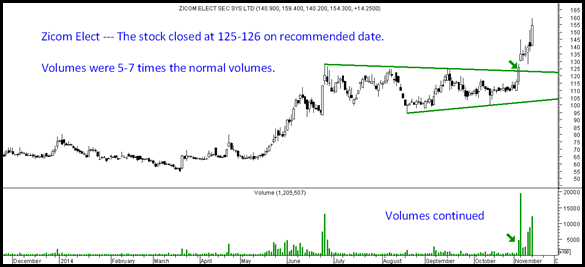 The stock was also recommended in a show on CNBC a few days back
https://www.moneycontrol.com/news/stocks-views/expect-zicom-to-move-above-rs-170-nooresh-merani_1226072.html 
and on Bulls Eye program today
Now its time to book half or partial at 1st target of 150 and keep a trailing stoploss and ride.
Do note – Not all trades go right like above and quite a lot hit stoplosses but trading is not about being right but about risk management and trading low risk high reward setups.
For example look at this chart of Reliance Capital which took our stoploss and is now back above 500 :). Whipsaws are part of a traders work.
In another post will try to post some possible stocks on radar.