Before i start let me be clear that Commodities is not what i look into often so do your own research and do not consider this for your any decisions.
In my last post on Crude had mentioned about how the medium trend had changed. But if only i could have known it was start of such a big down move. ( But as i do not trade commodities there was nothing to feel it as a miss. As i saw it only in co-relation of Nifty which was not there)
Previous Post -  Brent Crude hits 97-98. Good For Nifty ?
A similar top called at 120s - Brent Crude – Topping Out
Luckily had picked the fall from 147 in 2008 - CRUDE ANALYSIS — 147 to 106!! Technically explained
I had not looked into a detailed chart of Crude but took a random guess it should stop at 60.
Finally got the data and this is how it looks.
WTI CRUDE -  At a 15 year support line
Couple of things to notice.
-> The difference between WTI and BRENT has reduced to 5% to i.e 2-3 dollars. A couple of years back it was 10-15% also.
-> The contango is widening ( a couple of articles – reuters and zerohedge ).
-> The 1 yr ahead deliveries are at 4-7 dollar higher prices. ( google for more. I am not the expert ). Its not close to a 15-25 dollar spread in 2009.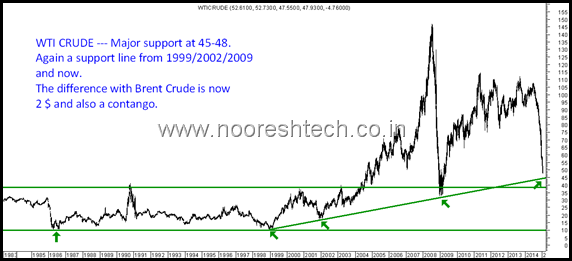 BRENT CRUDE – At a 15 year support line.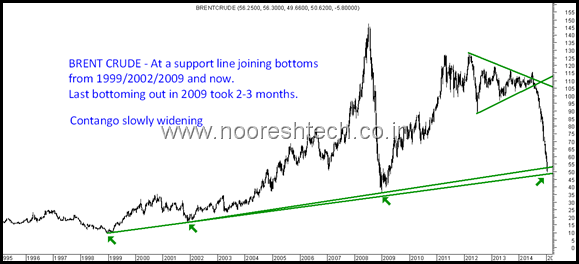 -> Has just touched the long term trendline in last couple of days.
Observations
-> The last few bottoming outs in 2002 and 2009 took around 2-3 months to form a bottom and was range bound for some more time and then turned around to start an upward move.
-> The fall has been very steep at almost 50% in a few months so one cannot expect a V shape pullback but a lot of consolidation over next few months. So we can be in a sideways zone for some months and it will take a really long time for a new bull market to start.
-> The last top in the downward trend is around 56-58 which will be resistance going ahead and a reference point for a trend change.
-> Would expect a range of 47-58 broadly for some time to come and then a turnaround signal in coming months.
-> Only a sustained move below 45-47 for a month or more on WTI and Brent will need a review or change in stance. As below 45 we look into a further slide with no major reference levels till 35.
-> Such a scenario of a major consolidation augurs well for India on fundamentals but there is no statistical co-relation with Nifty. ( OMCs will make money, government will have a lesser import bill and bla bla)
Conclusion
The current trend of crude is down but can form a bottom and a consolidation for a few months. Could take a long time to turnaround. All this sounds fine for India 🙂
Technical Analysis Training – Hyderabad- January 17-18 – PAY AS YOU WANT
https://nooreshtech.co.in/2014/12/technical-analysis-training-hyderabad-january-17-18-pay-as-you-want.html
Last 4-5 seats left.