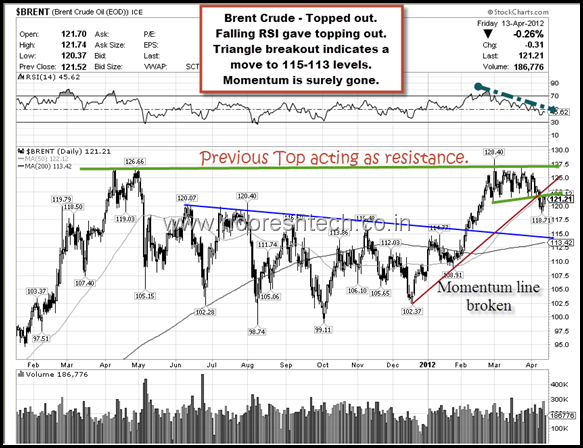 Brent Crude ---
-> Currently trading below 120 tonight.
-> Previous top at 126-127 continues to resist any moves. Many attempts to break that level failed in last couple of months and finally the 120 mark seems to be broken on the downside.
-> The Falling RSI with every attempt and a Nymex crude still quite away from last year highs did give an indication of topping out on Brent but the breakdown on lower side still remains elusive.
-> The break of the triangle and momentum line at least indicates the momentum is surely gone or rather it may head to 113-115 for now.
-> One should now watch for how Brent moves to 113-115. But overall the bias has now turned bearish.
Although for any positive reaction on equities would need a move to 100-105 which as of now seems difficult.
Cheers,
Nooresh Merani