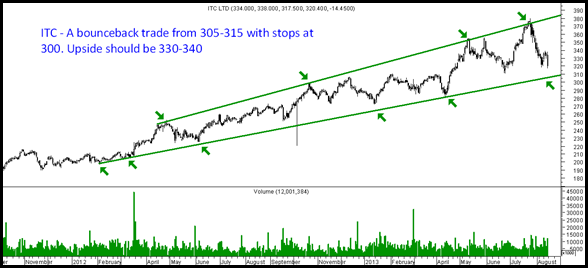 Before i start the post got to remember ITC has a weightage of almost 10% in Nifty and a 10% move in ITC can impact Nifty by 55 points.
-> The stock has been making higher tops and higher bottoms for a long time now.
-> The trend is positive and the last bottom at 310 as well as the trendline and channels now co-incide around 310 odd levels.
-> Given the good correction from 380 levels the stock can see a bounce. ( We had initiated a short view at 370 levels on ITC )
-> So for now a trade could be buy around 310 odd with stoploss at 300. Upside should be 330-340 where one can review.
Meanwhile on Nifty we have broken the last few months low which confirms the stance to be cautious but given the polarization of weights we may keep seeing major swings. Have some trendline supports at 5400 as well as channels. So a bounce to 5550-5600 seems possible if we hold around this zone. Given that it will be a counter trend trade and the risk of doing that a better way is to go through options of September expiry like a 5700 at 55-60 bucks.
TECHNICAL ANALYSIS TRAINING SESSION BANGALORE
AUGUST 31-1 September
For more details mail to nooreshtech@analyseindia.com or call Nooresh 09819225396
If you would like to confirm your seat for the Bangalore Training session and make an online payment then do so on the following event link on explara
https://em.explara.com/conference/technical-analysis-training-equitiescommodities 
Regards ,
Nooresh