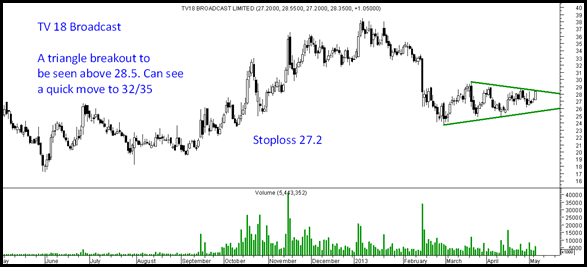 Last time had posted a trade on TV 18  at 34-35 and got a quick 10% touching the target , post that the stock collapsed to 24. This is where trailing stoploss helps you.
Now the stock is again forming a triangle with a quick target of 32 and even 35-38.
Now the biggest problem with traders is a trading plan. This is how we generally tend to follow step by step. Everyone may have a different way to trade but a stoploss is a must in any trade.
-> Buy at 28 round abouts or in momentum above 28.5   ( Disclosure : recommended long today pre-emptive )
-> Keep a stoploss at 27.2. If breaks exit.
-> Stock moves to 31-32 book profits to the extent of half or 3/4th of your holding and take trailing stoploss to 28.5-29.
-> If stock moves to 35 take stop to 32 and ride till 38 or book fully.
-> Exit only if trailing stops at 28.5-29 or 32 breaks.
Also one need not be rigid on targets but be ready to adapt to the market conditions and take a call to book profits in between or according to the risk management plan.
The above steps is just a quick note. There is more thought which goes into every trade but above example can be a help to new traders.
TECHNICAL ANALYSIS WORKSHOP – FRESH SCHEDULE
MUMBAI – MAY 18-19
FOR MORE DETAILS MAIL TO ANALYSEINDIA@ANALYSEINDIA.COM OR CALL NOORESH 09819225396 ANKIT 09899899989
Best Regards,
Nooresh Merani
www.analyseindia.com   ( For all our services )
Twitter – https://twitter.com/nooreshtech
Facebook – https://www.facebook.com/nooreshtech