After the good move in Nifty of 10% on expected lines – Check Link we have been mentioning that one should now focus on broader markets.
Expect next 3-4 months could see some serious performance by midcaps/smallcaps. Bounce backs of 15-30% in many stocks may come in a jiffy. Next couple of weeks could be a good time to go shopping.
smallcap indices are close to Nifty equivalent levels of 4800-5000 and levels of june 2012 whereas Midcap index could be a little higher but they are still faraway from the tops equivalent of 6100 Nifty.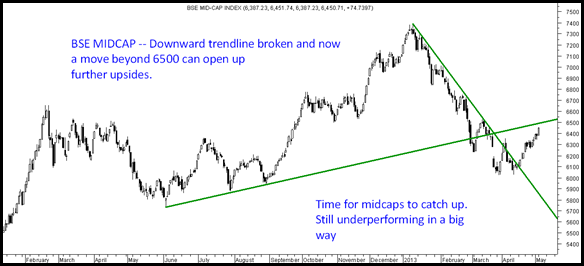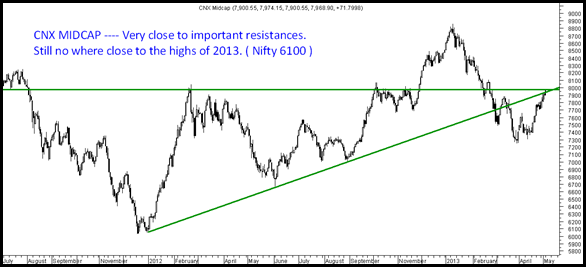 Will post some more stocks which can be looking good for bounce backs in the midcap/smallcap segment in the next post.
TECHNICAL ANALYSIS WORKSHOP – FRESH SCHEDULE
MUMBAI – MAY 18-19
FOR MORE DETAILS MAIL TO ANALYSEINDIA@ANALYSEINDIA.COM OR CALL NOORESH 09819225396 ANKIT 09899899989