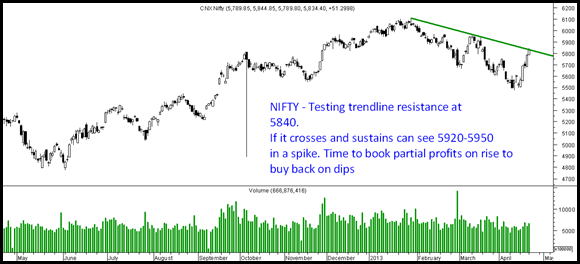 Nifty Technical View :
The rise from the lows of 5480 has been swift and must have surprised quite a lot of people. Given the fast rise the natural tendency is to keep waiting for a dip which becomes elusive.
Technically we are nearing an important trendline resistance at 5840. But if this is breached we can see a quick spike to 5920-5950.
As our view was to accumulate strongly at 5650-5500 levels the strategy now is to book profits slowly on every rise to 5920-5950. Better to keep trailing stoplosses. Also bounces from lows has been around 10 % or plus even a move to 5950 odd will be normal.
Dips to 5650-5750 will find support.
Expect the action to shift to broader markets. One more reason for that is we expect global markets to remain stable or rather bounce.
Index stocks to watchout for – Given the big outperformance in Banks we need to keep a watch on Oil and Gas , Auto and even a bounce in IT stocks. Reliance has resistance around 810-815 which if crossed can see a nice move.
Will update other index stocks technical views hopefully in the week.
Recently had posted a detailed blog post on April 9 –
Also in that had posted this detailed report discussing Nifty, Bank Nifty and Global Indices which was for institutional clients.
Special Report – Equities – Get Ready for a Bright Future Special Report – Equities – Get Ready for a Bright Future
One of my recent favorite midcaps has been NBCC for a techno funda reason.
Disclosure: Have advised investment from 125-105 levels to clients with a long term view ( Also mentioned on twitter and facebook page )  . Maintain the same stance to accumulate at current levels with a view to add on all dips.
Upside target 170-190 in medium to long term. Momentum trade could be above 145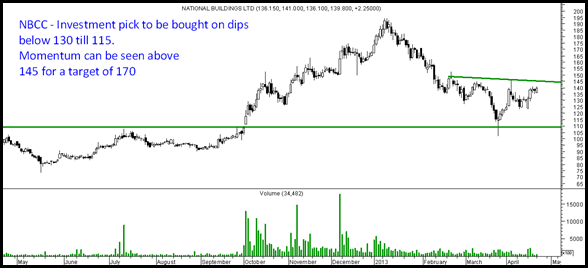 TECHNICAL ANALYSIS TRAINING SESSION
MUMBAI - MAY 04- 05
CHENNAI/ DELHI - End of May/June
For more details mail to nooreshtech@analyseindia.com or call Nooresh 09819225396 Ankit 09899899989
Regards,
Nooresh Merani