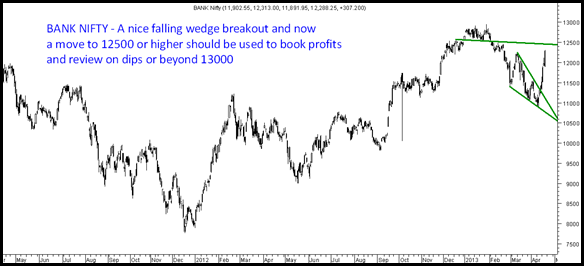 In the last 7 sessions Bank Nifty has bounced 13% from the lows of 10888 to around 12300. This is a bounce of 13% from the lows.
At the current price it is only 5% away from the highs of January.
This is in midst of solid negative reports and views.
Expose by Cobrapost which helped us take a superb intra day trade – See this post . We are back above the levels of that day.
First Global – Shankar Sharma outfit came out with this ultra negative report –
Recently had posted a detailed blog post on April 9 -
Also in that had posted this detailed report discussing Nifty, Bank Nifty and Global Indices which was for institutional clients.
Special Report – Equities – Get Ready for a Bright Future Special Report – Equities – Get Ready for a Bright Future
Hope this report works out like the last one in August – Forget the Past when we turned extremely bullish at 5200 – Forget the Past – https://nooreshtech.co.in/2012/08/analyse-india-forget-the-past.html
( There was some error in the posting so one could not access the special report which has been rectified )
Even Nifty has bounced 300 points or roughly 5.5-6% from the lows even after a big drop of Infy ( its 8-9% of the index weight )
The bounce has been too quick and too fast and even we at Analyse India could not capitalize the total 13% but did get a few trades on Yes Bank, HDFC Bank and long shorts on Nifty. The view now is to book profits in our favored banks ICICI /Axis and Bank Nifty at 12500 and review on dips or if it crosses highs of 13k.
Expect the action to shift to broader markets by June. Will post Nifty views and stock charts later.
Nooresh Merani