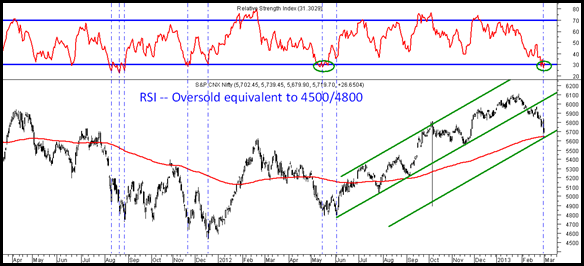 A few days back had mentioned in this post that Nifty is at an interesting place and will post a detailed video.
The above chart and another Bank Nifty chart was the reason but before could make the video the opportunity for a pullback seems to be gone.
If we look at RSI the lower band as seen by the blue line is where Nifty tends to make important reversals.
There are two ways the market reacts in such oversold levels.
1) Nifty either reverses one way like it did from 4600/4500 levels and a sharp bounce comes in.
2) The other case is a retest or a low very close to previous bottoms as seen at 4800 with multiple bottoms and divergences.
So for now Nifty must have bounced from 5670 to 5870 and can even go higher till 5970 but if we do get a re-test in next few weeks it will be the best risk-reward opportunity for a 500-1000 pointer move like we got at 4500/4800 where we had given extreme bullish views--- Post in May 2012 . So we will keep watching for another dip in next couple of months if it comes. 
Below is a chart for Bank Nifty which is getting into interestingly oversold areas. Every time it has such oversold levels it has seen a big short term rally or a long term run up.  Also it touched 200 dema and long term trendline.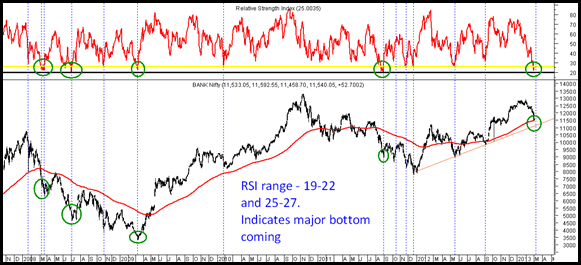 So for now the opportunity might be gone but we are very close to interesting investment time period in next 1-2 months. Midcaps seem to be interesting at this times.
Some stocks which look interesting for short term are Aditya Birla Nuvo, Apollo tyres, Satyam and Tech Mahindra
ONLINE TECHNICAL ANALYSIS TRAINING on MARCH 16-17
To all those who cannot make it to our training programs in mumbai and other cities can enroll for this online session which we do once in a few months with limited seats.
For more details call Ankit 09899899989 Nooresh 09819225396  or mail toanalyseindia@analyseindia.com