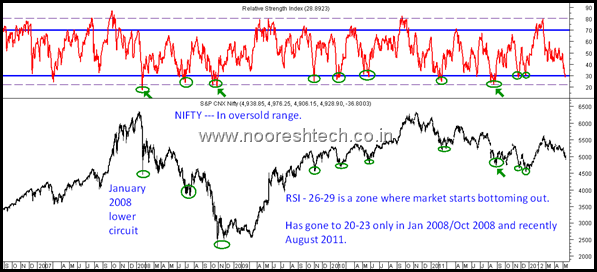 -> I have just plotted Nifty with the RSI since 2007 and the various bottoms.
-> As per this the general market characteristics is as follows
a) RSI – 26-29
The market starts getting oversold around 26-29 band and either it reverses right away or makes another bottom in the range of 50-150 points when it first hits this band with a positive divergence. The reversal is very sharp and goes up by a good 5-8% at least.
b) RSI – 20-25
This happens very rarely and in extreme panic conditions with a very High Option Volatility ( India VIX ) and in cases of very bad global conditions or margins and overall fear.
RSI did closer to 20-25 band in January 2008 ( two lower circuits ) , October 2008 ( Lehmann Panic and Global Crisis ) , August 2008 ( India Vix at 45 and global panic ).
So if we look at the current 28.8 it is very close to the first type of bottoming case. Also the India Vix is at 20-25 levels indicating less fear. Global Markets have not panicked and are closer to recent highs.
This indicates over the next 3-5 sessions or maximum 2 weeks we may either reverse from 4880-4920 or make a new lows with a positive divergence.
Although its generally a difficult thing to timing the bottom and we also go wrong most of the times by a good margin. In our recent report on USD-INR and Nifty had mentioned as 5000-5050 to watch for and buy with a downside risk to 4900-4950.
Now we are pretty close to it and simply put we continue to keep the bullish stance ( though its hurting now for a week ) will review it only on a close below 4800 on weekly basis.
Bottoming out in any markets is a painful process with fear increasing. The sentiments have never been so bad in the last 4-5 years apart from 2008. Last i saw such pessimism was in December 2011.
Another technical chart shows how critically placed the Nifty is. Its the low volumes in the fall and slow in magnitude suggests its more a corrective move.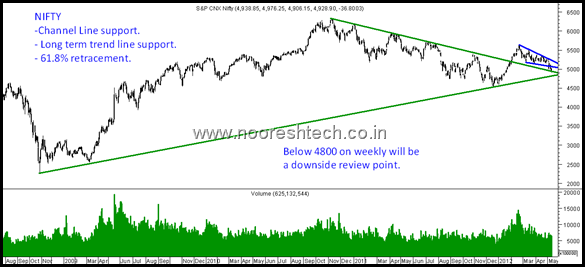 -> 61.8% retracement at 4950, 73.6% retracement at 4810.
-> Very close to the long term downchannel for the last 1 year or more.
-> Long term trendline since 2008 comes at 4800.
Bottomline :
With RSi oversold, huge pessimism, long term supports, low volumes its setting up for a bottoming out process. It can be done in a day or two or take a max of 2 weeks.
Even if Nifty were to break down we will get a decent bounce from current zones.
Sustaining above recent daily highs of 5030/5140 will need to be watched out for confirming a major bottom in place.
We believe the current formation could be one of the very important bottoms for medium to long term. And expect June to be a much better month.
Disclosure: We are almost 80-90% invested and may look even going leveraged on sharp corrections on the long side. Have deployed cash over the last 5-6 sessions and taking a notional hit on the holdings which could be 7-10% also. Ready to deploy the rest cash and even a bit of leverage over the next 3-5 sessions ideally.
It clearly states my bias towards the bullish side. We are ready to take a 15% knock on the portfolio, be patient over the next 3-6 months for returns and so investors / traders should do their own risk management and research before following any of the above study and advice.
Happy Investing,
Nooresh Merani
Analyse India Market Solutions Private Limited.