Before we discuss the stock below let us focus on two previous such examples.
As a technical analyst many a times we tend to anticipate breakout moves or wait in for price and volume confirmation.
Like in the case of TV 18 -
The stock was quoting at 34 levels when we posted this article.
Post that the stock has moved the expect 10-15% in next few sessions. This was confirmed on crossing 34.5-35 the next day. Jumping up to 38 by today.
The stock was recommended at 33-34 levels to clients recently ( For our services check www.analyseindia.com )
Similarly had posted on a stock Suprajit Engineering which was a techno funda bet at 30.5-31.
The stock has since moved to 37-38 giving a quick 15-20% jump although we booked at our 35-36 which was the short term target.
Now another such stock which comes into our radar and we are waiting for a price and volume confirmation is ONMOBILE GLOBAL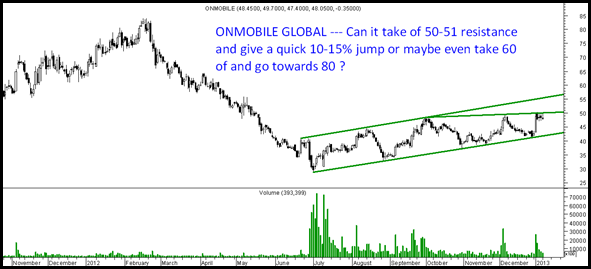 The stock saw a huge fall in mid of 2012 and has since then be making higher bottoms but not able to cross 50-51 resistance for now.
With good volumes over last 4-5 sessions there is a good possibility it might breakout above the resistance band.
The strategy would be to wait and watch the price moving above 50-51 to initiate a trade. A risky trader may buy keeping a stoploss of 44-45.
TECHNICAL ANALYSIS TRAINING SCHEDULE
BANGALORE – JANUARY 19-20
MUMBAI – FEBRUARY 2-3
AHMEDABAD – FEBRUARY 16-17
for more details call Ankit 09899899989 Nooresh 09819225396  or mail toanalyseindia@analyseindia.com
Regards,
Nooresh