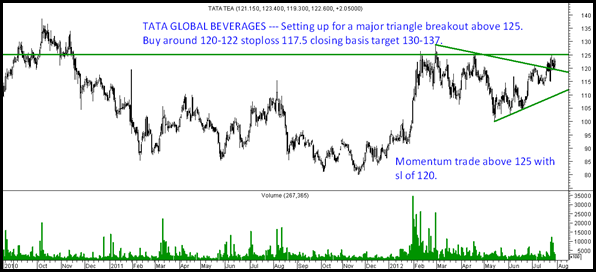 è After giving a triangle breakout the stock is consolidating and waiting for a breakout above 125.
è Higher than volumes over the last few sessions indicates accumulation before the big move.
è One can initiate a buy at 120-122 with a stoploss of 117.5 and targets at 130-137 in short term.
è Momentum trade can be initiated above 125 with a stoploss at 120 and similar targets.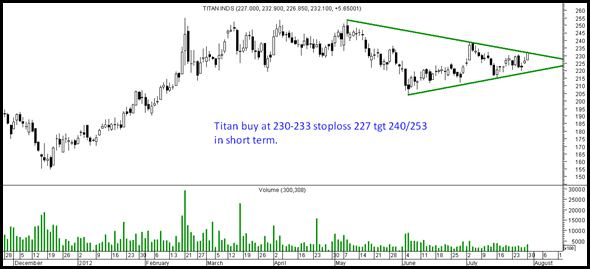 è Titan is about to explode from a symmetrical triangle which has upside to 240/253 in short term.
è We may see momentum action above 234 with a quick move to 238-240 in the day. Day traders may keep a stoploss at 231 on momentum buy.
è A positional trade will have a stoploss at 227.
Above are two trading ideas and such ideas are generated daily in our Quickgains Newsletter. To subscribe check this link – https://nooreshtech.co.in/2012/07/quickgains-nifty-50-newsletter.html
Meanwhile had been mentioning to buy Nifty at 5120 and Bank Nifty 10000-10200. The bounce back has come expected. One may now book half or more of the position and trail for higher targets. https://nooreshtech.co.in/2012/07/nifty-and-bank-nifty-at-critical-support-levels-and-risk-reward-buy-areas-kotak-mahindra-and-idfc.html
Happy Trading ,
Nooresh Merani