Nifty Technical View:
As being mentioned before 5080-5120 is a buy area for Nifty with a stoploss below 5020 on closing basis.
Technically previous top at 5020 and lots of bottoms at 5020-5050 makes it an excellent support area. Ideally even if this has to break we should see a brief move to a minimum of 5120/5200.
Today we did see Nifty spot hit 5032 lows and was quoting at 35 points future in next month with lows at 5070.
On the upside 5120/5140 has been a resistance for the last 2-3 sessions. A closing above those levels would be a first indication of a reversal.
Taking a risk-reward positional play keep a stoploss of 5020 on closing basis or a quick trader can do so with 5032.
If the reversal we would expect 5190 gap to be filled and next stop at 5260. One may then trail the position.
We may review the movements as it goes from here.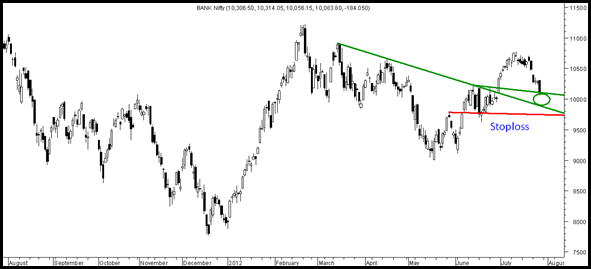 Bank Nifty – In our previous update we were waiting for a test of 10k-10.2k as a buying area with a stoploss of 9800. The index is into the range and one may expect some good recovery in banking stocks.
Preferred stocks – Kotak Mahindra Bank and IDFC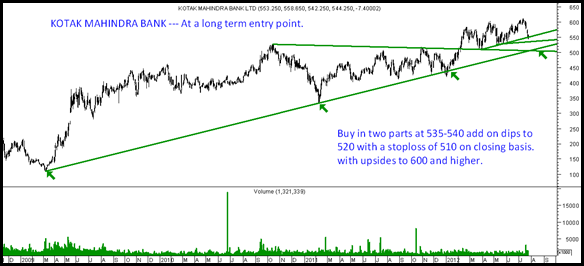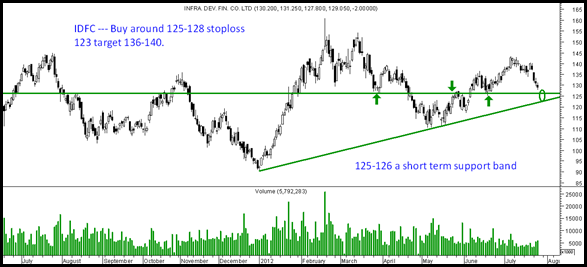 Meanwhile one of the major bad picks were to get into Banking stocks which i was expecting to breakout. Apart from Yes Bank had to exit the others on small stoplosses. Good to have executed the same else the way IOB and Dena have cracked is bad. link here. Although still stuck up on South India Bank as bought closer to this levels of 23.5-24.
Some Thoughts
Read a good status update – India at Inflection point – Decide you want to be a Warrior or Worrier.
Well this is what we are placed at in current juncture of markets with many midcaps collapsing ( although quite a lot of them today were manipulated ones or having pledged shares – pipavav, parsvnath, glodyne.) At the same time value stocks like nesco or defensive ones dont take much of a hit.
Right now at current levels of 5000 Nifty and 16500 there might be many people looking at new lows but on a broader market basis and even on large caps. Will be posting an article on Index weightage and how it distorts the reality.
Fundamentally there are a lot of concerns but there was a sort of End of the World in 2008 but we did get back to our feet. Although have generally become optimistic whenever market cracks and that has helped. But right now the technical belief is holding 5k or say even 4800 for next 1-2 months will create base for something big on the upside. Lets see how it works. Time to deploy cash if you believe the long term story in India – If you dont 🙂 FDs are still a good option.
TECHNICAL ANALYSIS TRAINING MUMBAI --- JULY 28-29
For more details call  nooreshtech@analyseindia.com or call 09819225396 Nooresh