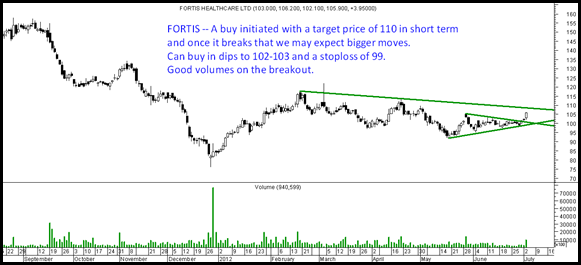 A nice breakout with volumes today on the stock. Had been on the watchlist for last few days. Initiated a long today and any dips to 102-103 and entry with a stoploss of 99 and a minimum target price of 110 and review on crossing it may even go to 120.
HPCL – This stock was earlier covered as a buy at 320 levels – Link here . The initial target price is done at 350. For now a fresh entry made at 340 with a target price of 360.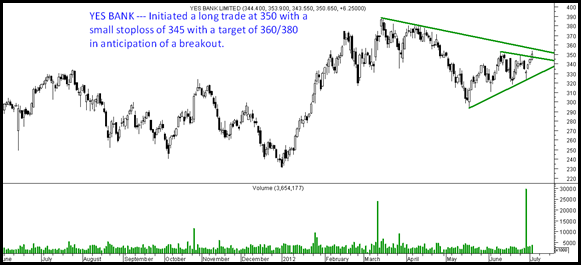 Yes Bank – Small trendline breakout and pre-empting a follow up buying to be seen with a small stoploss. Volumes have not increased much.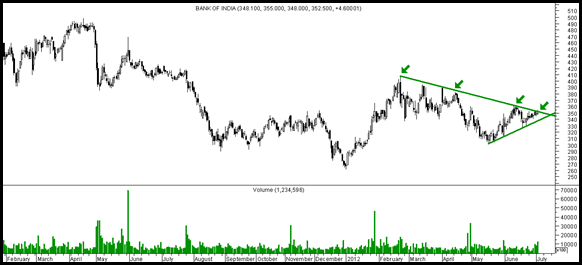 Another stock on the watchlist is Bank of India which is setting up for a breakout. Volumes have increased over the last 2-3 sessions. Will be watching the price action and volumes above 358-360 to initiate a trade.
Stock specific observations
Huge volumes seen in JM financial of almost 1.1 cr shares on NSE with a delivery percentage of 43% . Some sort of smart or speculative buying seen. The stock has fallen a lot from a peak of 140s in 2008 to sub 14 today. Lot of takeover or stake sale rumours were last heard at 45 levels. A speculative bet can be taken after research or a stoplos of 11.5. High risk high returns.
Chennai Petro looks an interesting pullback candidate with a stop at recent lows.
Some small caps for research –
The below stocks are which come on my small cap screener for technicals and fundamentals. But being focused on technical analysis dont get enough time to dig more into the following and prefer following a set of core investment ideas like Nesco etc. So if readers do have some time following companies are interesting.
Kakatiya Cements ( a good low debt company ).
KCP Sugars  ( Interesting sugar stocks – expecting a good run in sugar sector- preferred picks balrampur in large caps )
Sicagen and First Leasing with huge book values and decent yields.
Somany Ceramics – Will it piggy back on the rally seen in other ceramic stocks.
Manali Petro and Panama Petro also deserve a good look from fundamental analysts.
TECHNICAL ANALYSIS TRAINING SESSION MUMBAI — JULY 14-15. For more details mail us on analyseindia@analyseindia.com with your contact details.
Best Regards,
Nooresh Merani
09819225396  ( only after market hours )
Happy Investing,