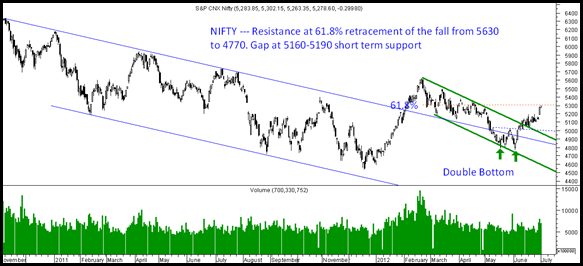 Nifty Technical View :
- > In my previous post had mentioned that Nifty and Bank Nifty was waiting to take off and next attempt will be a spike with maximum upsides to 5280-5350 in the next attempt.
- > Nifty is finding resistance around 5300 which is 61.8% of the entire downmove from 5630 to 4770. The trend being positive the ideal target would be 5380/5600.
- > The gap at 5160-5190 will be a short term support. Medium term trend change comes only below 5050-5020.
-> Meanwhile for the last 2-3 weeks maintaining the bullish stance from 4950 to 4770 did get a lot of comments. The end of June surprise has come and may well continue into July like February. Nifty is at 5300 where in every body on the street was sure of 4600:) or lower. Till there is disbelief the rally may continue.
-> Oil and Gas sector stocks continue to look attractive and sharp moves in PSU banks and ICICI Bank can take it further.
- > Infrastructure stocks did a quick 15% jump right away as expected. Looking towards much bigger moves in this space over the next 3-6 months.
Follow up on Trading Technically --- Please read previous update here
- > Tech Mahindra – Breaks out above 710 and jumps to 748 levels in the day. Partial booking to be done and now keep a trailing stoploss of 710. Upside targets at 750/800 to book.
- > Sesa Goa – The stock could not sustain 192 levels and hit the stoploss at 186 and has bounced back.
- > IDFC --- The stock has broken out but lacking momentum so stoplosses should shift to 133
- > Rolta does the target of 80-85 but a trend follower may keep a stop loss of 77 and ride till 90 +
Trading Technically Picks – Aurobindo Pharma, Jai Corp, BGR energy and Satyam posted in the day today. Satyam jumped up from 80 to 84.5 in the day itself.  Do read the disclaimer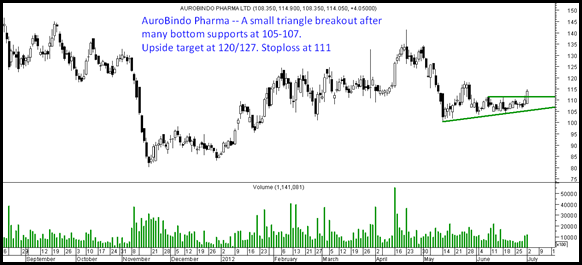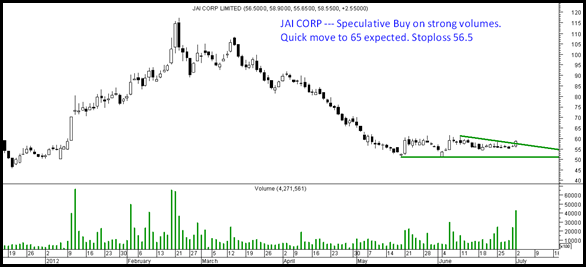 Apart from the stocks mentioned here have initiated a buy on Adani Ent at 228 levels, BF Utilities as delivery pick, A quick breakout trade on gulf oil yielding 8% in the day.
Meanwhile if any readers with finance background or MBA students would like to volunteer for a little research work on history of Indian Markets please mail to me nooreshtech@analyseindia.com or message me on 09819225396 as am not much good at data digging or excel usage and stuck on time.
TECHNICAL ANALYSIS TRAINING SESSION MUMBAI --- JULY 14-15. For more details mail us on analyseindia@analyseindia.com with your contact details.
Best Regards,
Nooresh Merani
09819225396  ( only after market hours )
Follow up on stocks
- >