For quite some time have not been able to stock specific charts but will try to put a few charts where we take a speculative position based on technical analysis. One of the major reasons being its difficult to follow up in the day and given the fact trading is dynamic one needs to close positions if the price movements or indices do not confirm and variety of reasons. Also depending on total exposures have to keep partial booking and so on. Such a follow up is difficult in the day for blog readers compared to what we can do for our paid subscribers.
But from today starting an attempt to post a few technical charts with analysis and will try to follow up ( at times it becomes difficult) so please follow the precautions below.
Also please do your own research on the stocks discussed.
Keep strict stoplosses.
Do not use leverage – ( implies derivatives unless one can take the stoploss hits for successive trades )
Partial booking to reduce cost. ( can depend 25% or 50% on trading style)
Hedge if possible.
Above all be ready to cut position if the market changes/targets are met or in case of over exposure.
Booking 25% quantity takes the cost price to stoploss many a times.
Disclosure : We generally have a bullish bias, trail our positions and have the risk apetite to take the hits. Majority of the stocks discussed we may already have a position and vested interests.
Tech Mahindra -
Technical Reasons – Has been facing a lot of resistance at 695-705 and holding up well even in weak markets. Expect a technical breakout beyond 710 which should take it to 750-800. It is pre-empting a breakout with a strict stoploss. The reason to pre-empt is the strong volumes.
Trading Strategy – Buy in parts between 695-675 with a stoploss of 665. Upside targets would be 750-800. Partial booking to be done at 710-725 to bring down cost and then trail the position.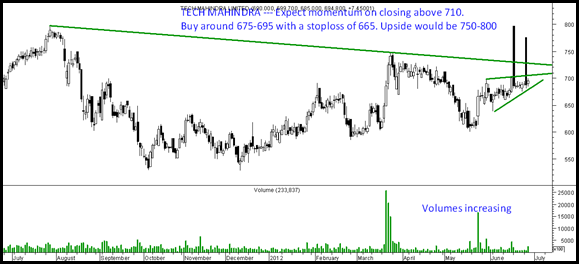 Sesa Goa --
Technical Reasons – A nice triangle being formed has been broken today. A follow up move beyond 194 would confirm that. We may expect a move 200-205 in short term and once that is done we can review for higher targets. Yet again pre-empting a breakout.
Trading Strategy – Taken a speculative position at 190-192 with a strict stop of 186. Will book partial at 198/205 and trail.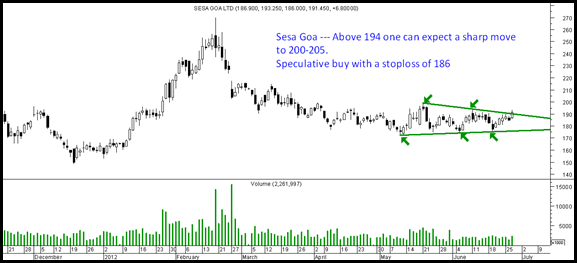 IDFC --
Technical Reasons – A classical cup and handle or triangle formation with breakout at 137. The target projection on upside would be 140/150 in extreme short term.
Trading Strategy – Taken a speculative entry at 134 before the breakout. Actually would look to add above 137 for a quick move to 140/150 in short term. Partial booking close to 140 to reduce cost.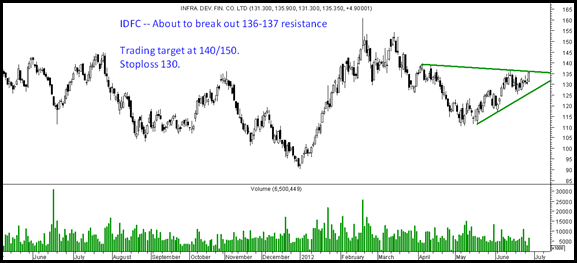 Rolta
Technical Reasons --- Given the high volatility of the stock it can jump sharply. The huge volumes with todays big move gives a strong indication of buying. Follow up close above 77 will confirm this. Expect a quick target of 80-85 although ideal targets would be 90 + also.
Trading Strategy – Accumulate at 73-76 with a stoploss of 71. Partial booking at 80.
Other stocks like BHEL , Crompton and ZEE we continue to remain highly bullish and expect some big moves if the stocks move beyond 225, 123 and 145.
Happy Trading,
Nooresh Merani