These are charts which were made in the trading day today before taking a position in them. Todays data candle is not updated but a price action has confirmed a breakout today.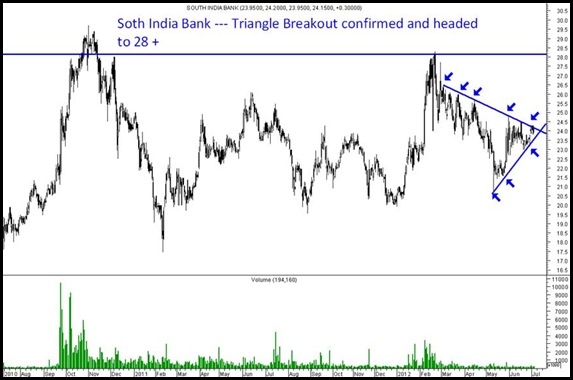 South India Bank --- Already suggested in the day.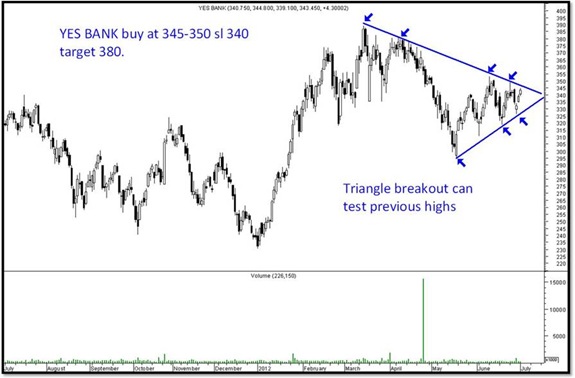 Yes Bank – Earlier discussed link here . The stock has given a good breakout today ( ex-dividend of 4 rs which may not be seen in the chart )
Another stock which was discussed a few days back. Earlier discussed link here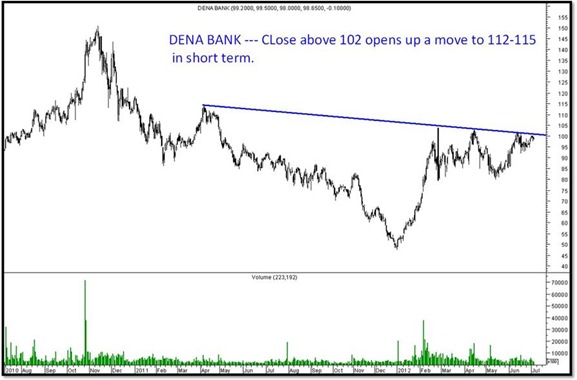 This is a classical cup and handle. A close above 102 will give a sharp move to 112. Will look to add to longs on more price action. Stoploss would be 97. Recommended this in CNBC Bulls Eye program. You can see me at 11 am tomorrow.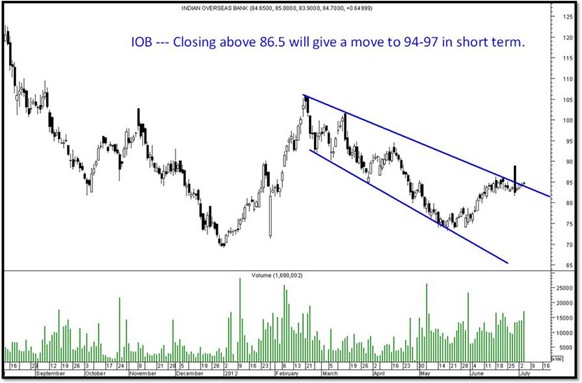 This is one stock which has severely underperformed. Good price and volume move today above 86 confirms a breakout. Expecting a move to 94 in short term. Stoploss would be 84.
Disclosure: Majority of the stocks discussed we generally have a position and vested interests as well as a bias. So please do your own research and be strict with stoplosses, leverage and asset allocation. Have bought Bank of India at 353, IOB 85 , Dena Bank 100, South India Bank 24.5 and advised the same to advisory clients. 
Meanwhile a quick update on stocks discussed
Tech Mahindra, Rolta, HPCL (  maintain stoploss ) , Fortis, IDFC ( book out ) , Zee ( trail sl to cost ) , BHEL and Crompton wait for dips, Auro Bindo Pharma ( revise stops to cost ), Jai Corp ( book out )
Nifty Technical View :
Its been very simple for a short term point of view. Recent lows of 5270 becomes a stoploss for traders. Overall the trend is positive with upside resistance at 5380/5500. Major supports at 5150-5200 for now.
Continue to maintain the view of stock specific action to continue.
Also the gloom which was there 2-3  weeks back has suddenly changed :). We were a bit early at 4950 to take a very bullish stance to get totally invested. The reason was getting into such a reversal is very difficult for an investor. One may buy 20-30% of the cash at 4800 and be fully happy or buy 100 % at 4950 digest the dip to 4800 and ride the way to 5350.
Depends on the route you take. We took the second and for last 1-2 weeks have been trading heavily on the short term side which is evident from the technical calls updated 🙂
Will cover the above topic in Sunday Thoughts 🙂 soon.
Also for all the people who were fearful some days back this article should be fun to read - https://nooreshtech.co.in/2012/06/how-to-survive-a-market-crash-and-end-of-the-world-in-2012-sunday-thoughts.html
Happy Investing,
Nooresh Merani