.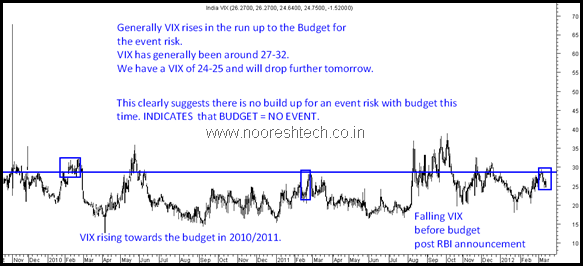 Generally VIX rises in the run up to the Budget for the event risk.
VIX has generally been around 27-32 pre-budget and falls post budget.
We have a VIX of 24-25 and will drop further tomorrow with a rising market. This is in contrast to previous two budgets.
This clearly suggests there is no build up/hedges for an event risk with budget this time.
We are seeing the VIX drop post the RBI announcement which makes us believe the event risk was more with the RBI meet on 15th then the budget. 
So with RBI action and falling VIX it indicates BUDGET = No Event for Nifty.
On the basis of INDIA VIX we may not expect more then a 75-150 points reaction on Nifty on the higher volatility side also.We have had many 100 point days recently too.
On the Nifty we maintain our bullish stance with downside support at 5100-5200 and a medium term target of 6000 over the next few months as mentioned in our previous reports.
This is what it looks like.
Strategy : Simple. We were buying in dips to 5200 and lower will book partial profits at 5450-5500:) to increase some cash. Maintain stock specific approach.
Meanwhile Reliance Inds moved up 10% from recent lows.
https://twitter.com/#!/nooreshtech  Meanwhile i do post quite a bit on twitter of late. Follow me there.
TECHNICAL ANALYSIS TRAINING SESSIONS SCHEDULE
AHMEDABAD 17-18th MARCH,2012.
BANGLORE 24-25th MARCH 2012.
To know more contact: Kazim on 09821237002 or Asif on 09833666151
Regards,
Nooresh Merani