Equity Markets is the only Business of Businesses where people come without any experience/degree or qualifications. So be the one who is well prepared !
TECHNICAL ANALYSIS TRAINING SESSIONS
DELHI 18-19 February
MUMBAI 25-26 February
Also if you would like us to do the program in your city and have a group do let us know on analyseindia@analyseindia.com
To book your seat call Kazim 09821237002. If you would like to speak to me regarding any doubts SMS me  Nooresh - 09819225396 ( will get back to you post market hours )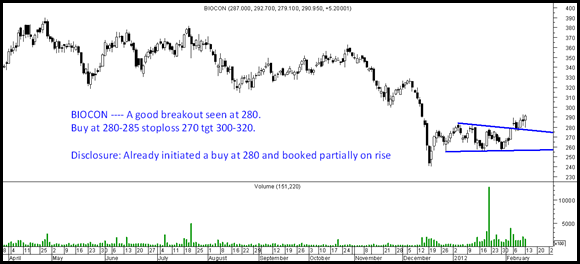 Biocon --- A recent buy initiated in our Exclusive Advisory Services at 280 levels and booked partially on rise. After a good bottoming out formation expect a quick move to 300-320 in short term.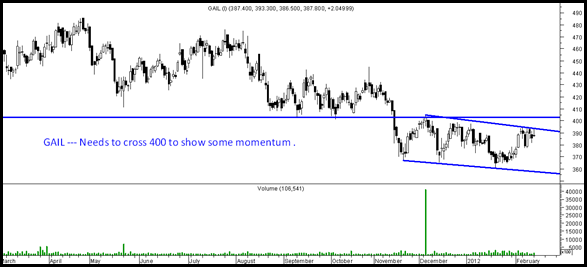 GAIL --- The stock needs to cross 400 to add some momentum to the stock.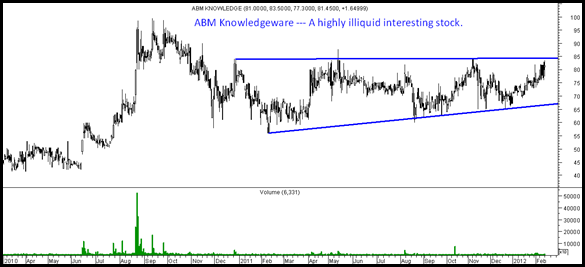 ABM Knowledgeware – A very small cap. Illiquid. Was studying this stock as a fundamental bet as its into e-governance and prospects look really interesting but could not dig more on it. If any one tracking do comment !! The company is an interesting space and worth a study as huge potential.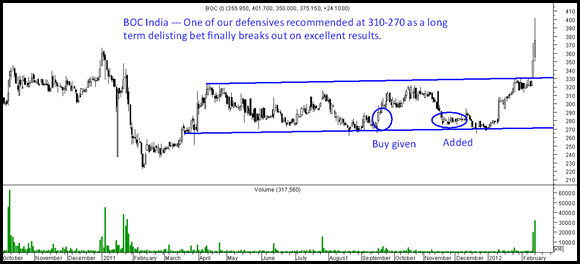 BOC India ------
If one would search the right top corner on the site ( use this link to check any of my previous views on any stock ) BOC india has been mentioned many a times over the last 3-6 months as a clear defensive bet and delisting candidate at 450 + levels. Now with the market catching this theme we are seeing the stock jump to 400 levels today. Continue to hold book partial profits at 400. One can enter some more at 330-350 zone now.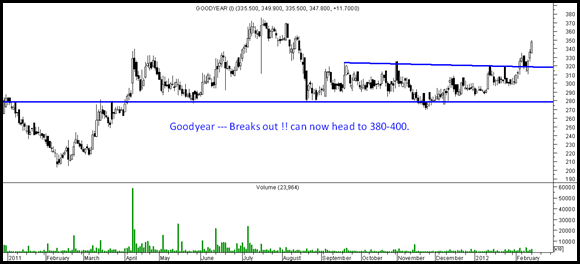 Goodyear – This chart was recently posted as a breakout above 320 which is now on track towards 380-400 levels.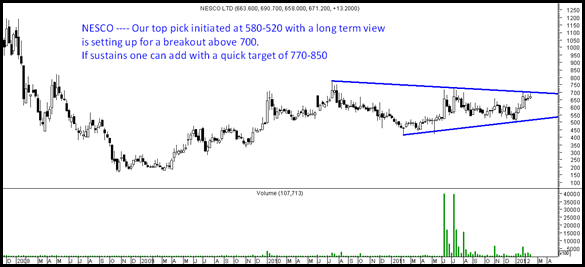 NESCO ---- This remains our top pick in the midcap segment and a multi-bagger in the making over the next 2-3 years ( not getting enough time to put out the detailed research as it will need another big post --- Many business points like FSI, No parking charges, Monopoly , Inheritance , Future Plans of further IT Parks etc  ) My previous post gives a little brief on the stock --- NESCO --- A Steal at 800 crore Market Cap
Technically its on verge of a breakout above 700 which if does would look to add more with a target price of 770-850. 
Disclosure :  Have been very bullish on the stock on my way of looking it as a great Value ( Earnings Momentum and Cash Flow ) + Growth Investment  ( Never seen such High ROEs)  with an added advantage of Market Theme ( Well it can also turnout to be a REIT type stock in the future, or Real Estate Land Bank Play ) which can lead to crazy valuations. Has been strongly recommended to clients, friends at 600-500 levels so obviously have a bias. But please do your own research.
On the index side i would not prefer to right the same thing again. The trend is up, Corrections need to be bought into and a short term change indications will come below 5320/5200. Upside resistances now shift to 5600-5700. We will not try to pick the TOP 🙂 like others shouting since 4900/5100/5200 and so on and will come up to shout Maine Bola tha :). We got it wrong at 5200 where we expected a short term top ( we did see a 100 point dip ) but did stick to stock specific longs which has been very beneficial. Now sustaining above the channel with large VOLUMES (check chart below ) is an extremely positive signal. Further rise beyond 5200 continues with volumes so there is no point fighting this trend but ride till its on.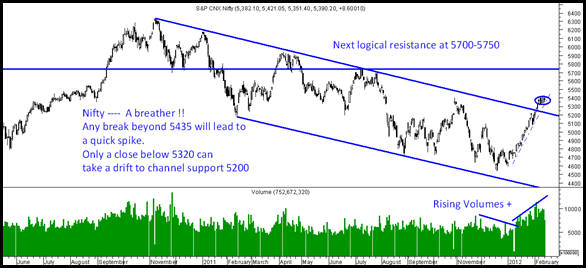 Lot of investors first BUY OR SELL and then ask queries or thinking. If you have been on that boat then would suggest to start going for advisory services – www.analyseindia.com  or join one of our training programs to equip yourselves.
Please do your own research before investing. Disclaimer - https://nooreshtech.co.in/disclaimer 
Happy Investing,
Nooresh Merani