NESCO  ---
Market Cap --- 800-820 crores
Book Value – 161
CMP – 581
EPS ( TTM ) – 50
P-e – 11.5
Div – 25%
Please go through the site - https://www.nesco.in/. Also we have participated in investor exhibitions at this place and attended many other exhibitions and celebrations. The place is very well managed i can vouch for it.
The reasons to buy --- >
1) Very low debt or zero debt.
2) Shareholding Pattern --- 62% with promoters and other 6.35% with Engineering Imports & exports. 1.6 % with Oriental Insurance Company. Low institutional holding at less than 2%. So public shareholding or floating share is less than 30%.( There is not much of selling pressure expected in case of market meltdown 🙂 )
3) Bombay Exhibition Centre has no competition with 11 acres or almost 5 lakh square feet and OPMs in the range of 60-70%. There are no pricing issues as it's a kind of monopoly, the nearest competitors are not even 10-20% of the size.
The payments are received even before the show commences so there are no defaults in receivables ( rather free finance )  as well as revenue visibility is generally there for next 6-12 months with shows being booked in advance.
4) Real Estate and IT Parks – The IT parks are given on lease and the land cost has been zero on it as well as the total construction of these parks has been with internal accruals.We are not even factoring any valuations for these buildings. ( it should be worth at least 500-1000 crores )
5) Huge Land --- The land bank is almost 70 acre land out of which at least 50 acres is available for development. This should at least be worth anywhere between 2500-3500 crores.
6) Good enough cash. Even after spending on the IT parks the company may have 100-120 cr liquid cash.
7) The stock is available at a P-E multiple of 11 on trailing 12 mths EPS. But this does not factor in the revenues coming from IT Parks in 2012-2013.
So at a current market cap of 800 crores the stock looks really cheap with a forward p-e of less then 10. 100 crores of cash / 2500-3500 crores of Land. Above all the Exhibition creates cash!! year after year consistently at 70% Operating Margins.
Then why the company still quotes at 580 bucks and not 2000 + where it should ideally.
All the things I have covered in the above is more better explained in following reports in 2010.
There is a very super analysis done by Sanjay Bakshi –  – Download the report from
As i mention this i would recommend people to read the articles writen by Sanjay Bakshi (One of the best Value Investors ) , Neeraj Marathe – ( a very conservative Value Investor). The very few people whom i would consider Pure Value Investors.
Also there is another report by
After that report there were a slew of reports about NESCO with various targets and similar rationale.
Now let us look at the move by the stock on price charts.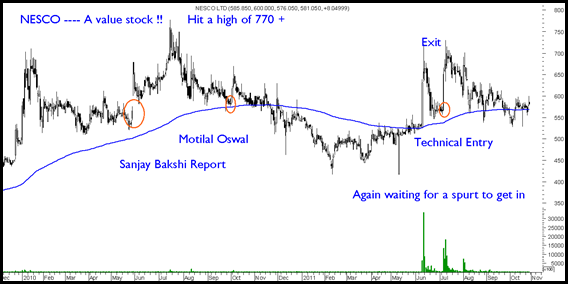 So since May 2010 when it was first covered by many people the stock is still quoting at the price of 580 odd and it even went to 770 on higher side and 420 on lower side.
In May 2010 after the coverage the stock saw a quick rally but then went into a slumber for the next 1 year. In betwen it did see a jump recently to 720-740 a few months back.Luckily we got an entry at 580 and exit at 700 + in a matter of days.
My view on the stock :
I have been tracking and trading the stock for last 4-5 years. If you search for NESCO on the blog you will come to know that the first ever initiation was in May 2007. The stock has been pretty lucky for me as have been part of many trading up moves in the stock. Many a times it did 20% freeze in that period giving super returns.
Now in the current position the stock is a clear cut value buy but the concerns are as follows. ( Maybe some reasons as to why stock is still cheap )
1) There is no debt !!!. At times this seems good but with somebody having 50 acres of land it will need debt to develop it or it will take generations to develop this gold mine.
2) The company is very conservative and prefers to deploy cash in Debt Funds then into quicker development of land. Being a Mumbai citizen i have seen a lot of development in the same vicinity with a few malls and hotels coming up.This is positive in terms of the increasing value of land bank but shows no aggression from the company.
3) The growth in exhibition business is consistent but not aggressive as the chunk of money which comes to NESCO hand is way too less for the final charge levied on International exhibitor.
4) As an investor in this company my reason to be invested is not the annuity type business of exhibition but the Real Estate/IT Parks to add on to the value. But the company is still not focusing as much on the Real Estate business as it should. Will they ever monetize the Land or Develop it, is difficult to say. ( I would love it if they start taking debts ).
5) The company pays only 25% dividend i.e just 2.5 rs per share. If they want to expand there should be no dividend and if they have to stay conservative why not increase the dividend payout. But company has given bonuses in the past.
6) The exhibition business takes a major hit in economic downturns with lot of shows being cancelled.
Bottomline ---
There is nothing to lose at 800 cr market cap but if things go right over the next 2-5 years assuming even if the company continues to be conservative it can still be a doubler. But the real reason to look into  NESCO is if all goes well it can be a 2500-5000 crore market cap. The risk is miniscule on downside (huge margin of safety) but upside could be that it becomes 5 times also. ( It was 1400 in 2007-2008 )
Above all even if you are not convinced about the company but one definitely needs to keep a track of all positive developments.
I would roughly give a value of at least 1500-2000 to the stock in next 3 years. Also there is a huge margin of safety !!! at current levels. Its a good combination of conservative annuity business + Deep Value according to me.
Technically i am waiting for an entry point in the stock:) with a small position to be taken at current levels with a stoploss of 530.
P.S ---- The above note is a personal view on the stock and the calculations are just approximate and a quick work of few days and not a very detailed study. Please do your own research :).
Happy investing,
Nooresh Merani