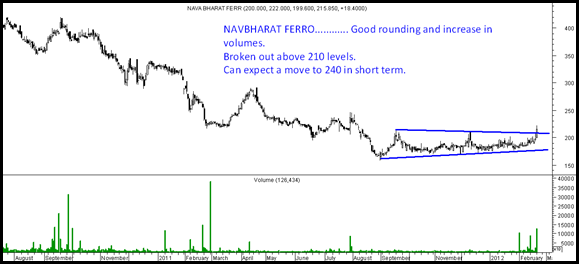 NB Ventures --- the stock can see a quick move to 240 + levels.
Disclosure: Recommended to clients and will also be mentioning on CNBC.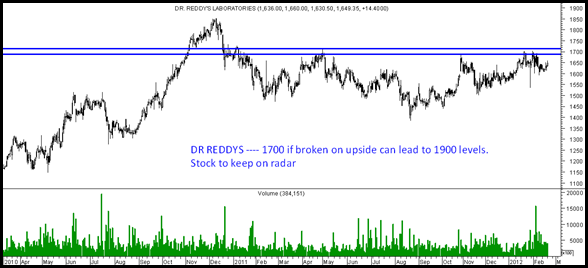 Dr Reddys --- Keep a close watch on 1700 mark.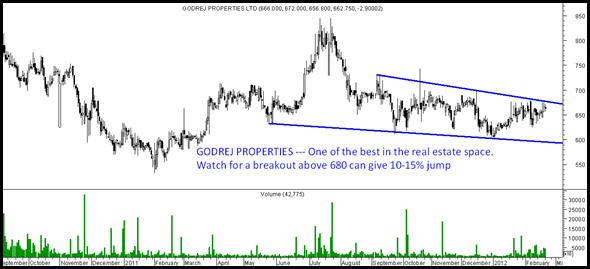 Godrej properties --- I continue to favor this management and the above stock is the best in real estate space in terms corporate governance. Watchout for a move above 680 for quick 10-15% jump.
A quick Update on Bombay Burmah Trading Corporation --- the stock has been recommended yesterday.
Lets have a quick look
Through Leila Lands Bombay Burmah owns 50% in Britannia  --- Value 3150 cr
14% stake in Bombay Dyeing --- value 280 cr.
They showed a profit of around 130 crores from sale of two of its divisions. ( the slump sale was for almost 100 + 180 cr )
The company is more then 100 years old and the Real Estate it owns can be enormous 🙂
So overall holding value should be a minimum of 3500 crores ( this is on quoted investments)
Current Market Cap – 650 cr.
The stock is available at 80% discount to its holding value.
We are giving no value to the tea and coffee estates  ( 2000 + hectares ) + real estate and many more subsidiaries. They also might be holding some stake in other group companies and majority of the assets would be at 1 rs 🙂 in the balance sheet as its a 100 year old company.
So if the stock does go through some restructuring of assets and slump sales we can see a lot of Value Unlocking. My expectations is with the slump sales of sunmica and other divisions the management is clearly hinting towards Value Unlocking 🙂
From current levels the downside could be limited to 400-420 levels fundamentally but upside can be anything :). The major reason to buy right now is technicals – Huge Volumes and Price Action 🙂 .
Last year also in Mid 2010 we had picked up Bombay Burmah  at 400-450 and booked profits at 550-650 in short term on technical timing. The stock has been on radar for a long time. A similar stock is Bengal & Assam which has super but we may wait for a move above 250. Check detailed post on it --- Bengal & Assam Company
Disclosure: The stock has been recommended strongly to clients 🙂
TECHNICAL ANALYSIS TRAINING SESSIONS SCHEDULE
MUMBAI 25-26th FEB, 2012.
AHMEDABAD MARCH,2012.
To know more contact: Kazim on 09821237002 or Asif on 09833666151
Happy Investing,
Nooresh Merani