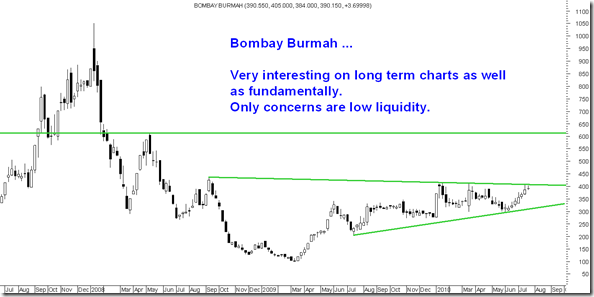 Interestingly placed in the sector and seems pretty much an interesting bet with businesses ranging from tea,coffee,rubber, laminates.
Also possible Land Bank and one of its subsidiary companies Leila Lands holds Britannia Limited. As well as various subsidiaries under Bombay Burmah hold interests in other Wadia group companies. A detailed study on the same would give a fair idea. Current Market Cap of 550 crores is at a good discount to value of holdings and businesses. 
Bombay Burmah Trading Corporation holds following interests in Wadia Group cos.
Investment                   (Rs Cr)
Bombay Dyeing             400
Britannia                       910
Go Air                           400
Total                             1710
This is an old valuation of holdings in the co which i saw online. Although the structure of holding is through subsidiary companies so one will need to dig in little deeper to find more. But roughly the holding value should be 2-3 times the current market cap.
Stock seems underpriced at 400-450 levels.
The stock could give an upmove to 600-1000 in the next 1 years time and may even over perform. Technically a breakout on closing above 420 and dips to 360 a good buying opportunity.
The liquidity in the counter is extremely low so investors should take care with their exposures.The stock will test patience. Will update more in the weekend when i will have time to dig more into the stock.
Please do your own research.
Cheers,
Nooresh