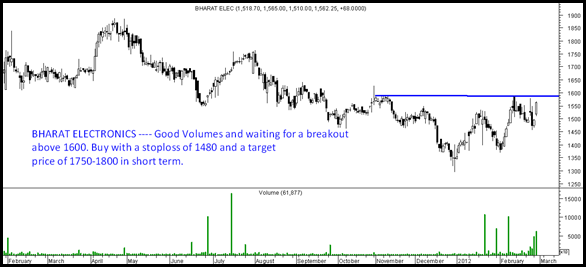 Bharat Electronics can zoom in short term if stays above 1600 levels. The volumes are an indication of huge accumulation.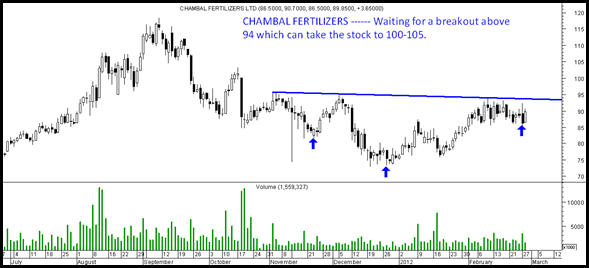 Chamabal Fertilizers --- Have been patiently waiting for a breakout above 94 to initiate a momentum trade.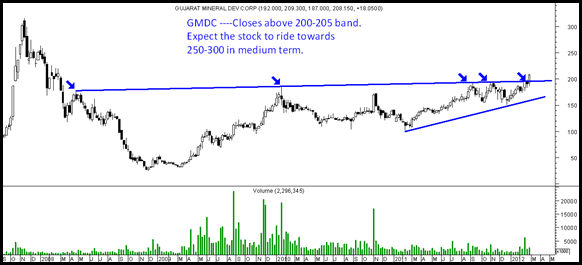 GMDC ---- Very recently and many a times before have been recommending the stock as a good long term and short term bet.
Previous update at 170 --https://nooreshtech.co.in/wp-content/uploads/2011/08/gmdc.png
Very recently mentioned it to be a strong accumulate for long term
- https://nooreshtech.co.in/2012/02/gmdc-accumulate-with-a-long-term-view-and-target-of-280.html
Meanwhile Dow Jones seems to be setting up for a breakout move above 13000 if it does so then it can surprise the street big time.
Had mentioned about this bullish stance on Dow in a detailed posting some time back here--- Check Link - https://nooreshtech.co.in/2011/12/us-indices-dow-and-sp-500-us-stocks-look-more-bullish-and-interestingly-poised.html
Sensex and Nifty Technical View:
As posted yesterday on blog and through my tweets that one should be buying this dip to 5320-5200 levels but one should be stock specific.
The view remains the same buy the dips book partial profits on rise to keep some part of cash to deploy on dips again.
Recently some of the midcaps may have taken a 10-15% hit. If you are in quality it would be fine to hold the stocks 🙂
Happy Investing
Nooresh Merani