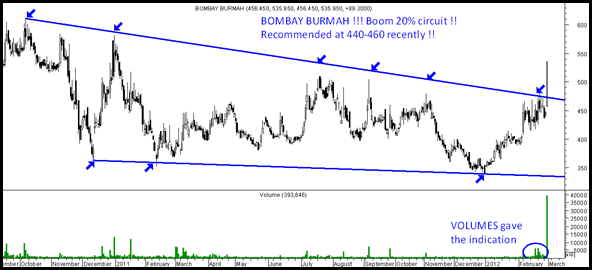 Very recently had posted about Bombay Burmah Trading Corporation on the website. You can clearly see how volumes were being picked up with a strong breakout possibility. This is the importance of combining technical analysis with fundamental analysis. We had similarly covered this stock a year or plus back -
Also had made clear disclosures that it had been strongly advised to clients. We have almost 8% of the exposure in our model portfolio to the stock. ( We dont go beyond 10% generally on one stock) – Check the update here – Old Bombay Burmah recommendation
Meanwhile there are a lot of rumours on the stock about Tea plantation sale/Dividend or Share Swap with Britannia etc. The only thing according to me which is possible is some slump sales. The view remains one will need to keep patience.
The stock has jumped 20% in no time 🙂
Hope people made some good money on it.
If not then all i can suggest is to go for our exclusive advisory services on www.analyseindia.com  . This stock was covered in our Master Blaster/QuickGains and Platinum Clients.
For any queries on our advisory services can speak to Asif on 09833666151 and Kazim 09821237002.
If you would like to join our Technical Analysis programs in Ahmedabad/Delhi/Mumbai and other cities get in touch with Kazim 09821237002 to become independent 🙂 Any queries one can sms me on 09819225396 ( will get back post mkt hours if possible)
Happy Investing.
Nooresh Merani