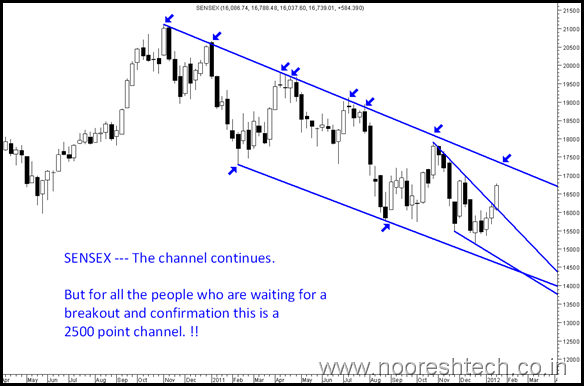 Sensex and the Channel ---
Every technical analyst or even a fundamental analysts or anyone related to markets have now started talking about this channel 🙂
But what everyone forgets is its a 2500-3000 point channel !!!
So if i were to buy on a breakout above 17500 or 5200 it would imply from the lows of 15100 and 4530 i would be buying 15% higher from the lows in a market which has not moved beyond 20% in one direction since the last 15 months almost now.
It just does not make mathematical sense to buy a breakout above 5200 🙂
So what have we been doing ?
We like to keep it simple and actionable. Have been buying all the dips ever since we hit sub 16k in Sensex ( this is the Panic bottom  https://nooreshtech.co.in/2011/10/fear-hit-a-10-year-high-around-the-world.html )
Its simpler to buy on the lower end of the channel and keep booking partially on rise to the higher end and wait for a trend change signal. If at all that happens then stick on to the portfolio 🙂 although there would still be a good percentage in cash.
Also one needs to see this chart on Time Cycles -- https://nooreshtech.co.in/wp-content/uploads/2011/12/FinalCycles.jpg 
Another observation is this is the first time Midcaps/Smallcaps and broader markets have outperformed by a big margin to the benchmark Index.
The most important observation is this is the first pullback from lows which has gone beyond 73.6% retracement and is coming close to previous top.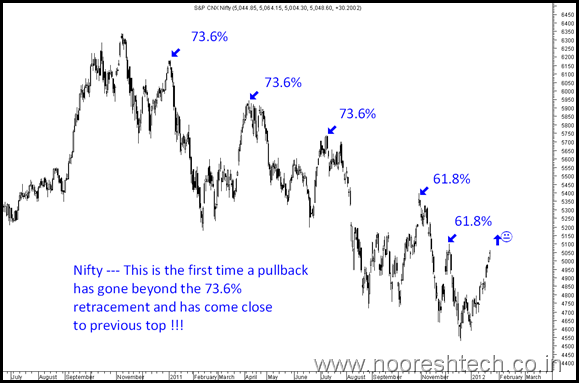 This i believe is giving a positive signal or at least stopping us from going short and keep trailing stoploss in our long position till we do not see a down day breaking previous days lows.
With majority of the consensus still expecting a correction can Nifty surprise towards 5150/5250 ? I dont really know but i would now wait for a turnaround signal to short then to do a pre-emptive shorts like previous pullbacks.
Stock Specific Updates :
There have been a few updates on NESCO mentioned by a few bloggers --- You can read neeraj marathe's post here and some more links in it. Well i would be posting on a few catalysts to NESCO giving a different perspective soon once the action reduces on the indices. Maintain my super bullish view on NESCO. ( one the personal favorites for next 1-3 yrs ). Have advised accumulation on every level below 580.
Smartlink remains an excellent bet and one can expect more clarity over the next 3 months.
Disclosure: As mentioned in our previous updates that we are pretty much invested at 4700-4500 levels we continue to have very low cash on hand but focus on more defensives. The short term leverage longs ( On January 1st week we had 10-15 long trading positions open ) have been cut down big time with profit booking. Recently the focus has been PSU Banks like KTK Bank, Oriental Bank and Union Bank bought at lower levels. Will increase cash if at all we see a big spike in specific stocks but fresh investment buying put on a hold from here.