Blue Circle Financial Services has a market cap of 1500 crores !! does sales of 1.89 crores !!
It has moved from 0.2 to 75 in last 1-2 years.
Banas Finance has moved from 1 rs to 54 rs over the last 1-2 years.
Market cap of 550 crores.
India Infoline, Motilal Oswal  are just a tad closer to 1500 crores. Apart from that one can get 10 other broking firms for 1500 crores.
Surprisingly both the firms have no details given on their website. Banas Finance is pretty close and i doubt there is a 550 crore company in that building 🙂
Anyways these are stocks which are still allowed to be listed:) without any regulatory proceedings.
Specialty Papers this was brought to notice by somebody else.
Now the best part here is the shareholding pattern. It consists of all the other stocks being manipulated.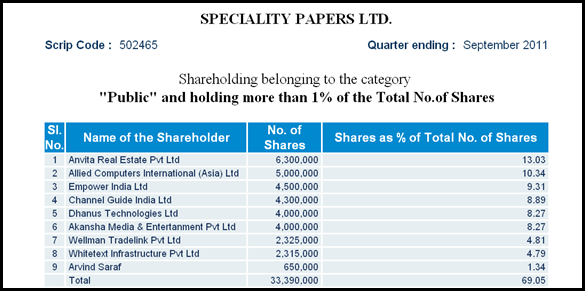 Over the last two quarters the shareholding which was with a bunch of financial firms is now transferred to 4-5 listed companies which have no co-relations in terms of business.
Of the companies i was looking into Channel Guide and Avance Technologies was mentioned before on this web site as junk companies and how they were rigged. Now the best part is how is there a web of cross holdings in these companies.
As i keep going into the web of shareholding patterns its amazing that so many companies have cross holdings in each other and other listed companies emerge out of this exercise.
I am just listing down a few cross holdings.
L N Polyesters holds 14% in Allied Computers International ( Asia ) Ltd.
Avance Technologies/Mahan Inds hold 3-4 % stake in Allied computers International ( Asia ) Private Limited.
L N Polyesters has 1-2 % stake in Empower Inds.
L N Polyesters, Empower Inds, Sanguine Media , Secunderabad Healthcare of holdings in Dhanus Technologies.
Secunderabad Healthcare has 12% stake in L N Polyesters.
Anvita Real Estate pvt Ltd is common owner in many of such stocks.
Hardly any company has listed promoter entities in shareholding pattern. Also if we were to look into other entities in the shareholding pattern then few more stocks like Prabhav Inds, Shri Ganesh Spinners, Prraneta Inds come into picture !!
Oops i basically stop here getting confused as i google the above entities there are new listed stocks like Visesh Infotecnics.
Some other companies like Nikki Global Finance, Ushdev International etc come into dodgy fundamentals.
Now lets look at another phenomenon where companies use Sundry debtors, Inventories to keep showing good profits but are actually inflating the balance sheets with a lot of SHIT 🙂
Although i am not good at fundamentals but some of the ones which come under radar are Micro technologies, Bartronics, ICSA, Edserve Softsystems ( has 90 cr sundry debtors from 28 last year ) which are seeing considerable increase sundry debtors as well as the proportion to sales is alarming.
This is just a post which may have no relevance but just to point out that we need better regulations to reduce manipulations.
There are way too many such instances of low delivery data, IPOs with huge market cap and so on , thats not my job as i am not a financial journalist 🙂 but in my free time i do write some posts on above topics which can be seen in previous articles. This is just to create awareness and serve as a warning to retail investors who jump on unknown stocks without any research.
For more of our services — www.analyseindia.com
Meanwhile the New Year Gift offer at Rs 2999 for a year may not stay for long — For more call Asif 09833666151
Happy Investing,
Nooresh Merani