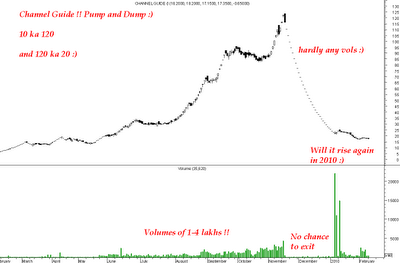 Channel Guide :
A stock which i would doubt the fundamentals but the stock saw a super upmove in 2009.
Irrespective of market conditions the stock moved from 5 rs to 120 rs non stop. Huge volumes to the tune of 1-4 lakhs daily.
One fine day when the pumping stopped the stock fell like a rock non stop to 20 odd levels. The daily volumes were just around 2k-3k shares in which nobody would have got an exit !!!!
Yet again huge volumes were seen arnd 20 but the stock is back to 15 .... Will it again rise from sub 10 levels in next year with a fresh operation .... God knows !! i wont like to bet on this 🙂
Again here i would attribute this to good smart operation which might have screwed some investors.
Yet again
So take care and do adequate research .... Some stocks may be multi-multi baggers and some may kill u.
Will continue with more of such market movers in this week.
Best Regards,
Nooresh