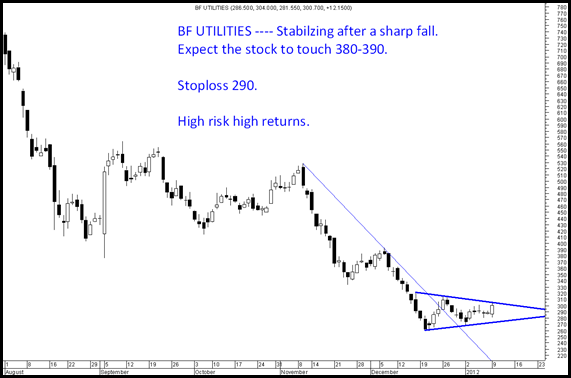 The stock looks interesting for a high risk high return trader as well as an investor.
Short term move could take it to 380-390 levels.
Technically its a breakout for short term but fundamentally seems there is some thing cooking in it. As a trader one may keep a stoploss of 290.
Investors can accumulate with a 3-6 mths view with a very deep stoploss of 260 on closing basis. Upsides could be 500 also.
Meanwhile there have been many quick trades in our advisory services which is keeping us busy. Also trades are more of extreme short term nature so cant update on the blog.
Expect this rally to continue till 4900-4950 on Nifty. Had recently mentioned about this bounce back and many stocks will jump a few days back ---- https://nooreshtech.co.in/2012/01/nifty-technical-view-bearish-consensus-is-very-high-a-good-setup-for-a-short-term-rally.html 
Century Textiles can be bought for a target of 245 sl 224.
Larsen & Toubro maintain long term view but can book part on rise to 1150-1200. Reliance Inds 700-650 buy area.
People can also start following me on https://twitter.com/nooreshtech for some snippets.
Also for all the readers this scheme --- https://nooreshtech.co.in/2012/01/master-blaster-a-new-year-gift-for-all-our-readers.html  will not last for long. ( there was some linking problem which is now rectified )
Happy Investing,
Nooresh Merani