Over the last many weeks majority of the analysts, traders, investors have been in a belief if 4700 goes we will go to 4000-4200 and one should short and forget.
A similar view point was at 5200 we go to 4500 but in the next few months we did 4700 and also 5400.
So what do we get out of it is simple --- Its not a strong bear Market but a slow downtrend and the best way to play this is sell on any major rise and buy on major dips. Such swings will be more profitable else one may just keep getting trapped over and over again.
I had discussed about this trap many traders being stuck into in a detailed article – Read it here
Now as we look recently we saw HDFC Bank and HDFC Ltd hit new lows but bounced back sharply to take the stops. The only trade we got was a 2-3% gain on intra day but somebody who tried looking for a deeper correction got stopped out.
Similarly the noise of 4700 gone then 4200 led to many people go short – Nifty did 4640 and back to 4850 + hitting stoplosses. ( the approach of selling below 4700 would have worked in the day for a quick trader but not everyone )
Look at the charts below and see how the false moves happened.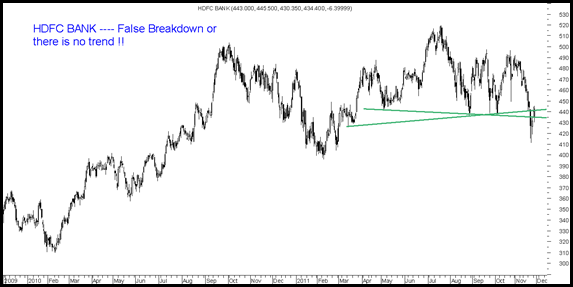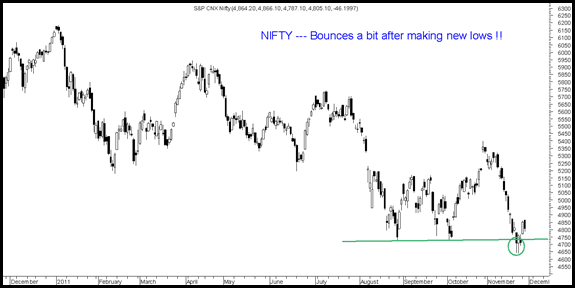 Also currently the next few months would be a good time to build a long term portfolio as well as a bit of churning to reduce costs.
If you would like to build a portfolio or get guidance on long term investing then do look into ourDelivery Gains Product which consists of a model portfolio for long term as well as updates on Indices and short term trades.
FOR more mail us on analyseindia@analyseindia.com
Also will be featuring on CNBC Bulls eye and ET now in coming weeks for the readers info 🙂
Happy Investing,
Nooresh Merani
CEO
Analyse India Market Solutions Private Limited