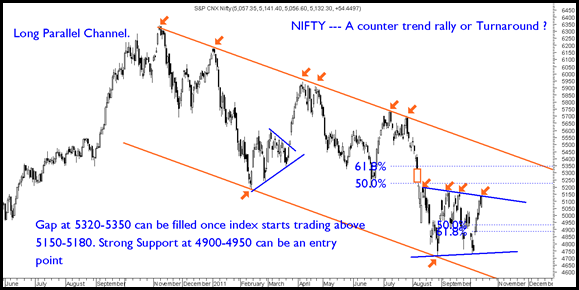 Nifty Technical View
Nifty is still in a downtrend with lower top lower bottom but a close above 5170 will be first indications of a turnaround or a strong counter trend rally just like the previous one in March from 5180 to 5950 levels.
Such a counter trend rally can retrace 61.8% (5350) or an extension 73.6% (5460). Considering the fact that 200 dema/ Trendline resistance/Gap is all placed at 5320-5350 zones, so it becomes an important target level.
We have seen a quick move after a double bottom at 4720-4730 with strong positive divergences and such counter trend rallies can be swift.
One of the major indications for a counter trend rally is a faster retracement (Rising leg takes lesser time then the falling leg). The last fall from 5170 to 4720 took 10 sessions and right now we are at 5170 in 7 sessions. Move above 5170 in next 2 days will indicate a faster retracement. Faster retracement is a precedent to a turnaround.
On the downside 4900-4950 (50-61.8%) is an important support level now which can be an entry point for this counter trend rally.
Investors should continue to keep with the strategy to get into quality stocks on dips.