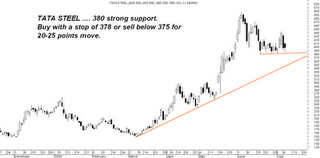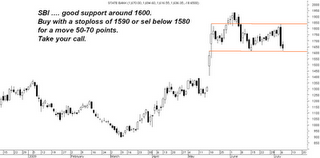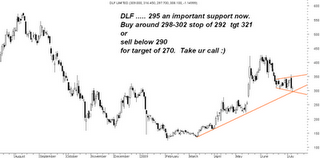 4 charts and view on them . CLICK TO ENLARGE !!!
Take your own call as per market conditions. Can take trades on short side only if stocks stay below breakdown levels for some time. Keep strict stops.
Nothings changed on Sensex so view remains same
Sensex Technical View :
Sensex Technical View :
Sensex has broken below the short term trendline of 14550 which was a stoploss level for all short term speculative longs. Now the index might be in a possible Head and Shoulders pattern but would still wait for a few sessions below the neckline of 14200 to confirm.
We may also see a re-test of the neckline and a possible move about it also before confirming the pattern as the current drop is a knee jerk reaction so next few sessions would clear up the noise on charts.
13900-14200 is a band which if broken will lead to a more deeper correction to 13500/12700 or lower . Would pull a detailed view after 2-3 sessions till then strategy is to wait and watch.
Cash is also a trading position !!!
MARICO discussed some days back as a defensive pick has moved up 10-12% !! ... The strategy to focus on defensives in the portfolio is doing gr8 wonders ... Hope people like discipline and stability.
Dabur, HUL , Cadilla, Cipla , ITC , Nestle.
Investors can similar look towards Britannia as a defensive bet to give stability to portfolio.
ANNOUNCING THE LAUNCH OF OUR NEW WEBSITE -----------www.analyseindia.com
New services /schemes as per public demand. New courses being designed on technicals,basics of finance for traders/investors.
INTRODUCTORY DISCOUNT OF 15 % ON ALL OUR SERVICES ( valid for renewals and upgradations too) TILL 31st JULY.
Check website and mail to analyseindia@gmail.com /analyseindia@analyseindia.com
REGARDS ,
TEAM ANALYSE INDIA