This is the recent news brief on SEBI barring a few manipulators.
Prashant Saran, Whole Time Member, SEBI, has passed an ad interim ex-parte order dated September 21, 2011, in the matter of market manipulation using GDR issues.  Vide the said order SEBI has issued directions against Pan Asia Advisors Ltd., Arun Panchariya, India Focus Cardinal Fund (Sub-Account), MAVI Investment (Sub-Account), KII Limited (Sub-Account), Sophia Growth - A share Class of Somerset India Fund (Sub-Account), European American Investment Bank Ag (FII), Basmati Securities Pvt Ltd., Oudh Finance & Investment Private Ltd., Alka India Ltd., SV Enterprises and JMP Securities Pvt Ltd.
Directions are also issued against the listed companies namely, Asahi Infrastructure & Projects Ltd., IKF Technologies Ltd., Avon Corporation Limited,  K Sera Sera Ltd., CAT Technologies Ltd., Maars Software International Ltd. and Cals Refineries Ltd.
The detailed SEBI order can be downloaded here -
The order details how matching orders were placed between FII sub accounts and Indian Counter parties. Somebody who would like to understand the process will find the above 44 page report really interesting.
From what i understood was
1) Company does GDR offering
2) FII sub accounts cancel GDR and convert it to shares.
3) Counter parties in India absorb major part of selling and generate false liquidity to entice investors. ( start pushing stories of turnaround and the stock being a multi-bagger or multi-beggar actually ;))
4) Retail Investors get enticed and buy into the announcement as GDR was at a premium and thinking foreign investors are valuing the stock very high.
5) In the end FII sub accounts and counter parties dump the stock to retail investors who end up making losses. 
This is just a first understanding and can be horrendously wrong but one thing is very RIGHT – Not to Invest in such stocks.
I had raised my doubts on the above company Cals Refineries Limited as well as the 200 million GDR issue in 2007 -
Read the detailed post –
https://nooreshtech.co.in/2010/05/cals-refineries-limited-a-multi-beggar.html 
Although i have not looked into the other stocks but i remember reading a superb advertisement by Maars Limited consistently in 2009.
An e copy of the same can be seen here which was put up in September 2009  -
Maars Software – Inviting strategic investors or partners with sound financial background to encash our solid and lucrative revival plans
Click to enlarge the image or go on above link.
Lets look at the stock price in September in the following chart how the stock was dumped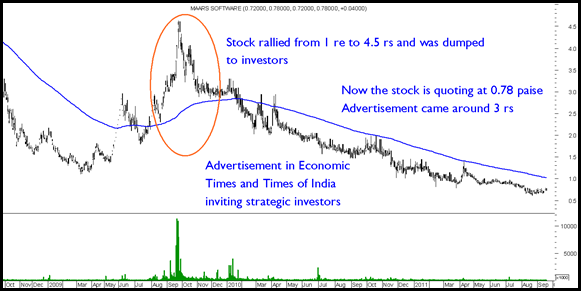 There are many such dud stocks which are dumped to retail investors with glossy stories.
You may like to read this article on Well Pack Papers me posted a warning at 110 rs is now 4 rs.
or reading these posts -
Farmax Retail, ThinkSoft, texmo Pipes , Syncom Healthcare  , SEBI busts stock manipulating network
Although the above articles do not help us make money or our readers and is a sheer waste of time but looking at the audacity of manipulators and vulnerability of retail investors we do try to put up our warnings on particular stocks.
Will be posting about some more highly overvalued companies and being operated.
Would like to appreciate the efforts made by SEBI in coming out with a detailed inquiry and nailing the accused as well as bringing the whole process into public domain with a detailed order which can be read. Hope to see more of such actions.
Take Care ,
Regards,
Nooresh